Wood chipper
Talk

6
15,663pages on
this wiki
The wood chipper is considered a junk item and can be found in various locations around the Wasteland. It has a value of 25 and a weight of 50, making it the heaviest miscellaneous item in the game and highly cumbersome for its worth.
Locations
Edit
For a miscellaneous item, it is a bit rare. Some known locations are:
Fallout 3Edit
Broken SteelEdit
Point LookoutEdit
One can be found in front of the Coastal Grotto in Point Lookout next to a tricycle at the shoreline next to some other wreckage.
One can be found in Point Lookout, in between the Cathedral and Calvert Mansion by the water on the Cathedral Side beach.
Fallout: New VegasEdit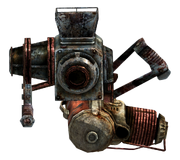 It is likely that the developers were planning to use this as one of the components of the Rock-It Launcher, but changed their minds before releasing the game. This could be because the wood chipper would have caused the Rock-It Launcher to be too heavy to be worth carrying, taking up over 50 pounds of inventory. A leaf blower is actually used instead, which has an almost identical appearance to the wood chipper, but with a much lower weight. In fact, if you have the Rock-It Launcher equipped, you can see the words "Mister Chipper" written on the component that is supposed to be the leaf blower. Also, the main part of the weapon is actually a wood chipper with the loading chute and the fan intake on the left side.
The wood chipper is the heaviest item in both Fallout 3 and Fallout: New Vegas, outweighing even power armor.