Welcome to The Vault!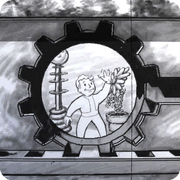 Hello, Wiseman of the Wastes, and welcome to The Vault, the Fallout wiki! Thank you for your contributions, and we hope you'll stay with us and make many more.
Some links you may find useful:
If you have questions, you can ask in our forums, join the live chat in our IRC channel or post a message on my talk page. We hope you enjoy editing here and look forward to working with you!
Welcome to my talk page!
If, by some strange event, you actually find yourslef leaving me a message, please sign your post so I know who you are. And please, try to keep profanities and insults to a minimum. Have a nice day!
Re:Help Needed
Edit
Firstly, let me say how I am quite surprised, yet grateful, that you would come to me for help. I know what you mean by your blog posts not appearing. It happened to me once, and as of today I'm fairly sure I can't see it on my page either. The way around this is that you can either set the blog post to follow the page, so that the link will appear in your followed pages when you access your account. The issue with this is that it's too late now. Otherwise, what I do is I go to my contributions page on my account and select the link which leads me to the missing blog post/s. That should lead you to the page. On my computer, I can see your blog posts and people can comment on them. I suppose it's just an issue with the website. If you wanted, I could ask an admin about it for you. I hope that helps, feel free to ask me if you have any more problems. Also, sorry if this reply is late, I haven't been on the wiki for a day or so. One more thing - when you leave a message on a talk page, remember to put four ~ things after the message. It leaves a link to your page and means you don't have to type your username after every message. Have fun editing! Hi There! 06:19, July 5, 2011 (UTC)
Things you hate
Edit
Do you hate Justin Bieber? --gauzzrifle 11:20, July 5, 2011 (UTC)
Signature
Edit
It's simple. All you need to do is put four tildes (or these things ~ ) after you type a message. You don't have to type your username, just put those and then a link to your page will appear. If you want it to say something else, go to your preferences (by clicking your avatar in the top right corner of the page) and where it says signature, type in what you want it to say instead. For example, mine says 'Hi There!' instead of 'Yes-Man'. Hi There! 02:20, July 7, 2011 (UTC)
Re:Thank You Again
Edit
Don't mention it, you're very kind. If you ever need help, I'm often on the wiki. If I'm not here, just leave me a message and I'll find the time to get back to you.

04:16, July 8, 2011 (UTC)
I see you're into some pretty decent movies. Just wondering, have you seen Fight Club? --Yliannos 21:32, July 15, 2011 (UTC)
No problem, man. Listen, watch it. Just watch it. You won't regret it. --Yliannos 09:19, July 16, 2011 (UTC)
Blog comment
Edit
I'm giving you a warning on your most recent blog comment. I think you know why. Jspoel

23:24, July 17, 2011 (UTC)
Hi there ill add you on xbox live later my GT is Flamecat104 -- Jackasaurus
When you upload images, can you give them a decent name? Userpage images should begin with user. So for example if you want your Robocop image on your userprofile it would be: user robocop.jpg or something like that. Jspoel

12:58, July 29, 2011 (UTC)
Earlier I gave you warning about blog commenting. Now I had to delete another one. So it's a one day block. Jspoel

22:02, August 14, 2011 (UTC)
Enclave Girl.
Edit
I'm not completely sure where I got it. If I remember correctly I found it on a fan-fic website but like I said I'm unsure.

666carl666

19:02, August 30, 2011 (UTC)
would you please tell me what the story line is to dx hr?-jetspartan112 Jetspartan112 23:54, September 3, 2011 (UTC)
Sorry my CPU is messed and i can't enter chat =(
                                                   Husky2413 23:07, September 4, 2011 (UTC)Husky2413

You have been given compainionship and husky2413 is now your compaion take care of him and keep it up
                                 Husky2413 00:14, September 5, 2011 (UTC)Husky2413

Gift from Husky2413
Edit
You have been given compainionship and husky2413 is now your compaion take care of him and keep it up
Offer of sacrifice.
Edit
Hello will you be my friend? I'm not an alien. I will sacrifice self.
chat ban
Edit
I had to temporarily ban you, your connection was spazzy and was becoming disruptive. You should be able to join again soon. BILLYOCEAN 21:30, September 9, 2011 (UTC)
Xbox Live
Edit
I tried adding your gamertag today, ol DEADEYE lo, but I got the message telling me that this user does not exist. Am I doing something wrong? If I am not able to add you at all, you are more than welcome to try adding me. My gamertag can be found on my page. Cheers, Gears of duty.
Dude, the same thing happened to me! I tried to add him on friday, but I got that same message! Did you change your GamerTag Wiseman? Something similar happened to me with the other guy a tried to friend over XBL that I met on the Vault. --Delta1138 SnooPING AS usual I see 20:03, September 26, 2011 (UTC)
Are you using Internet Explorer?

20:01, September 19, 2011 (UTC)
Well all the solutions I tried with GW didn't work. It might actually be an issue with compatibly with IE and chat, since you both run IE. I would suggest trying another browser like Chrome or Fire Fox and see if that solves the problems, same thing I have suggested to GW as well. 20:13, September 19, 2011 (UTC)
Custom signature size
Edit
As per policy, custom sig size is limited to 20 pixels of height. Please modify your sig accordingly. Thanks.--Gothemasticator 20:37, September 23, 2011 (UTC)
Pony Avatar?
Edit
Does anybody here on the wiki make custom pony avatars? I've slowly been becoming a brony... Cornelius Plautus 21:43, September 23, 2011 (UTC)
You have been given The Element of Kindness.

Your efforts and diligence have not gone unnoticed, and you have been given a small token of appreciation.
This is not a circular, ok so maybe it is :p
Edit
MESSAGE TO ALL! Merry Christmas, hope you have a great day! If you see this, it means I love you enough to go to the effort of visiting your TP and copy/pasting this - well done :p Loves and stuff!
"Even In Death May You Be Triumphant"