Welcome to Nukapedia!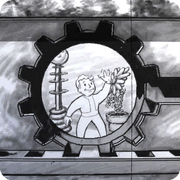 Hello, Wildwes7g7, and welcome to the Fallout Wiki! Thank you for your contributions, and we hope you'll stay with us and make many more.
Some links you may find useful:
If you have questions, you can ask in our forums, join the live chat or post a message on my talk page. We hope you enjoy editing here and look forward to working with you!
Thermic Lance
Edit
hey dude, only reason I changed the name to thermaic lance was because I thought that was the way it was spelled, and do you really have to block someone for making mistakes? you aren't omnipotent by the way, and would you please remove A page called "we must stop beating like this under victor's quests?" some idiot posted that changing the name of we must stop meeting like this
We Must Stop Beating Like This
Edit
It doesn't need to be changed. That is the proper title of that particular encounter and even has a written citation as such.

Message 06:43, June 26, 2012 (UTC)
Sorry but no
Edit
I can guess why you think I may be a Christian. However just because I am able to identify religious themes in the game storyline does not necessarily make me religious. I have some interest in religion but only academically.
Thank you for your interest, but I am not the person to discuss your faith with. Btw I would say the overall ethos of Fallout is not very much in accordance with Christianity, despite drawing some themes from that religion.--Cally777 05:51, July 1, 2012 (UTC)
Talk page
Edit
You aren't supposed to remove content from talk pages. Energy X 09:07, July 2, 2012 (UTC) when did I do that? Wildwes7g7 (talk) 04:25, July 8, 2012 (UTC) @ [[User:Energy X|
Hi there. Regarding your Gomorrah edit: the word "biblical" is not to be capitalised in any case, just like how "scriptural" isn't. And the use of the ampersand is not appropriate for an encyclopaedia or the context. See you around! --Skire (talk) 12:56, July 2, 2012 (UTC)

Hi there. Just as the Bible is capitalised, so is Qur'an. See you around =) --Skire (talk) 20:37, July 10, 2012 (UTC)
Well, I'm not sure what your preferences are. You can take a look at different games' pages, and edit the ones belonging to the game you are most familiar with, or you can take a look at our projects here and find one that strikes your fancy. --Skire (talk) 16:20, July 23, 2012 (UTC)
Suggestions
Edit
Yep, suggestions go on my talk page.
I'm happy to include your poll ideas! I'll add them to my list. It might be a few weeks until I get an opportunity to use them, so in the meantime, enjoy the polls :)


05:39, July 30, 2012 (UTC)
Glad you like it --Majestic13 17:25, July 31, 2012 (UTC)
Hiya, Wild! The forum can be found here. Other than that, there really isn't any crankiness. There's just a reconfirmation request for an inactive administrator who was being rather immature a while ago. I don't see why people are getting so hyped up. He still needs to defend himself before any action can be taken. How are you? ~ Toci ~ Go ahead, make my day. 05:29, August 27, 2012 (UTC)
Crazy sam10
Edit
I don't exactly plan to follow through on my gripes. I do have concerns about how certain things are handled here, but I know from experience that it's not going to change overnight. I appreciate that you want to help out Sam but honestly I think by this point he's going to lose his rights regardless.


09:11, August 28, 2012 (UTC)
Chat Rules
Edit
Hi, I understand you have some strong views regarding our Wiki's chat. I weclome any and all comments in this thread Agent c (talk) 13:59, August 28, 2012 (UTC)
Work/Living
Edit
Lol. Close. I live in a national park and I work on a ranch. ;) ~ Toci ~ Go ahead, make my day. 21:34, August 28, 2012 (UTC)
New User Network
Edit
Hi Wes, welcome to the new user network. If you can let me know please your prefered fallout games, what time's you're liekly to edit the wiki and what timezone you're in, I'll get you paired with an mentor. If have any particular special interests, if you can let me know and I'll try and pick someone accoridingly. Agent c (talk) 13:56, September 2, 2012 (UTC)
chat rules vote
Edit
I can't see any contradiction. Pains issue is him putting votes in the wrong section and not actually understanding what the existing rule is, or what the change is. Agent c (talk) 06:50, September 14, 2012 (UTC)
Chat Kick
Edit
Wildwes, you weren't banned, you were only kicked. You can re-enter chat right now if you so choose. And I didn't kick you because of your opinions. I kicked you because Old World Relics asked for the conversation to end (Rule 9) and you didn't comply. I encourage you to come join us, as we have reached a compromise you may like.
Might I Say You're Looking Fit As a Fiddle! 03:44, September 16, 2012 (UTC)
I reviewed the logs. Your kick was a little deserved as everyone stopped after Vic's final warning, and you were the only one who continued. It was only a kick, though, so you're free to come and go as you please. ~ Toci ~ Go ahead, make my day. 04:17, September 16, 2012 (UTC)
History project
Edit
Good to have you on board! You can read and try to improve upon the current pages or you can create new ones, make sure it's relevant and significant enough. Post on my talk page if you have an idea for a page! --Skire (talk) 22:44, November 21, 2012 (UTC)
Eden's Kick
Edit
Hi Wes,
Looking at your message to Toci, I feel I need to clear something up.
Eden was not kicked for the content of his message. What he said was irrelevant.
What was relevant however is that a decision had been made by the mod team that the conversation should be closed. It wouldnt have mattered who said what, or which side they were on, the fact that it continued at all was why he was kicked.
I consider a kick in this case to be a message to all sides - that we're serious. It is a shot across everyones bows - not just whichever side got the kick.
It is not an endorsement of either position, and I have kicked people who were on "my side" in a debate after the shutdown decision has been made.
Agent c (talk) 21:00, December 1, 2012 (UTC)
In addition to being a Chatmod, Jasper is also a person, and has the right to engage in any conversation that goes on. Personally I think both sides over reacted. Agent c (talk) 21:27, December 1, 2012 (UTC)
Merry Christmas!
Edit
You have been given a Cat in a tin foil hat.

Your efforts and diligence have not gone unnoticed, and you have been given a small token of appreciation.

Because it's 2 AM and I didn't know what else to get you! Merry Christmas Wes!

--

"Those Old World Relics still stand..."

06:58, December 24, 2012 (UTC)
Merry Christmas and a Happy New Year Wildwes7g7! Yours Always; --

"Those Old World Relics still stand..." 06:58, December 24, 2012 (UTC)
Hi Wes, I think you misuderstand the "Good behaviour" vote. It applies to requests for additional user rights, not to policy. So if it passed someone with a chatban couldn't run for chatmod for 6 months, but still could propose votes on anything else. Agent c (talk) 21:30, January 6, 2013 (UTC)