Welcome to The Vault!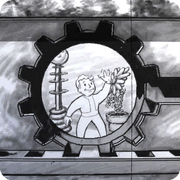 Hello, Sparkybigp, and welcome to The Vault, the Fallout wiki! Thank you for your contributions, and we hope you'll stay with us and make many more.
Some links you may find useful:
If you have questions, you can ask in our forums, join the live chat or post a message on my talk page. We hope you enjoy editing here and look forward to working with you!
I'm not sure what you're talking about. The only revert I've made to the Gob page was one by an anonymous user a while ago, in which case something was superfluously linked, and looking through the page history I see that the administrator Kastera removed a part of the Jericho page which shouldn't even have been there. A word of advice, this is a public wiki. If your edits are bad, they will be reverted. I'd advise you to read the editing policies before making any more edits. Hugs

"Say 'ello to my little friend!"
17 edits, outraged and misinformed talk page messages, insulting editors, failing to read policies, failure to read article reference links... You're off to a bad start, Sparky. Come back in three days with your head on straight.--Gothemasticator 02:29, October 22, 2011 (UTC)
Re:Noodles
Edit
The reason why that overview page exists is because of variation. Although aesthetically identical (hence only one item), there are two separate articles for respective games. Thus they are variants. -SigmaDelta54 (Talk) 21:25, April 6, 2012 (UTC)
Interesting
Edit
I thought you were never coming back to this god-awful wiki? ;)

Skål! 21:37, April 6, 2012 (UTC)
I'll check this when I get home but as far as the Geck is concerned he only has one outfit in his inventory. For it can be listed inder bugs. The Australian Kiwi 10:27, April 8, 2012 (UTC)