---
Leggo my Eggo to leave a message!
---
Yo, not sure if you're aware but we recently revised our policy on behind the scenes content to say that as long as there is a direct textual or visual link then we don't need things such as dev confirmation on references, so (while he put it in the wrong section) that anon wasn't wrong for adding that Jericho could be a reference to the TV show of the same name (which while not certain IS plausible) so it shouldn't have been outright removed. JASPER//"Do you like hurting other people?"
03:09, March 11, 2015 (UTC)
Inactivity
Edit
I have called a vote to remove a number of our admins and moderators on grounds of lack of presence or activity on the wiki. As you are one of them you have one week to make your case before the vote opens. JASPER//"Do you like hurting other people?"
18:48, April 27, 2015 (UTC)
In retrospect I feel that I may have under-estimated your activity. After taking a more indepth look in to the situation I have chosen to remove you from the request. JASPER//"Do you like hurting other people?" 13:12, April 28, 2015 (UTC)
Halolegends guy
Edit
Hello tocinoman,
I would like to know what happend with this guy (HaloLegends86), cause looks like he had done some heavy things and this can be useful for our rules in PT Fallout wiki.
-Lincoln Speak! 17:19, June 26, 2015 (UTC)
Portable infoboxes
Edit
Heya :) Just stopping by to see if you have any thoughts on the Portable infobox project that Shining-Armor started up a little while ago. Because of Fallout's obvious importance to Wikia, particularly as we approach the launch of Fallout 4, we'd like to make sure that all your infoboxes are as accessible by mobile devices as is possible. Please drop by the forum as soon as you can and give your views. And of course my user talk page is always open to whatever comments — even rude ones — that you'd like to make!
czechout
 ☎ ✍  00:44: Tue 29 Sep 2015
Happy new year!
Edit
I would like to use the Christmas/New Year-wishes-tradition, though I'm a week late, to thank those around me who kept this wiki and daily life more fun for me during the past year. Everything just seems so normal and evident that we are here almost every day, yet it's very worthwhile to consider for a moment how wonderful it is to have people like you around me, making editing and being on chat a lot more enjoyable. I would also like to use this opportunity to wish a happy and healthy new year for you and everyone around you who is dear to you. I hope you'll have a great and healthy new year in which all your wishes may come true! - Greets Peace'n Hugs (talk) (blog) 00:04, January 6, 2016 (UTC)
Bot edits
Edit
We don't need birthdates and death dates of persons as a category. No one is interested in those. Dates are written in the form of month day, year. So January 1, 1990 as an example. You don't need to change that with your bot. Jspoel

13:52, January 9, 2016 (UTC)
Bot request
Edit
Hey, I was wondering if you had a bot that was capable of changing every "|gender" into "|sex ". Some infoboxes are using the gender parameter, but that one isn't recognized. (also posted on Skire's page) - Greets Peace'n Hugs (talk) (blog) 15:37, January 11, 2016 (UTC)
Thanks for the note Nick I logged in, forgot I even had a account made already.
I'm very proud to see you attending Annapolis.
I was a soldier once, a very long time ago.
Buck
father of 6, grandfather of 4, great grandfather of 3
—Preceding unsigned comment added by Flatbush71 (talk • contribs). Please sign your posts with ~~~~! 03:02, February 27, 2016 (UTC)
Gonna keep this short. Special:Contributions/Cubic colors. Done. Kaminaze - Message Wall - Talk - Contributions 16:08, April 6, 2016 (UTC)
Bug Policy Proposals and Changes
Edit
Hi there, I just wanted to notify all special rights holders of the new Bug policy proposals that are being put up for vote in the forums. If you have a free moment, please make sure to go in and vote. Forum:Bug Policy proposals and changes. ---bleep196- (talk) 19:49, June 19, 2016 (UTC)
Internal links
Edit
I created a disambiguation page for Seth and I had to move the character to Seth (Fallout) but I don't have the authorization level to modify all the links that were headed to the character. Could you change those for me? I want to replace [[Seth]] by [[Seth (Fallout)|Seth]] on the following pages:
--YOD

17:13, June 24, 2016 (UTC)
Thanks. --YOD 17:31, June 24, 2016 (UTC)
Hello Tocinoman! Once again I need to update several links after a redirection and I need an admin's help. I wish to replace [[Larsen]] by [[Larsen (Van Buren)|Larsen]] for the following pages: Boulder design document/1, 2, 3 and 5. I would appreciate the help. --YOD (ಠ_ಠ) 01:03, July 5, 2016 (UTC)
Aubrey Copland
Edit
Thanks for shortening the article title Aubrey Copland. I couldn't figure out how to do it. You'll probably want to correct my published entry for Copland's Terminal. I'm adding an unmarked location Basement Armory in a few minutes. Charlies42 (talk) 18:39, June 30, 2016 (UTC)
Do you think it would be possible to use a bot to:
Target all the articles in this category that start with "Bobblehead - ..."
Replace [[Category:Vault Boy Bobbleheads]] with [[Category:Fallout 3 bobbleheads]] on those pages.
And on the same pages, target the images that are linked in the infobox field "|image ="

Replace [[Category:Fallout 3 miscellaneous item images]] with [[Category:Fallout 4 bobblehead images]] for those images.
Example article target for #1: Bobblehead - Agility.
Example image target for #3: File:Bobblehead Agility.png.
I imagine steps 1 and 2 are not too hard but step 3 might be harder since you need to isolate the file name string and access the file page. --YOD (ಠ_ಠ) 04:26, July 6, 2016 (UTC)
Whiskey Snakes Jr. in GECK
Edit
I can't believe it, you are right.
GECK with and without textures: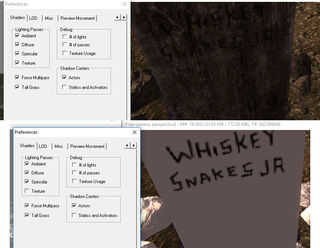 —Preceding unsigned comment added by KPThug (talk • contribs). Please sign your posts with ~~~~!
Welcome to...
Edit
I've noticed that on a new talk page the link for Administrators and Moderators under the "Need Help?" section bleeds or runs into the link for New User Network under the "Help Out" section. Is there maybe a way to clean that up, say change the link to read Admins & Mods (not as professional looking I admit) or possibly space the columns to prevent it? In the same vein, I wonder if it's possible to center the main section headings in the columns. It's not important but it's the first thing you see on a new account talk page so it's a bit obvious to new users. Sorry if this sounds tedious, they're just suggestions :) 99.253.64.188 13:41, July 10, 2016 (UTC)