Welcome to Nukapedia!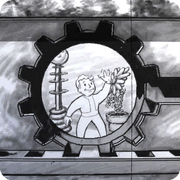 Hello, Tinyyoumu, and welcome to the Fallout Wiki! Thank you for your contributions, and we hope you'll stay with us and make many more.
Some links you may find useful:
If you have questions, you can ask in our forums, join the live chat or post a message on my talk page. We hope you enjoy editing here and look forward to working with you!
Hin Tinnyoumu welcome to Nukapedia, and the New User Network. I hope you choose to stick around and help us for a while.
Just so I can pair you to the right mentor, can you let me know where in the world you are, what times you're likely to edit on the wiki, which games you prefer, and if you have any special interest areas. You can reply on my talk page.
Thanks again for choosing to be a part of us. Agent c 12:03, June 13, 2012 (UTC)
Hi there Tiny! I'm an administrator on this wiki, and I have a lot of experience that I would love to share with you! Let me know if you would like to pair up so I can teach you all you need to know.--

02:25, June 19, 2012 (UTC)