Welcome to Nukapedia!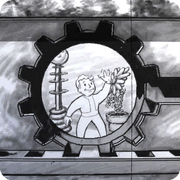 Hello, The Old World Relics, and welcome to the Fallout Wiki! Thank you for your contributions, and we hope you'll stay with us and make many more.
Some links you may find useful:
If you have questions, you can ask in our forums, join the live chat or post a message on my talk page. We hope you enjoy editing here and look forward to working with you!
Change
If you wouldn't mind me asking, what change are you talking about exactly?

Skål! 04:28, February 24, 2012 (UTC)
Ah, I see. Let me know if anything comes of this. Skål! 04:57, February 24, 2012 (UTC)
Talk Message
Thaks for the message, but I'm really not interested in "leading" the wiki - the key word in what this place is is Wiki, not chatroom, forum or news service - as such the leadership really needs those wiki skills. Agent c 10:34, February 24, 2012 (UTC)
May i ask if Agent C banned u from the chat? He banned me aswell
Your message
Please don't leave comments like that again. Not only are you enabling his/her behaviour, but you're also slandering us -the Admins and mods- in the process when we're only doing our jobs to help keep the peace here. We already have to deal with enough crap, please don't add on to it. Thank you.

Skål! 03:47, March 14, 2012 (UTC)
Everyone is entitled to their opinions. The problem arises when you start egging others on and you start insulting the leadership. (Which you essentially did in that message and in your earlier one to Agent c talking about how the 99% is ignored and pushed around by us.) If you truly feel there is a problem, you can always start a forum up about it to raise awareness. Just try and remain neutral, please. As I said, we're just doing our jobs and we don't like to receive flak over it. Skål! 04:09, March 14, 2012 (UTC)

Alright, well thank you for understanding then. Skål! 04:29, March 14, 2012 (UTC)
New User Network
Hi OWR.
It's great to have you aboard the new user network. If you haven't already if you could add your signature on the project page, we'll get the wheels turning.
I'm at work at the moment, but expect to be on chat in about 2.5 hrs. If you're on then We'll have a chat about what you're looking to achieve on the wiki, and your usage patters, and check if I'm the best person for you. I was supposed to be paired with another but I'm not sure if that one is going ahead, so I need to check with them. Agent c 21:41, March 21, 2012 (UTC)
Hi OWR, not sure if you've seen the news on Yessie, but in a fit of anger he decided to leave the wiki. I'm hoping that he'll return with a cooler head imminently, but if he doesn't and in the meantime I'll pair with you. Agent c 16:30, March 23, 2012 (UTC)
Sorry that I'm a sucky mentor. You deserve better than me.
I'm a bit upset. I stand up for the people, and this is how I'm repayed. All I wanted to do was make this place fun and enjoyable for everyone. But as long as people like Cartman exist, that's not going to happen.
I'm not going to make it through the re-confirmation request, but I'm going to go out fighting. Good luck on the Wiki after I'm gone.


23:34, March 23, 2012 (UTC)
Hi OWR, need to catch up with you on New User Network stuff at some point. Gimme a shout when you're next on. Agent c 00:20, April 18, 2012 (UTC)
Adminship request
Thanks for the vote. Even if I barely know you, but every one vote counts. MS: Destiny conquers all. 19:06, April 20, 2012 (UTC)
The other Relics
Those both sound perfect. Will include them soon. Agent c 10:54, May 6, 2012 (UTC)
Dual vote
Seems you must've missed that you already voted for C earlier; you just added a second vote of yours. I removed it, so no harm done, just pay a bit more attention in the future. Hugs

"Say 'ello to my little friend!"
Notable loot project
Hey, I'd just like to let you know that the notable loot project has been put on hold until the administrators can stop bickering enough to think clearly and finalize the policy. Thanks! -- Bacon-Man Talk to me goose! 02:04, May 12, 2012 (UTC)
RE:Vandal
Thanks for the heads up, he's banned now. Hugs

"Say 'ello to my little friend!"
Present
You have been given A year's free subscription to the Nukapedia News digest.

Your efforts and diligence have not gone unnoticed, and you have been given a small token of appreciation.

For contributing a news tip to the Nukapedia News Digest (Diefenbunkers) Agent c

19:55, May 18, 2012 (UTC)
Thanks, it was nice to have some backup.
Hey OWR, you should remove that Mojave Life concept art pic, that's not a pic of Vegas, that's a photoshopped concept art of Paradise Falls. Just letting you know. :) Colonel Martyr 17:25, May 19, 2012 (UTC)
Re:ETA
Whenever the notable loot policy is finalised. Most likely we'll have a forum page and admin discussion to make sure it's set. Then we can start again. --Skire (talk) 22:47, May 19, 2012 (UTC)
Icons
Please link the icons to the corresponding add-on, if you're going to add in icons. --Skire (talk) 21:25, May 23, 2012 (UTC)
Haha..you remind me of myself when I was 14, arguing about political errors! btw no disrespect —Preceding unsigned comment added by StarkeyGS (talk • contribs). Please sign your posts with ~~~~!
Your Project
Hey I'll be happy to help with your project. But could you give some examples as to how it would be laid out. Kiwi

16:00, May 26, 2012 (UTC)
I think it looks rather nice with those icons added when refering to an add-on. Who were the admins who had doubts? As far as I'm concerned you can go ahead. Not sure how to go about those tables to keep up with the progress. I was thinking of something simpler. See who are interested and then split things up alphabetically. Jspoel 21:10, May 27, 2012 (UTC)
Aces'
Thanks for the Song, seems to work well, so we'll put yours up next. I've not decided if We're going to keep it one act per show or not so there might be another tacked on to the end. Looking forward to seeing your comedy routine... Agent c 13:52, June 2, 2012 (UTC)
I was going to update Aces' this week, do you want me to hold your act until you're back? Agent c 00:51, June 11, 2012 (UTC)
The Divide
I personally love that idea! I'll make a section in my sandbox for next week's draft, and when I have the questions written out, you can write in your side! Thanks for the suggestion! ~ Toci ~ Go ahead, make my day. 02:16, June 4, 2012 (UTC)
Patroller request
I granted you patroller rights. Don't let me down in the edit department and checking those recent changes, ok? Jspoel

16:56, June 5, 2012 (UTC)
Hi
Make sure you read the news today ;-) Agent c 03:12, June 8, 2012 (UTC)
Now I know you've read the news, here's the offical wikicode for your award...
You have been given A stylish editors' red pen.

Your efforts and diligence have not gone unnoticed, and you have been given a small token of appreciation.

For all your hard work on the wiki to date - hey, do you know how hard it is to find a working pen in the wastes? The New User Network Team
Quotation Help
Thanks for showing me how to better show a quotation. I had been looking for that specific format but was unable to find it! --Journeyman Vickers 18:11, June 25, 2012 (UTC)
Patroller V. Patroller
That's actually pretty funny, I have that same problem with GaruxBloodline, who's done it about a half a dozen times since I've logged on. Oh, and I use a laptop, a 2.5 year old Dell XPS. Paladin117>>iff bored; 01:41, June 26, 2012 (UTC)
Totally not my fault, that was like a 6 minute difference. You wanna call dibbs on the next one? XD

Paladin117

>>iff bored;

02:06, June 26, 2012 (UTC)

Friendly competition? Alright, you're on.

Paladin117

>>iff bored;

02:30, June 26, 2012 (UTC)
Moose Mk.II
Absolutely. Let me finish up with a few things and I'll send you a patron template to play around with.

Skål! 05:17, June 26, 2012 (UTC)
Divide
I don't need someone to cover for me. I'm really not that busy. What I need are debaters. The Divide was supposed to be right on time, but I never got Neko nor Zerg's debates. ~ Toci ~ Go ahead, make my day. 05:12, July 6, 2012 (UTC)
Me Not To SMART!
Well I've never done a talk page message before so I thought I'd give it a try now so I'm stopping by to say.... HI!PerfectConduit (talk) 17:47, July 6, 2012 (UTC)PerfectConduit
Thanks
Thanks so much OWR! It means alot:)--

05:44, July 14, 2012 (UTC)
Art and FanFic
Er, I suppose it would be ok, maybe. I'll have to see which pictures it is you're talking about exactly, most of what I post is from my own comics/comicfanfic. I would really like to talk to you on the chat about this, having a conversation like this is kinda hectic and awkward, maybe we'll settle a date or time or something? --Joshua-Conduit (talk) 20:10, July 14, 2012 (UTC)
Re:Chat
Hi Relics, you can see my response to the matter here. --Skire (talk) 13:42, July 18, 2012 (UTC)
Project
Thanks man! Actually, I know I added maybe a dozen or so GRA icons, don't think much more beyond that.--

04:18, July 19, 2012 (UTC)
Hey Relics, thanks for the project award. I think this was a very simple project with a straight-forward goal and honestly, there isn't much more to it, in my opinion. If you're interested in more projects you can perhaps take on something more challenging. See you around! =) --

Skire

(

talk

) 13:34, July 19, 2012 (UTC)
Ranks
Well, I've never heard of either Captain First Class or Private Second Class, perhaps some militaries I'm not familiar with use those ranks, so I'll give it a shot:
Enlisted ranks: Private < Private Second Class < Gunnery Sergeant
Officer ranks: Lieutenatnt < Captain First Class.
At least that would be my best guess, considering I'm not familiar with those two. The Gunny  

21:08, July 21, 2012 (UTC)
Thanks for the reminder!
Hey, thanks for letting me know about your latest fanfic post. Sorry if I seem a bit annoying or obsessive about it on chat...it's just I really enjoy the series :P. Latest was great, keep up the good work! :D
Junk Idol/Fallout: The Apprentice
Hey OWR, The starters flag has now dropped on Fallout: The Apprentice. You can find the first challenge and the full rules User:Agent_c/sandboxJunkIdol; Due date for challenge is currently 2nd of Aug, but let us know if you have any issues with that and we can probably extend it. Agent c (talk) 23:04, July 25, 2012 (UTC) Just to let you know, We're calling official close as midday wiki time/GMT but its flexible, so if you need more time let me know. Agent c (talk) 12:54, July 26, 2012 (UTC)
Just to let you know there's an indefinite extension going on. Two contestants haven't posted, one I'm in contact with (Miss Nic) and have agreed an indefinite extension, the other (Crimson Frankie) I've not heard from at all. If I don't hear from Frankie by the time Miss Nic is ready we'll proceed at that point but cut one round, and give more time on the challenges. In the meantime please feel free to make any changes you desire to your entry. Agent c (talk) 10:28, August 2, 2012 (UTC)
Hi OWR, to fill the gaps Denis517 has joined the game, taking us back to 6 and at the moment he has up to a week to construct his entry but we'll "go" when he and Nic are ready - unless we somehow get a 7th again or something. I'll still do a preview blog tonight announcing the game and first challenge to the world and I'll give the 2nd challenge to contestants when we have all players in. Feel free to tweak your entry until informed of close. In the event you're going to be away from the wiki again or something in the coming weeks, let me know and I can give head starts in some cases. Agent c (talk) 16:10, August 2, 2012 (UTC) Hey OWR, just to let you know I'm officially setting the finishing line for Challenge 1 in 23 hours, 17 minutes time. Out of the 9 expected entries, I have 8, and either the 9th makes it, or doesn't. You can keep editing right up until that point if you desire, but after that it's up to the judges. Agent c (talk) 00:43, August 9, 2012 (UTC)
Just wating for the other judges for Round 1... You can see the updated schedule, and the next challenge here I'll be keeping this page as the official contestant page, so if you have any questions, post em here as a title and I'll answer it. Agent c (talk) 23:06, August 10, 2012 (UTC)
Sandboxes
As far as I know, there are no limits to user space pages. If you're doing work that needs a sandbox, then make one. If the work you're doing needs more than one, then make more than one. If you don't need them anymore, you can always tag them for deletion. The Gunny  

04:33, July 26, 2012 (UTC)
NL project
Hey OWR =) Since you're one of the listed participants with some activity and decent experience, could you do some peer reviews for some of the locations on the project table and mark them? I'm looking to make continuous progress on this project as to avoid it being idle for too long. --Skire (talk) 00:51, July 27, 2012 (UTC)
(←)  Standard combat armour is not notable. And you can work on peer reviews for whichever section you feel most comfortable with. Don't worry, I like messages ;) --Skire (talk) 01:53, July 27, 2012 (UTC)
Marines aren't Army
But that didn't belong there regardless. ~ Toci ~ Go ahead, make my day. 03:18, July 28, 2012 (UTC)
Image template
Image template is not needed on these Van Buren item pages in my opinion. The VB page that have an image now are from the design docs or the cutting room floor. The rest just doesn't have an image anywhere to be found. I think that's safe to say after 9 years after the game was canceled. Jspoel

20:18, July 28, 2012 (UTC)
Patroller Application
So...I'm only 10 article edits away from the bare minimum required to qualify for patroller rights and that's been my goal since I first joined this website and since you're a patroller, I have a few questions I want to ask you about my application.
How many edits above the minimum requirement should I go?
Based off of my recent edits, would I qualify as a good-enough editor?
If I were to create an article, would that be good enough for a "major contributions" section?
Which beauracrat is the most likely to grant me patroller status?
If my application fails, how long should I wait till I re-apply?
I'm looking forward to your answers!

release date
do u know the release date of fall out 4
Re:Stuff
Thanks for those words, TOWR. I didn't know that was what you thought of me but I deeply appreciate the sentiment =) See you around. --Skire (talk) 22:47, August 12, 2012 (UTC)
new veagas cover xbox 360
whats the armor on the new veagas cover and how do i get it
Welcome to the enclave!
Welcome to the enclave Vice President Relics! I hope you'll be a lot of help to our plan to ultimately take over the world Help the wiki!
| | |
| --- | --- |
| | This user is the Vice President of the Enclave. |
| | |
| --- | --- |
| | This user is pigeon approved |

"You sir, are Pigeon Approved!" 03:09, August 21, 2012 (UTC)
Alternatively, you can join the Neo-Enclave. Look, you're the first of almost 200 loyal Neo-Enclave users to be given a pretty userbox! Not even I have one! I even designed the crappy star myself.
FO:A
Okay, as long as its up by 23:59 UTC Thursday. Agent c (talk) 14:40, August 21, 2012 (UTC) Are you okay to post within the next 6 hrs? Agent c (talk) 17:17, August 23, 2012 (UTC)
Apprentice 2/3
Hi OWR, Just waiting on the other 2 judges before I can post the results up. However if you'd like a sneak peak at challenge 3 Its up now. I'm planning on changing the place of submission to this page, rather than my TP. Good luck with challenge 2, and presuming the results go your way, hope you enjoy 3. Agent c (talk) 21:39, August 24, 2012 (UTC)
Poll idea
Hey, man. Cool idea! I'll use it next chance I get. Thanks for the userbox, too - I'll be sure to show it to the community next week, with due credit. See ya round. Oh, and good luck with FO: Apprentice, I'm looking forward to seeing how the next challenge turns out.


05:44, August 25, 2012 (UTC)
Notable loot project
Hi there OWR =) You are listed as a participant in the notable loot project, and so this is a general reminder that the project still needs attention and work. Currently, we are looking for peer reviews to be done. More can be found on the project page. Thanks. --Skire (talk) 01:31, August 31, 2012 (UTC)
Apprentice
Hey OWR, just checking in that everything is going good on this weeks entry. Time due is currently 23:59UTC Wednesday. You'll find a clock showing local and UTC time on the contestant's page. Agent c (talk) 23:54, September 1, 2012 (UTC)
Hey, just a reminder that about 10hrs remain. Let me know if there are any issues. Agent c (talk) 14:23, September 5, 2012 (UTC)
A favor, eh
Actually, my WiFi card is acting up on me, so I've seen you beating me quite a bit. I was actually just considering making a blog page for the UVAR, can you read minds or something? Yes, you can use it, but you better not lose this week if you do. Paladin117>>iff bored; 02:29, September 3, 2012 (UTC)
Thank you
Well, nobody else thanked you for making that userbox, so I will. Thank you, The Old World Relics! I'm gonna scold everyone for it next poll anyways.


07:08, September 3, 2012 (UTC)
Re:Sandbox
If it's really of concern, you may remove those category tags. The page was under construction and needed further discussion. The one you are referring to is about the category, not the page. It is an element of the games and deserves to have information on it even if it's purely a racist term of the Enclave. And I'm doing quite fine myself, just got back from vacation in New Hampshire, thanks for asking =) --Skire (talk) 23:35, September 3, 2012 (UTC)
Images
What's mine is yours, my friend. Feel free to use it :)


05:38, September 4, 2012 (UTC)
Map image
Hey thanks! True, images are my favorites. Just received a badge for 7,000 uploading images, since April 2011. You just want to cut the text away from the map and leave the black space or should I just cut it away entirely? And do you want that little green marker near the A gone? Jspoel

00:22, September 5, 2012 (UTC)
I uploaded that image. Good luck with your entry. Jspoel 00:36, September 5, 2012 (UTC)
Although I kinda doubt it, if it helps, I created an article about the UVAR here. I decided while I'm at it to mention your location (not that I'm reading your sandboxes or anything). Paladin117>>iff bored; 21:22, September 5, 2012 (UTC)
No problem, I was more surprised that someone wanted to use it. So, thank you for that.

Paladin117

>>iff bored;

01:02, September 6, 2012 (UTC)
THANKS
Thanks for designing A thingamabob, that shows one of my poll ideas was used in A poll, & now that I've learned how put cool colors, I've customized it to look even cooler THANKS, sorry I didn't thank you last week LOL, I completely forgot! (Wildwes7g7 (talk) 06:50, September 8, 2012 (UTC)) leave your name on my friend page, friend!
Thanks
Thanks for the box image thing that appears if you made a suggestion to the polls, even though I don't use it myself it was still a kind gesture. --71.245.42.204 00:21, September 9, 2012 (UTC)
Better late than never
Congrats!
OWR
Hi OWR, Next challenge is up. I'm concerned about the regular overrunning of Deadline so I'm not posting a deadline just yet, but want to hear from everyone on the subject. How does a week from thursday sound, will you have any issues? Agent c (talk) 15:33, September 22, 2012 (UTC)
Vandal
Got that anon for you. Thanks for putting that out. :)

Some Assembly Required! 14:56, September 24, 2012 (UTC)
Thank you
I'll wear that coat with pride. I hope you don't mind if I take off the oak leaf clusters and sew on some gunny's stripes :p  The Gunny  

19:48, September 24, 2012 (UTC)
Teh Fanfic
Hey OWR. Here to let ya know that I've started my fanfiction, and am almost done. Don't worry, I'll finish it by the deadline. Just have to write a chapter (or two), edit like nuts, then it'll all be set.
Links:
Like I said, there will be a third and maybe even a fourth installment, which I'll be writing ASAP.
Cheers. KnowledgeProspector (talk) 08:07, September 29, 2012 (UTC)
RE: FanFic
Hey OWR.
I'd like for you to include words from me (much like Crimson Frankie), if you can. I'll try my best to explain it:
"
The Caravan is a story about a man discovering a caravan group. Though he's only known them for a day, he quickly feels comfortable around them, since they're the closest to a family he's ever had in a while. But things turn for the worse, as the caravan faces numerous death threats. The man tries his best to protect them, as he is constantly reminded of his painful yet mysterious past.
"
It can totally be better but since you're nearly out of time, I'd go with that.
Oh, and here's chapter 4.
I'll be making lots of edits on it soon. Just some revision stuff that I deem necessary. I'm not planning on changing too many things.
Looking forward to the celebration. Thanks for having me in it!
Cheers! KnowledgeProspector (talk) 09:55, September 30, 2012 (UTC)
The Historian
http://fallout.wikia.com/wiki/User_blog:101Phase/A_New_World_-_Part_4:_The_Return As promised, here's the latest chapter :) --101Phase (talk) 19:21, October 3, 2012 (UTC)
Vandal
I got that Vandal for you. They can be pretty crafty eh? ;) Anywho, congratulations on your 1000th edit my friend:)--

22:56, October 5, 2012 (UTC)
The funniest I've ever seen was this placed as the quote for Vulpes Inculta:
"
The sound of Vulpes' voice causes panties to become suddenly and inexplicably moist.
"
--

23:06, October 5, 2012 (UTC)