Welcome to Nukapedia!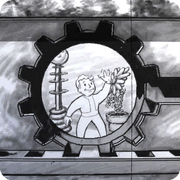 Hello, TheHouseAlwaysWins, and welcome to the Fallout Wiki! Thank you for your contributions, and we hope you'll stay with us and make many more.
Some links you may find useful:
If you have questions, you can ask in our forums, join the live chat or post a message on my talk page. We hope you enjoy editing here and look forward to working with you!
Hello when you make a quote, please set it up like this:
"
the quote
"
— whoever said it
Kiwi

19:04, May 6, 2012 (UTC)
Why in the world would you replace a decent quote with a crappy two word quote?

Skål! 19:07, May 6, 2012 (UTC)
Easy, Leon. -- Bacon-Man Talk to me goose! 19:09, May 6, 2012 (UTC)
Appreciated
Edit
Thank you for the message. It's always nice to help users find their feet here. Kiwi

14:36, May 25, 2012 (UTC)
By putting what you want to link in these brackets [[ ]]. Also can you sign your posts with four of these: '~' It helps us to track who said what/ Kiwi

21:07, May 29, 2012 (UTC)
Edits and links
Edit
Hi there. I'd encourage you to keep your edits on one page together in one or two instances, instead of 6 or 7. Especially when these edits are very minor, it would be a good idea to do them altogether. And a lot of your links are off and inappropriate - make sure they correspond to the proper game, but don't display the game in the link, like this: [[Yao guai (Fallout 3)|yao guai]]. --Skire (talk) 20:05, June 2, 2012 (UTC)
You uploaded a few images, not too bad. If you plan to upload more, try making the quality and size better. An example is the Rivet City hallway image I just replaced. Jspoel

23:14, June 2, 2012 (UTC)
I removed your Victor image. A similar one of greater quality is already in the infobox. Jspoel 23:17, June 2, 2012 (UTC)

Right-o. And please mind your spelling. I just fixed one on the Moriarty Saloon page. Jspoel 23:22, June 2, 2012 (UTC)

Look, I know you're trying to get some badges and that's alright, as long as you're making constructive edits and not many small edits which can be done in a few. Those 2 edits on Fallout quest pages didn't make much sense. Both links you created led to overview pages, so those weren't improvements. You need to check those things, ok? You could check out our Fallout Wiki:Editing guideline before you continue I think. Jspoel 23:33, June 2, 2012 (UTC)

First, where do you want to add a category? Jspoel 23:36, June 2, 2012 (UTC)
(←)  And what category would he need then?
House doesn't need a robot and computer category. He isn't a robot now, is he? Looks like you just want to add a category for the sake of getting a category badge and not actually care for improving the wiki. Also, I reverted your Vault 101 edit on Dogmeat. Needs to go on the Dogmeat page and his link was wrong too. If I see more of these kind of edits, it's a block for achievement boosting I'm afraid. Jspoel 23:53, June 2, 2012 (UTC)
(←)  Why don't you join the Fallout Wiki:New User Network? Jspoel

15:52, June 3, 2012 (UTC)
New User Network
Edit
Hi, welcome to NukaPedia!
I most certainly can help you with that. To help me matchmake you can you let me know what times you're likely to be on the wiki (and your timezone), which of the Fallout games (looking at your talk page I'm guessing the newer games) and if you have any specialist subject areas.
Welcome Aboard Agent c 16:24, June 3, 2012 (UTC)
And what picture would that be? Can't find it. Jspoel

21:19, June 4, 2012 (UTC)
You uploaded it, so you should know where it came from, not me right? And where did you get it? I can't find it on the Posters page. If it's not an official poster, it doesn't belong on the Gomorrah page. Jspoel 21:29, June 4, 2012 (UTC)

Some are good (the ones from the pre-release, Dog and God and the Bison Steve hotel, some are not needed, like the Vault Boy images and the Gun Runners Arsenal logo. As you will see I already corrected most of your edits where needed. Jspoel 12:07, June 9, 2012 (UTC)
It appears one of the images on the Bison Steve Hotel page was a mod, we don't use those here. And I reverted you Stripe edit. That egg timer is already mentioned in in his Stat box. Jspoel

15:53, June 9, 2012 (UTC)
I reverted 2 of your Gob images. They were too dark of of too low quality. The last one is good, Gob taking orders. Looks like you are my mentee for the New Users Network, so if you have questions, ask. Jspoel

22:21, June 13, 2012 (UTC)
An image is never too big. The bigger (in size accompanied with high resolution) the better. Those 2 images were too small in size and lacking quality or were too similar to other images. Try to make them large (800x600 of higher) and with good lighting, nice angles etc. Funny, while I write this I remember the very first post I got about images User talk:Jspoelstra/Archive 1 on a Jacobstown shot. Jspoel 23:33, June 13, 2012 (UTC)

I reverted your Olin image. It was of poor quality, just 8kb, 242x208. I'm sure you can do better than that. If you look at the other images on the same page, they're several 100k's of bytes and close to 800x600. That's what we're looking for here, because when you click on them, they will enlarge and give a nice close-up. Also, mind the names you give your images (not numbers but a decent name). Jspoel 23:43, June 13, 2012 (UTC)

Again, your images are too dark, too small, too poor of quality, too similar to other images on the same page and you keep giving them bad names. I think recognize a few, they were already removed in the past for too poor quality. It needs to improve. Already gave the standard above. Jspoel 00:21, June 14, 2012 (UTC)

You could have used this image from the Think Tank page instead of the image you added to the Old World Blues add-on page. Did you copy that to your PC and rename it, reducing it in size or something? If you want image badges, you can use the same image, place it on another page, and it will still count for an achievement edit... Jspoel 00:29, June 14, 2012 (UTC)
Adding links with section titles
Edit
Howdy, THAW. The link you just added to Chainsaw (GRA) directs it to a page listing the melee weapon formulas for all games. A better way to link it would be to point it to the exact section of that page for Fallout: New Vegas. You can do that easily this way [[Melee Weapons#Fallout: New Vegas|melee weapon]], by adding a # tag and then the exact title of the section you want the link to point to. Add a pipe "|" and then the plain text you want to show for the link. Also, [[melee weapon]], the link you used, goes through a redirect to get to [[Melee Weapons]]. Using link suggest, by choosing a link from the drop-down menu when you start typing [[melee..., will give you a good link. Hope this helps. The Gunny  

02:34, June 14, 2012 (UTC)
The Pitt
Edit
On your profile it says that you live in the Pitt......so uh how is it? --The Nuclear King 10:57, June 14, 2012 (UTC)
Adding galleries
Edit
To add a gallery to a page copy and paste the coding below:
==Gallery==
<gallery>
picture name.jpg
</gallery>
You added ED-E Lonesome Road images to the ED-E page. Mind where you put your images and I already said before give them a good name, good quality. You still often don't do that. Just reverted 2 images again, too small or too green and bad naming.
To add an image to an infobox like on Kings_gang_member, edit the page, go the |image = in the infobox and type behind the = the name of the image you uploaded. Jspoel 12:23, June 14, 2012 (UTC)

Come on. Not literally add 'picture name.png' but actually your image its name! And your images of Raul were too dark, similar and had a bad name (again). I'm going to have to block for a day if I see you continue making these errors, which time you can then spend reading the Fallout Wiki:Policies and guidelines Jspoel 12:34, June 14, 2012 (UTC)
(←)  Look, I think you're a nice kid trying to do well, but you're making me work hard to keep up with you, correcting all kinds of errors. Better spend some time first on those guidelines and for example edit the pages, browse them and see what they look like with coding and stuff. Then you'll get a better understanding of how things work here. And I mean you name your image ir0hla.jpg or EDE llr135o8.png or something. Those aren't good names. Make it descriptive, like EDE leaving stasis pod.jpg or Vault 101 birthday party.png etc. Jspoel

12:46, June 14, 2012 (UTC)
Giant ant
Edit
As far as that ant picture you put up, I would like it to stay.--

01:22, June 15, 2012 (UTC)
TP Message
Edit
Friendship is not defined by words, but by actions. It is completely up to you. Agent c 12:20, June 15, 2012 (UTC)
Palmer, Lanius and galleries
Edit
I reverted your Lucy Palmer's image because it was of poor quality and I think Lanius is a fan art image, which we don't include in our wiki. And please don't add gallery with a non-existing image. Jspoel

20:31, June 17, 2012 (UTC)
Why did you remove the entire gallery? --Skire (talk) 14:13, June 20, 2012 (UTC)
Oh, I didn't even notice that. It's weird that J added it back, but I removed it again. --

Skire

(

talk

) 23:08, June 20, 2012 (UTC)

Would you mind putting a signature after a talk page comment and starting a new section. Just put something like "Hoss" in the edit summary box:) That picture is being kept for the reason that J mentioned, to identify Hoss. It's also fine because it's just the name, not the whole HUD.-- 23:15, June 20, 2012 (UTC)
Deathclaw images
Edit
I removed one of your images on the deathclaw page. The sign is ok, but the mother with her babies is too dark. Better make it daylight so we can see them well. And the image should be of higher res/bigger size. When I see a pic starting with a number, like your 544px-Fallout_New_Vegas_Deathclaw_Mother_&_Chil.. etc that's always a sign it's a smaller version of an original bigger sized image. Jspoel

23:37, June 20, 2012 (UTC)
I removed Gob's image. It is too dark. Try to make the quality of your images as good as possible and with more light. Feral ghoul image is barely making the grade (think you copied that one from somewhere). And we have a max on 5 quotes on character pages. Jspoel

22:59, June 21, 2012 (UTC)
I removed your frenzied fire ant image from the gallery. The image was already right there on the page. Jspoel 14:58, June 22, 2012 (UTC)
Chaos in Zion
Edit
Hey House, I noticed some of your edits, and I was wondering if you could explain these edits: [1]. It might have been a simple mistake, but I just wanna check. Thanks. :)

Hawk da Barber 2012 15:25, June 24, 2012 (UTC)
Ahh, ok. We all make mistakes, so it's all good. If ever need some help or anything drop me a message, I'll be more than glad to help you out. Hawk da Barber 2012 00:42, June 25, 2012 (UTC)
James, Amata, Gomorrah and NCR MP HQ
Edit
I removed some images from James and Amata. They were of rather poor quality and that James image is a mod one I think. Gomorrah poster I couldn't find in the GECK and you really need to check your spelling. It's Gomorrah, not gommorah. Also it's Clanden, not Clandon. And you added an image from the NCR Military Police HQ to the NCR Embassy page. They're different locations. And you spelt it ncr military police hq. It needs to be written like I did. Sorry to say, but you need to pay more attention to your contributions. Jspoel

16:45, June 24, 2012 (UTC)
Some are good (I liked that Fallout 3 trailer Mister Handy), some are less good; too low on size and quality or already a similar image present (Outcast sentry bot, protectron). Or a bit too dark (Securitron images). I lightened a few of those. Can you also remove the _ sign in the left low corner of the image? Just type cls in the console command and it should be gone. And you uploaded the Sergeant RL-3 image in a smaller version? Why? Just use the original. Jspoel 23:36, June 24, 2012 (UTC)
Almost gave J credit for your work! Good job on that ED-E image you uploaded. We could certainly use more images like that here.

Skål! 16:49, June 24, 2012 (UTC)
Please try and check what links you are adding in with the preview function, as some leave redlinks or lead to pages that are not relevant with what is being said. Check the context of the word, for example the link on "fallout", the word was being used to refer to nuclear fallout, not the actual game. Thanks. --

Talk 12:35, June 25, 2012 (UTC)
Don't overlink. The Museum of History already was linked just below in it on the Underworld page. Jspoel 12:39, June 25, 2012 (UTC)

You're adding unnecessary links again. Doctor leads to a skill page and not a doctor. The mine link leads to an overview page. You need to check where the links lead to and don't link everything that's linkable. Rivet City images were ok. Jspoel 13:43, June 28, 2012 (UTC)
About your recent edits
Edit
Hello, please stop with all the incorrect, erroneous edits please. They are annoying. Thank you, have a nice day :D. I should elaborate more on this, many people have been complaining about having to fix your edits. It has been said that you often post links that are unneeded or post information in general that is incorrect. It is highly suggested that you enter the wiki chat and verify any changes before you make them so that you know for sure that the information you change or update is both accurate and wanted. I say enter the chat because it is in the chat where people complain the most about having to go back and change your edits. I thought you deserved to know this especially since what you do affects everyone.--Nicklesbe 14:40, June 28, 2012 (UTC)
Your countdown was spammy. Doing one number per line is spam. It was just a kick so you can come back but he did tell you to stop so if you do it again it would be a ban. JASPER//"Do you like hurting other people?"
23:56, January 13, 2013 (UTC)
You were kicked from chat for spamming by doing a countdown. We often refer to it as "Yakov posting." You were asked to stop by two mods and you did not. It was just a kick so you can return after them. - Chris
01:11, January 14, 2013 (UTC)
Image names
Edit
Can you give the images you upload a proper name? I already had to rename some yesterday due to bad naming. Also, some of them were too dark / of too low quality. Jspoel

00:50, January 16, 2013 (UTC)
Your Links
Edit
Hey I've noticed you've been making edits adding links and then reverting them shortly there after. If you're gonna add a link to a page, preview it first to make sure it works. Richie9999 (talk) 01:33, January 16, 2013 (UTC)
You've made 10 different edits today adding links and then removing them. Your contributions history shows a lot more than that in the recent past.. I don't know if you're making honest mistakes or not, but you need to be more careful of your edits before you publish them. You do not want suspicions raised about edit boosting or achievement boosting. Making frivolous edits just to correct them and pad your edit count or get achievements is against site policy. The Gunny   01:54, January 16, 2013 (UTC)

Seriously, don't add and remove the links you've added. It looks like boosting, and as mentioned above that's a violation of site policy. There's other edits you could be making, don't make frivolous ones. If you don't know if the link will work use the preview button ext to the publish one to see how your edit will look. Richie9999 (talk) 14:43, January 16, 2013 (UTC)
Good work on the Pics
Edit
Nice to see them put to good use.--

A Safe People is a Strong People! 23:17, January 16, 2013 (UTC)
Recent edits.
Edit
Hello. Please try to make an effort to minimize your edits when they are on the same page. For instance, your edits to Tapper's page could have all been accomplished in a single edit, or at most two if editing by section. Also, don't add content and subsequently remove it, it looks like you are boosting your edits. There is a preview button on the wiki that allows you to view your links to see if they work before you publish them. You may find this useful. Regards,

nihil novi sub sole 20:14, January 21, 2013 (UTC)
Boosting
Edit
It has become apparent over the past couple weeks to myself, and the rest of the administrative staff that you are currently adding and then removing links on articles, making multiple edits on an article when only one is needed, and other methods such as adding and removing periods and commas to article in an attempt to boost the number of edits you currently have. This is UNACCEPTABLE under current wiki policies.
"Making unnecessary edits to pages in order to gain wiki achievements."
Since this is your first offense I will be blocking you for 3 days as per standard policy. If you have an issue with the block you can leave a message on my talk page, or appeal to a BC. I hope you understand now how serious we take boosting. ---bleep196- (talk) 20:31, January 21, 2013 (UTC)
Patroller request
Edit
Sorry, can't give you the rights. You've been away 5 months and only just returned to make a few edits. You also need to improve the track record coming back from a 3-day boosting ban. Some work cut out for you before you can climb the ranks. Jspoel

15:53, June 20, 2013 (UTC)