Welcome to Nukapedia!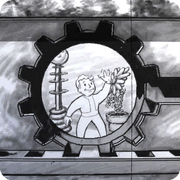 Hello, Swingingmybat, and welcome to the Fallout Wiki! Thank you for your contributions, and we hope you'll stay with us and make many more.
Some links you may find useful:
If you have questions, you can ask in our forums, join the live chat or post a message on my talk page. We hope you enjoy editing here and look forward to working with you!
Thank you for the welcome!
Can someone please tell me why i was banned from chat? I dont understand???? Swingingmybat (talk) 06:00, September 11, 2012 (UTC)Swingingmybat
You'll have to ask Scar why you were banned. Generally bans are not lifted before the expiry date, except for special circumstances.


08:00, September 11, 2012 (UTC)
Hmm. Like Yessie said above, it appears as if Scar was the one who banned you. I have no idea what happened, so I'm not really the best person to ask about it. You wouldn't happen to have any logs that I can review? Some Assembly Required! 01:35, September 14, 2012 (UTC)