"
*May each day find you Happier, Healthier & a wee bit wiser.
"
→ Saint Pain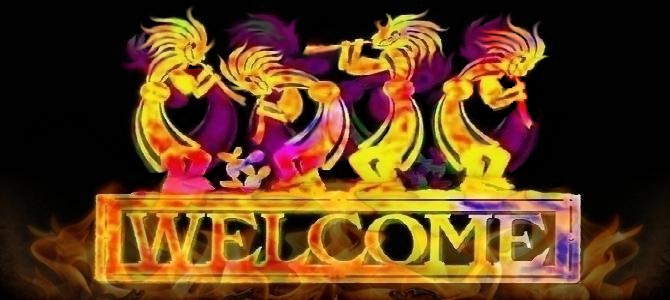 Please be sure to sign your posts so I know to whom I should reply.
SaintPain→ Here to help." 00:36, November 17, 2013 (UTC)
I hired Lily last night, and I have to say, having someone who was once a grandma as a follower is quite amusing, not to mention one that's 10 feet tall, has blue skin, is very muscular and yells "Get behind Grandma!" when there are enemies near. It's also quite comical that Lily wears the remenants of a shawl with a flower brooch and wears a floppy lady's hat, amongst other oddball clothing items. Hahaha. Leea (talk) 16:57, November 17, 2013 (UTC)

I had (mostly) hired her because I'm working on the "The whole gang's here" achievement, along with the "Love the bomb" and the other pickpocketing and hacking achievements. I've only got (I think) Rose of Sharon and Raul left. Otherwise, I'm that type of player that has one companion through the whole game, and doesn't really like to change it, so this is a slightly uncomfortable and against-the-grain thing I'm doing here!
And that damn bug where the Singer isn't in Novac happened again! Two separate playthroughs and the same damn bug! Haggled with Garret this time though, got Hadrian outta his contract, and the Singer is nowhere to be found. He's still not there if you visit Novac first, either. Or at any other stage of the quest. Argh! Leea (talk) 21:16, November 17, 2013 (UTC)

I can't use console commands, remember? I play with an Xbox360. I also ran across three unusual bugs yesterday; I had finished Arcade's quest, and when I went back to the Lucky 38's suite, there he was! Except he was wearing a Followers lab coat, and had dialog as if he was not in my place. There is no way to get him out, so I guess I'm gonna have to live with it, he was one of my favorite characters anyways, even if he does raid my fridge and sleep in my bed. The second bug was that I left Rex at the suite so I could have ED-E for awhile, and when I came back with a bunch of loot to unload, Rex was gone! I looked everywhere, and with ED-E's perk, there was no chance of missing him. I guess I'll try looking at The King's later. The third bug was that I went to anhilate the Fiends at Vault 3, the first 12 or so Fiends went hostile, of course, because I wasn't wearing Khan armor, but the ones past the diner in the rest of the Vault are completely non-hostile. I even walked in in non-Sneak mode and no one shot me. Weird. Leea (talk) 12:30, November 18, 2013 (UTC)

Actually, the only real annoying bug is what I call "The arm flip", where the player's arms flip up overhead or down below, sometimes in the middle of the screen, too. Only seems to happen in First-person, though, not all of the time, and not with melee weapons or unarmed. I can live with it, it doesn't affect gameplay, and I only have to look up or down for the arms to "right" themselves. Starting the game over again always brings up new opportunities, like what "playstyle" I'll try this time around, but I don't think I'll do that just yet, I still have to get the achievements I'm working on, including Yes-Man's questline. Leea (talk) 21:02, November 18, 2013 (UTC)

The "non-hostile Fiend bug" worked out in the end. I got to pickpocket spent ammo (if it was applicable) for part of the Pickpocketing achievement, then I used Oh, Baby! in a Sneak Attack and was eventually rewarded with the Melee Hacker perk. That would not have been possible if they had all been hostile.
On a completely different note, have you ever watched The Shinning? Leea (talk) 12:27, November 19, 2013 (UTC)

I've never read the book, though I have watched the movie probably more times than is necessary, I'm going on 12. Do you think it is scary? Leea (talk) 12:17, November 20, 2013 (UTC)

=D Hahaha. I had been watching the news on Halloween, and they had mentioned as a sort of "trivia" that the "scariest movie of all time" was The Shining. But, though I love the movie, I wasn't scared by it in the least bit. I actually though Jack going crazy was funny, and laughed at most of the movie. An it was voted that the scariest part of the movie was where he chopped through the bathroom door and said "Here's Johnny!", but I was hilarious. Leea (talk) 23:42, November 20, 2013 (UTC)
Re: Welcome
Edit
Thank you for the welcome message! I've had a couple of minor awkward bumps when editing articles so far but I'm really enjoying the community and am having fun getting to know people while settling in. Hopefully I'll see you around! --Wishywitchy (talk) 04:39, November 21, 2013 (UTC)
Movies vs. books
Edit
Heh. That's usually the way things are. I remember buying The Lord of the Rings trilogy after I had seen the movie, and found that the book contained a lot that wasn't in the movie. I had thought "Hey, some of this stuff is pretty good! Why wasn't it in the movies?", so whenever I watched the movies afterwards, I would sometimes think of the stuff that was left out. Did you ever buy the Lord of the Rings trilogy? Leea (talk) 12:20, November 21, 2013 (UTC)
Poll gift
Edit
You have been given a Health Drink.

Your efforts and diligence have not gone unnoticed, and you have been given a small token of appreciation.

Thanks for contributing to the Polls! BrandonFox

→

"Nice job!"
More Internet trouble! But I'm back again!
Edit
I'm back! I had more troubles with the phone line, this time no dial tone at all, so no Internet for three days! I am glad it didn't happen before I got the badge! I don't know if you're already with your family in Kentucky for Thanksgiving, so I don't know if you'll get this. Just know that I didn't lose interest in you, I wish that the trouble with the internet didn't happen, but it was out of my hands, otherwise I would have written a lot sooner. I hope you're all toasty and warm, 'cause here it totally is frigid! Leea (talk) 23:22, November 25, 2013 (UTC)
Have a good day, friend!
Edit
I hope I have a good holiday, too. Mostly Thanksgiving (for me, at least) will be hiding from all of my neighbors' friends, as they all seem to congregate to the neighborhood on Thanksgiving, then they roam the neighborhood, and I (and mom and dad, too) like to remain hidden from strangers that want to come on my property and go sightseeing. No joke! Its happened in the past! And I'm not one of those people that go traveling during the "holidays", because:
A: I don't have that much money to throw around, and a plane ticket to North Dakota is about 2000 dollars for one person. And that isn't even First Class! Add Mom and Dad's tickets and you have a very expensive trip.
B: I'm a vegetarian (so are my parents), and all of my relatives are...not. They aren't sympathetic, either, so they wouldn't have one thing without meat or eggs even if I did show up.
C: Me and my family follow a different religion than our relatives, and they aren't sympathetic to that, either.
D: Mom's side of the family are big wheat farmers, and Dad's side of the family are all big-time hunters. And we're none of those.
Add all of that and you've got major "outcast" going on.
Well, enough about my Black Sheep status. You go and have some fun on Thanksgiving! Don't eat too much! =P I'll be here when you get back. Leea (talk) 23:33, November 27, 2013 (UTC)
Best wishes
Edit
Gosh, I'm sorry to hear about that. I know what it's like, though, having someone in the hospital. If you need anything, I'll be here for you. You and your mom have my best wishes. Leea (talk) 12:49, November 30, 2013 (UTC)

That is good to know. Have you been to the "Black Friday" sales? I don't go to them things, way too many people, and I don't really like crowds. Leea (talk) 12:23, December 1, 2013 (UTC)

How come you didn't have Christmases when you were a kid? I had lots of presents when I was little, but as time goes by and you get older (and the further you live away), people start to forget you exist. I now get about two cards at Christmas. No doubt soon I'll get none whatsoever. Well, even if you don't have a Christmas this year, I'll still get you a present, even though its gonna be made out of computer code. =D Leea (talk) 22:40, December 1, 2013 (UTC)

What religion do/did you follow? Leea (talk) 12:41, December 2, 2013 (UTC)

I can understand why Christmas would be considered "pagan", because its mostly about Santa Claus anymore with very few references to the man Himself, Jesus Christ. Its almost become a non-religious holiday.

Whew. I didn't know what you'd think. I was holding my breath on that one! If everyone in the world was as open-minded as you, the world would be a better place.... Actually, everyone in my neighborhood follows ISKCON as I did, but I wanted to keep Bhaktivedanta Swami, the founder of the movement, as my guru, and not any of the so-called "gurus" that think they should be gurus, but they didn't like me and my family's idea, so they kicked us and a couple others out of the temple about 7 years ago. I'm not gonna water down my views and accept some fake "guru" just to make some groupies happy. I'm "sticking to my guns". Thank you for being open-minded, friend. Leea (talk) 12:34, December 5, 2013 (UTC)
I fixed them for you! How do they look on your end?

Some Assembly Required! 02:01, December 9, 2013 (UTC)
How about now? Some Assembly Required! 02:31, December 9, 2013 (UTC)

No problem at all! Glad to help. Some Assembly Required! 03:30, December 9, 2013 (UTC)
Temperatures
Edit
I've seen on the weather a few days ago that there was a swath of ice clouds over Indiana. Did you get snow? I hope you didn't get snowed in. That would be a drag. Leea (talk) 12:32, December 9, 2013 (UTC)

Texas? I don't live in Texas. I live in Mississippi, remember?
Hahaha...I had a good laugh at your story. Home Alone without the burglars... I have seen some snow in my lifetime, but the majority of it wasn't the fluffy stuff. A few years ago we went to an auction further up state, and it was so cold that it started to snow. Now, as you can imagine, a lot of Mississippians are not used to snow, so they were skidding and sliding all over the Interstate! One even flew over one of those signs on the side of the road! But since Dad (and mom too) is from North Dakota, he knew how to drive in snow, so we didn't crash like everyone else. And when we got to the auction, it was an outdoor one, and there was something about the treads on mom's shoes that made the snow build up on them. Finally, it was up to six inches, and she scraped it off, but as long as she walked around, it always built up! Hahaha. Leea (talk) 12:32, December 10, 2013 (UTC)

Thanks, love. A guardian angel could be useful, 'cause I had a little scare the other day. We went to town on Monday, and when I was at a dollar store getting some candy for me and dad, a man had gotten behind me in the checkout lane. I had seen him in the store, and he looked like one of those real shady characters, and he had tears tattooed down his cheeks, amongst other tattoos. Well, he got way too close for comfort, and I moved up about two feet or so for some room. But he moved forward, as well. It's not like the place was packed, there was no one else behind him, so this behavior was creepy. I moved twice, but he moved closer every time, I could basically feel him breathing on my shoulder, like he wanted to grab me or something. Finally I got to the register and was checking out, and I was so eager to leave, I almost forgot to pay! As I got into the car with Mom and Dad, I told them what happened, and just then the man walked out of the store. I told them, "That's him!" And to add the creepy-ness, the guy stared at me in the passenger seat as we drove by and out of the parking lot! Ugh...I know if the man had checked out faster and tried to follow me, I would have used every self-defense combat move I've ever seen. I'm not going down without a fight. Leea (talk) 12:43, December 11, 2013 (UTC)

I'm thinking about giving you something different for your Christmas present...if I can figure out how to post it. I'll have to ask around. I can't ask you, for obvious reasons, such as where would the surprise be then? Hahaha. Leea (talk) 12:18, December 13, 2013 (UTC)

We went to Bay St. Louis (its on the coast) yesterday to pay the taxes, and on the way back home, we stopped by a new antique store. Well, it wasn't so much of an antique store but more of a store that sold items bought from estate auctions. All of the stuff was so gorgeous, but every time I looked closer at the price tag, it ended up being 3 or 4 digit prices, like 2,000 dollars for a gorgeous Art Deco print. Way out of my league. Now, if it had been 20 dollars, then I could've gotten it... Do you like antiques? Leea (talk) 12:34, December 14, 2013 (UTC)
Christmas greetings
Edit
Thanks for the Christmas greetings! Also best wishes to you. Jspoel

14:37, December 14, 2013 (UTC)
You have been given an M&A 9mm pistol.

Your efforts and diligence have not gone unnoticed, and you have been given a small token of appreciation.
Thanks for the Christmas wishes. I also wish the best for you during the holidays and may all your wishes for the next year come true! Maybe i'll also try to make a nice card next week :) - Greets 21:58, December 14, 2013 (UTC) PS: Thanks, I wanted a picture of the blind deathclaws, but couldn't find one that was different from normal deathclaws, so I just got to work :) Glad to hear others also liked it.
Wanna hear a funny story? Dad found a Possum in one of the garbage cans in the back of the shed this morning. How the hell he (it?) got in there is beyond me, as there was nothing that it could have climbed up on to get in there. Well, he was at the bottom, and mom and dad didn't notice he was in there, and he ended up having some garbage thrown on top of him. Well, that meant a little ride of to "paper land". The paper company (I don't know what one) owns a lot of land to the north of us, which they log every so often. We drove the possum a good distance and let him out. Possums are so ugly. Like an ugly rat. And they smell bad, too. Only their mother could love them, if that could even apply! Leea (talk) 23:20, December 14, 2013 (UTC)
Seasons Greetings
Edit
Thank you Saint, and a happy holidays to you as well.
morituri te salutamus 04:55, December 16, 2013 (UTC)
Ugh. (twists face in revulsion) Possums smell so bad. If I was starving and there was nothing else, I'd rather eat grass. Or dry leaves. Is there anything you haven't eaten? I'm starting to doubt that there is. I'm really starting to believe that you've eaten one of every creature in the world. Leea (talk) 12:22, December 17, 2013 (UTC)
Heh. I suppose that you've eaten Crocodile feet as well, then. I've heard people around here rave about it, and all I can think is that "They sure must be scaly." I'm almost done with one of your Christmas presents. Just needs a little fine-tuning and its complete. Leea (talk) 12:19, December 21, 2013 (UTC)
Hey! What do you know! Casper hasn't tried Crocodile feet yet! Call the press! Hahaha. Leea (talk) 23:07, December 21, 2013 (UTC)
Your present!
Edit
Coming home, you see a cornflower blue velvet satchel sitting on your doorstep. You're instantly excited; could this be another Bottle? Carefully, you take the sack out into better light to better examine it. The velvet seems to shimmer from within the weave of the fabric, and there is gorgeous navy embroidery in the center of the satchel. The pattern of the embroidery resembles a gushing fountain. Tenderly holding the sack, you withdraw the Bottle. It is a sight to behold. The Bottle is crafted from translucent white glass, revealing the contents within. It's as if thick white smoke was trapped inside, but there is suddenly a burst of light and silver shimmers around within as the Bottle reacts to your touch. The slate gray label reads in script: Winter. The black cork has wonderful sliver swirls painted around the sides and top.
Eager to see what the Winter Bottle can do, you take it to an open place in the yard and pull the cork out. Instantly, the contents erupt from the mouth of the Bottle and out into the air. In the sky, suddenly clouds form, and light-as-air snowflakes drift down. A gentle breeze blows, and Cardinal birds appear on the branches of the trees, looking exactly like picture cards. Its starting to get a little chilly, and you realize you need a coat. As you are about to go get your coat, suddenly you feel warm and toasty, another gift from the Bottle. As the snow builds up, you see that snowmen are building themselves, as well as snow angels. Frost delicately encrusts the bushes and tree branches, and as the shimmer from the Bottle lifts upward into the sky, the clouds dissipate, and the rays of the sun makes the frost sparkle and glitter like so many tiny diamonds. Holly branches are studded with bright red berries, and the contrast with the snow is lovely. As the shimmer from the Bottle starts to fade, it gathers on each thing created and the snow dissipates like fog upon sunrise. The frost diamonds fade away, and the air warms around you. You look down at the Bottle still in your hand, wishing you had more. On closer inspection, it appears that there is a paper note inside the Bottle. As you shake the Bottle upside-down, the note falls into your hand. The paper seems to be handmade, as it is heavy and has uneven edges. On the paper, in gorgeous script, is written: "I held true to my promise, I did not make a Winter Bottle until it was time. Hopefully I have captured the magical moments of Winter without the terrible ones. Merry Christmas, my good friend."
You have been given Frost Diamonds, part of the Winter Bottle's Magic.

Your efforts and diligence have not gone unnoticed, and you have been given a small token of appreciation.
I can't get to picture to work right. I must be doing something wrong, again. Leea (talk) 13:05, December 23, 2013 (UTC)
Looks like the picture worked out in the end. That is good. Did you like the Winter Bottle? I tried to make Winter sound magical, without the painful parts of Winter. Leea (talk) 12:35, December 24, 2013 (UTC)
Happy holidays
Edit

The Walking Dead
Edit
I saw a while ago on someone's blog (can't remember who) that you like TWD. I'm currently on the 3rd season and loving it so far. It kinda annoys me when some of the people like Jasper were saying how it went crap after the 1st season and instead recommended Breaking Bad to me. Now, I've watched the 1st Season of Breaking Bad and it was good, but I love TWD way more. I like the drama of the characters set in a backdrop of zombie horror and I think it's excellently done! I got the 3rd Season of TWD on DVD this Christmas. What are your thoughts on the show in a bit more detail, SaintPain? Also, was the 4th Season as good as the previous seasons? (no spoilers please!)
Brandon Fox (talk) 00:32, December 27, 2013 (UTC)
Yes, I agree with everything you said. There's a couple of things I'd change as well, notably how they killed off Andria in the Season 3 finale. Andria to me was a very strong character (one of my favourite characters actually) who matured to an individual who could hold her own and she died in a silly way. Seriously, if she hadn't spent the whole time staring at Milton's corpse and instead focused on breaking her handcuffs she could have went up to him and stabbed him in the head before he turned to a walker. I was also quite annoyed by Lori's actor. But other than those discrepancies, fabulous show. My 2nd favourite show (Twin Peaks has gotta be my 1st). Finished Season 3 obviously and waiting for Season 4 to come on TV here in the UK. Have you read the graphic novel that TWD TV show is adapted from? It's very good from what I hear. I've ordered the first 48 issues collected into a big paperback because I liked the show so much and can't wait for the 4th Season (or for seasons beyond that as well because as far as I know, the TV show will continue as long as the graphic novel series continues). So in a way, from reading the graphic novel series, I'll know a bit of what happens even before the newer seasons come on. When I receive it in the mail and read some, I'll let you know if it's worth a look at.
Brandon Fox (talk) 23:16, December 28, 2013 (UTC)
Presents
Edit
You know, originally I was going to also give you (along with the Winter Bottle) one of my favorites of Beethoven's instrumentals, and I got some instructions from Jspoel so I could post it on your talk page, but I waited over half an hour at the converting site without anything happening. Sorry about that. Leea (talk) 23:21, December 27, 2013 (UTC)
I'm glad you loved it. What would a story about a Season Bottle be considered? A poem? A fantasy short story? Leea (talk) 22:29, December 28, 2013 (UTC)
That's sorta what I was thinking. I've seen poems before that didn't rhyme, so tales of Season Bottles seemed to be "poetic short stories" as you called it. Next I'll try to craft Spring and Summer Bottles. I think that Summer, just as with Winter, will be a little harder to make than Spring and Autumn Bottles, because Summer can be hot and Winter can be too cold. A Winter Bottle could be like air conditioning; when it gets too hot, just pop open a Winter Bottle for a respite! Same with a Summer Bottle, just the other way around. =D I've never really written stories for anyone before, they always rattled around in my head. And I've always thought about putting seasons into a bottle for later. It's good for them to finally take shape with words. Leea (talk) 16:01, December 29, 2013 (UTC)
Your input on requests
Edit
Can I ask you to take a look over at the forums and vote for the 69.I25 adminship request and Agent c's bureaucrat request? You're around a lot which makes me think you can give good judgment. Jspoel

16:07, December 29, 2013 (UTC)
Hey Saint. I think this is the image I want a variation of: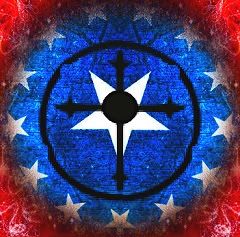 I would like it to look similar except I would like the colors (red, blue) to be solid and not patterned as they are now. Let me see what you can do & thank you for your time.
morituri te salutamus 02:56, December 31, 2013 (UTC)
Unlike the Winter Bottle, the story about the Autumn Bottle and the crate of Autumn Bottles was written "on the spot", which means right in the talk editor. The Winter Bottle was written on Notepad, so I could refine and add to it without worrying about being disconnected from the internet. =D I had just also went to your archived talk page and copied-and-pasted the story of the Autumn Bottle to Notepad so it isn't lost somehow.
I had thought about putting the Season Bottles on a blog, but then again, others might not be as...what word am I looking for...kind or open? Appreciating? I remember that long ago one of my "friends" heard me singing, and she said that (can't remember the exact words she used) my singing was beautiful, and would I sing some more? So I sang, but then out of the blue, she goes ahead and says that I sound awful, and quit singing! I'll let you guess how I felt. So, long story short, if I put the Bottles on a blog for all to see...well, I can hear the criticizing words already. Then, how would a story about a Bottle be a special present for you anymore? Leea (talk) 23:04, December 31, 2013 (UTC)
Hahahaha. I can see by the italicized exclamation point that you mean business! Hahaha. Alright, but I'll do it only for you. Should the Autumn Bottle be on the blog? Or just the Winter Bottle, as it is Winter and not Autumn anymore? Leea (talk) 23:03, January 2, 2014 (UTC)
Avatar Pt. II
Edit
The first one is the one I like best out of the ones you posted. For that one though, is there a way you can make the blue a little bit more uniform, like you did with the red?
The third one also intrigues me because you greyscaled the inside part and left the red. Can you take the original image, and make it black and white? I really like the way it looks. Thanks again.
morituri te salutamus 03:57, January 3, 2014 (UTC)
OK so to better understand, I think you want an inverted old world flag ring of stars with a followers cross centered but in solid black & white? I could also do bronze or maybe sepia.
SaintPain→ Here to help." 18:07, January 3, 2014 (UTC)
Season Bottles stories
Edit
Okay. Both stories of the Autumn Bottle will be there, along with the Winter Bottle. But Spring and Summer won't be, I still have to concentrate to perfectly capture the Season within the Bottle. =) But you will get them as presents first, before anyone else gets wind of them. Leea (talk) 22:47, January 3, 2014 (UTC)
Alright. The stories have been posted. But if everybody hates them, it's your fault =P Leea (talk) 13:19, January 4, 2014 (UTC)
I was being sarcastic about the blame. =P
I'm sorry, I have no idea how to link blogs, but it should still be on Recent Wiki Activity. I just posted it. Leea (talk) 13:41, January 4, 2014 (UTC)
Your request
Edit
I understand your request and I'll take a look at it. Have to dig through some logs first which will cost me a good bit of time. Bureaucrat's life ain't that easy either. Jspoel

17:19, January 4, 2014 (UTC)
I'm not sure what I can do about it. From what I can read on the monopoly blog, his reactions are legit. You can't sell that board while Bethesda has the rights. In previous comments from you on other blogs he probably discovered similar flaws and Jasper likes a good argument. But I can see where you're coming from. You try to make an honest statement and get countermanded on every new comment. That can get you a feeling of being stalked and "he has it in for me". Best I can do is ask him to go easy on you, as they say. Now he knows it bothers you, so he should be able to that. My advice to you is, try not to let it get to you, it's only the internet after all. Jspoel 20:12, January 4, 2014 (UTC)
Jury rigger
Edit
My headphones busted today. Well, not really, the wire can only take so many bends this way and that way before the connection isn't so great anymore. I love my headphones, its not that they were expensive (unless you count $5 expensive), but they allow me to enjoy music and videogames without disturbing others. At this point, I've elected to tape them together so they work, until I can get to town on Monday to get another pair. Imagine how they look!
From my point of view, Jasper is just "one of those people". Personally, I don't have the most friendly feelings about him, as my first time in chat, the gist of what he told me was "if you don't like it, leave", when I asked why he was cussing up a storm for no reason. That was a long time ago, but the impression stuck. He also strikes me as a very sarcastic person. It's just better to stay away from people like that. Otherwise, you will feel like busting things (at least I would), and that'll only get you broken furniture. Leea (talk) 20:44, January 4, 2014 (UTC)
Okay, seriously
Edit
I was just going to leave this where it fell and have what Js said be the end of it but seriously;
"Jasper continues to protest his absolute innocence. Sadly I think he even believes it. I support your wish to show an even hand. Still we all know those with rank and or position must be held most responsible. The job is a weight, a task and never to be confused with a privilege. Jasper is more than in need of a reminder to that truth."
So your claim now is that I hate you but don't know it? How does that even work? Firstly all I do is tell you why your illogical comments are illogical; that is not an act of hate or a deceleration of war so please stop acting like it is. You may think that I mush hate you to disagree with you that often and fair enough that is your (incorrect) opinion but don't run around slandering me and claiming I'm bad at my job as moderator because of it. No part of the title "Moderator" says "you should have to stand by and let people make deluded comments on blogs without pointing out why they're illogical or just flat out incorrect" so don't say "Jasper should be reminded that those with rank must be held responsible".
If either of us is holding a grudge it's you, because I take every incident that involves you as a separate one, but you sit there saying "Oh jasper again, he must be being malicious here". Get off your high horse and just accept that someone is allowed to disagree with your opinion, moderator or not. If you do not want people to tell you why you're wrong then stop being wrong in public. If you can't stop doing that, then I wont stop telling you you're wrong. And if you really, truly, honestly can't stand having a discussion with me because you think it's just petty hate then just ignore me. You don't need to reply to my comments so don't reply to me to complain about me replying to you.
For the last time, and I hope you actually pay attention for a change, I. DO. NOT. HATE. YOU. This is NOT some petty hate act towards you so stop acting like it is. You don't need to be so defensive about it all the time if you really are "just here to help" then maybe you should help me, yourself, Js and anyone else sick of petty squabbles and stop acting like I'm attacking you. You're an adult so act it. Not every comment towards you is an attack. A disagreement is not hate so just stop claiming to be the victim here.
As Js says above MY COMMENTS ARE LEGIT. They are not personal attacks, they are true facts "You can't sell that board while Bethesda has the rights". As he also says "In previous comments from you on other blogs he probably discovered similar flaws" is also true - if I see something I disagree with I will voice that disagreement. You cannot ask me not to unless it breaks the rules and, I think you'll find, it does not. I am not insulting you, I am stating facts and opinions which are ALLOWED. You are allowed to disagree with anything I say and so am I with anything YOU say.
I disagree with people all the time. I disagree with Eden about guns and the Enclave but does he think I hate him? No. He's a grown up about it and accepts "gee, maybe he just doesn't agree with me". And I hardly think that replying to comments on popular blogs which I have already comments on anyway is stalking. If you turn up somewhere I am already at, I'm not stalking you. If you honestly can't stand having people disagree with you in comments I think it;s time you sat down and thought "What am I doing on a community website?" because it sure seems you're not a fan of community if you can't stand a little bit of disagreement every now and then.
This is the last time I am going to bother explaining this to you so don't bother asking in future. Expressing why something that is wrong is wrong is not hate. I am not insulting you with these comments; there is no hostile intention here, I just have a different opinions to you and it is my right to express them and if you really can't accept that then that is your problem, not mine.
What you're asking me to do is give you special treatment and not express my opinion just because you don't like it, which is an unfair request and one I cannot fulfill. This isn't just your wiki, it's mine too, and everyone else's who wants to be part of it. If you don't want to be part of a community that promotes people discussing conflicting opinions then I don't think I should be to blame here. Jasper: The Wonder that is Shroomman! 21:31, January 4, 2014 (UTC)
Very well, you have my word. No involvement on my part. But if there isfun ever anything that bothers you (whatever it may be), I'll be here. I have sympathetic ears and a shoulder for you to cry on. =) Leea (talk) 22:25, January 4, 2014 (UTC)

I hope you weren't making fun of me. =P
Did you get together with your relatives for New Years? I recall you said you'd see them then, instead of Thanksgiving as originally planned. Leea (talk) 22:47, January 4, 2014 (UTC)
I might hope to make FUN WITH YOU but never at you dear lady. I am here for you.
SaintPain→ Here to help."
Talkpages
Edit
Hey, Pain. Please don't use talkpages for general discussion, personal anecdotes, or repotting bugs; it's against policy. Just make a forum or blog post if you want to do any of that stuff. Thanks 69.l25 (talk) 23:29, January 4, 2014 (UTC)
I think he was referring to article-page talk-pages, not our personal talk-pages. Some Assembly Required! 23:54, January 4, 2014 (UTC)
I hope to always be able to share jokes with you as well, not be jokes. =D
There's this lady that knows mom, her name is Laja, and she comes around the community every so often (she's here now), but she's just one of those kinds of people that likes to use what ever you have and never really thank you for it. A human form of leech, really. She always puts on this "air" that "Oh, I'm helpless, please help me.", especially with men, which she probably uses what I call "puppy dog eyes" on, and it doesn't help that she's got a quiet, little-girl voice, either.
Well, I had this dream last night that you had come for a visit, but I found her talking to you, and I could see you were getting "spelled". I was thinking "No! She's gonna use you 'till you're dry!" On top of this, dad tells me that we're leaving to another place! And she's getting the house! I then run upstairs, and find Laja's sister using my computer like its hers. Well, I took her by the scruff and threw her down the stairs. I checked my talkpage here, and there were lots of messages telling me how I was going to lose my best friend to a human leech, and there was nothing I could do about it. I thought "No! I have to do something!" I ran outside, and Laja was walking away with you. It was one of those things where it seems like there's not much distance but in reality you're much further away. I was yelling "Stop! She'll use up everything you have! Stop!", but you didn't hear me.
At this point, dad wakes me up, and man! What a bad dream! One of those "helpless" dreams that you feel powerless. Ugh. There's nothing that you can do either way that ends up making a difference. Thank God it was a dream! Leea (talk) 12:53, January 5, 2014 (UTC)

Oh, believe me, I've had worse. I've had nightmares so bad before that I woke up with my heart pounding like I had just run 5 miles. or nightmares where they were even worse than that where I pushed myself out of the dream and woke up. I thought it was strange I had a nightmare that Laja was gonna drain you, but I figured it was weird enough to mention. Leea (talk) 23:09, January 5, 2014 (UTC)
Not really what I was thinking. Can you make an exact copy of the original image black and white? Just toggle the color saturation? Sorry to be so picky. Thanks for your time.
 A Follower  Talk  04:19, January 6, 2014 (UTC)
Thank you Saint. They aren't what I had envisioned originally but you are the expert and I agree with your insight, the 3-D effect does look better. I love them both, and will likely use them interchangebly. Thank you so much!  A Follower  Talk  03:56, January 7, 2014 (UTC)
Cold weather
Edit
I'm sorry to hear about that. At least the power came back on. I don't know what snow drifts feel like, but I know what it is like when the wind cuts through whatever cold-weather gear you might have on. The next two days we are going to have cold in the teens, and only the 30's in the daytime. Though by hearing what you're going through, that might sound like paradise. Leea (talk) 12:39, January 6, 2014 (UTC)

You keep the coffee and whiskey, and I'll have the chocolate. =D
I went to town today and bought new headphones. They have much more bass than the old ones, so this will take some getting used to. And they're a pretty "pen ink" color. Nothing pink or purple, please. Get those girly headphones away from me! =P I wish I could give you a scarf or beanie to fight the cold, but I am limited to digital presents. Leea (talk) 19:30, January 6, 2014 (UTC)
Okay. (rubs temples) I am now sending you thought energy to keep you warm. =D And here's a picture of some of our roses from last summer to remind you that there is indeed warm weather. =) Maybe you could use it as a backround picture for your computer screen or something. I just love the velvet look of some roses, don't you?
Leea
(
talk
) 12:34, January 7, 2014 (UTC)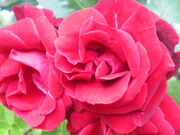 You're welcome. =) I wish I could remember the name of the rose. What kind of stuff do you grow? Any other roses? Leea (talk) 22:26, January 7, 2014 (UTC)
You live right next door to your aunt? That's interesting. I wouldn't want to live next door to my aunts. Did she move next door after you bought your house, or was she there in the first place? Leea (talk) 23:24, January 12, 2014 (UTC)
Then you have been blessed. I wish I had relatives like that, but this has never really been the case. Dad's side of the family are hunters and fishers, we are not. Mom's side of the family are big wheat farmers, and we are not. They don't like that we aren't Christians, that we are vegetarians and that mom and dad moved down to Mississippi so many years ago, I think its 30 years or so. Of course, there's the thin "icing" of being cordial, but I can see through and what they really think. And my second-cousin-twice-removed wrote me a nasty email when he figured out what I believed in. I haven't talked to him in years. And he wrote fantasy novels, you'd think that he would be a little more understanding. Last I heard, his book deals went down the drain, and are now sold at dollar stores instead of book stores. I can feel I've had a little bit of justice, at least. Leea (talk) 12:36, January 13, 2014 (UTC)
Why similar floor plans? So you wouldn't get lost in the houses? How many sisters and brothers do you have? I'm just...me. I don't have any siblings, but then again, I wouldn't be able to stand them getting into my stuff then, either. "You're into my shirts again!...Quit playing with my Xbox! ITS MINE!" I would be bald (from pulling my hair out) if I had any younger (or older ones to tease me) siblings. Leea (talk) 23:02, January 14, 2014 (UTC)
Yeah, well, I think its something that my "friends" did to me; I ended up being very protective of my stuff. Of course, one should protect their belongings anyway, but whenever they were over, something of mine (once even mom's) was missing when they left. I believe that a lot of the time they were at my place it was whatever else of mine they coveted that they saw if they could steal. When I was much younger, they stole my crayons and art things, and when I was older, they used up my favorite nail polishes, ground my favorite pencils down to stubs, erased with my favorite erasers till they were no more, and stole some of my silver jewelry. As Frodo said in the last Lord of The Rings movie, "some hurts go too deep, and have taken hold." But I do like sharing, sometimes its fun, you both get to enjoy something, like a soda or cookie, but it should be with someone you trust. Not people who will suck you dry and then throw you away when you won't change to their standards or have nothing else they want. That's not friends. Leea (talk) 22:52, January 15, 2014 (UTC)

Well, I hope you can hang that on your wall with pride; "I am best-friends with a Hare Krishna." And I am not a pacifist, I will protect myself or others that I care about if they are threatened. I have done that before, but then the "friends" I was with went around and lied about whatever I did to protect them. They don't deserve any kindness whatsoever from anyone for what they did to me for HALF MY LIFE. In India, long, long ago, there was a forest named "Talavan" where Krishna and his friends would go, but demons had hidden themselves in the fruit trees, and Krishna killed them to protect His friends. When Prabhupada came to Mississippi (I think in '75), he named the farm community here "New Talavan". He knew. He knew what kind of people would live there. He knew that they were all treacherous people. He knew that they are all the type that look like the Lady Killer and Cherchez Le Femme perk pictures, always with a knife behind your back, ready to stab you over and over. Maybe not literally, but definitely mentally or metaphorically. Leea (talk) 23:46, January 15, 2014 (UTC)
It had a bunch of outdated info in it, since we changed a lot of the user image policies, and I deleted it. You want me to recover the stuff that still applied and stick it somewhere in your user space? Maybe in your blog space so you can find it easy? The Gunny  

00:48, January 16, 2014 (UTC)
Here it is:
Here's a few tips on how to properly upload, categorize and license images you upload to the wiki.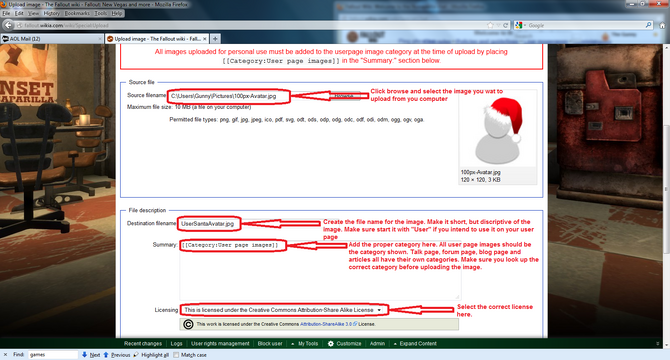 As you can see in the image above, you select the image you want to upload from your computer by clicking the browse button and selecting the image from your computer.
After selecting the correct image, you then need to name the image file that will be stored on the Wikia servers. Here's some tips:
Do not use long image names.
Do not use names that start with things like "380px". The mediawiki software recognized that this may be a thumbnail image and will ask you to select a full size image. You can avoid this warning by using a name that does not start with numbers.
Use a descriptive name for the image. For example, if the image is of a Fallout 3 location, name it "FO3 <location>". Keep the names as short as possible.
You then can add the proper image category. In the "Summary" box, type in the correct image category. Here are some examples of common image categories you may need to use:
[[Category:User page images]]
[[Category:Talk page images]]
[[Category:Forum images]]
[[Category:Blog post images]]
[[Category:Fallout location images]]
[[Category:Fallout 2 location images]]
[[Category:Fallout 3 location images]]
[[Category:Fallout: New Vegas location images]]
[[Category:Fallout: New Vegas character images]]
If you are not sure of the proper image category, you can look them up ahead of time. You can also add the category after you upload the image by going to the image file, selecting edit and adding the category there, but it's a lot easier to just add the category when you upload it.
You then must select the image license. Here are some common licenses:
I created this image myself - select this only if the image is wholly your own work and not an image your downloaded and altered.
This image is from <insert game> or it's official website - for all game screen shots or other copyrighted game images.
This image is licensed under the Creative Commons Attribution-Share Alike license - for any images your get that use this license and all screen shots of wikia pages or features.
This is in the public domain - only use this license for images that clearly have been released by the author into the public domain.
Never upload copyrighted images that you do not have the author's permission for.
 The Gunny  

01:11, January 16, 2014 (UTC)
Happy Birthday!
Edit
As you're sitting on your couch, you suddenly feel a presence on the other side of the front door. Cautious, you get up from your couch and slowly walk to the door. A light knock is heard. Quickly, you turn the handle and yank open the door. No one is there, and just as you are starting to think that it could have been a prank, you see a velvet satchel sitting on the doorstep. Excited, you see that this is another Bottle! Only slightly disapointed that you were unable to see your benefactor, you shut the door behind you as you pick up the satchel and take it out into the yard.
The velvet of the sack seems to shimmer from the individual threads of the fabric, as if you could leave it in a dark room and it would shimmer still. The color of the velvet is like the shade of new leaves, and the forest green embroidery on the center of the satchel is shaped like a gushing fountain. Carefully pulling the drawstring, you hold the sack and bring the Bottle from the depths of the bag and into the daylight.
The Bottle itself is a light green color, and on the pale cream label reads in fine pink script: Spring. The glass of the Bottle is clear, alowing you to see the contents within. It appears like thick white smoke blended with fine golden shimmers. As you hold it in your hand, the Bottle starts reacting to your touch, and the contents swirl around within the Bottle as pale shafts of light shine through the glass. The cork is a warm brown shade, with pale copper swirls painted around the sides and top.
Eager to see what the Spring Bottle is capable of, you hold the Bottle upright and firmly grasp the cork and pop it out. Instantly, there is a faint sound of birds chattering, and the contents of the Bottle erupt from the mouth of the Bottle in a glorious fountain and merge with the surounding air. The chill of Winter fades as the sun breaks through the clouds. The air around you warms, and the shimmers from the Bottle lift upward into the sky and change the lighting of the day from icy gray to clear and golden.
As you watch, the bare limbs of the trees begin to sprout buds, and these quickly unfold into tender new leaves. Coming up around your feet are bunches of purple clover, and there are apple trees sprouting up from the ground and growing into tall trees in a matter of seconds. Their branches swell with buds, and as the pink flowers open, the little fruits behind them are polinated and grow into ripe apples.
Walking up to the trees, you see that the apples are bigger than any you had ever seen before, and are a gorgeous deep red. Reaching out and picking one, you also see that they are highly polished, so much so that they could almost serve as mirrors. They smell heavenly. Wondering what one would taste like, you take a big bite. The apple snaps as you bite into it, the meat is a pale pink color, and wonderfully crisp. The apple tastes better than any you had ever eaten before. Both sugary and tart, you wish that these were always available. You now see that there is a basket by your feet, and delighted, you begin to fill it with the apples. As you watch in amazement, the dead, dry grass becomes hidden underneath tall lush emerald green grass, and the purple and white clover flowers peek through the grass. In the apple trees birds are building nests, and the sound of newly hatched birds emanates from the other trees.
Wildflowers spring up around the bases of the trees, and just as the sun is setting, the shimmer from the Bottle settles in the clouds, making them glorious shades of pinks, purples and oranges in the turquoise sky.
Just before the sun dips past the horizon, the remaining shimmers settle on everything created by the Bottle, and they gradually fade away. But as you look down at your feet, you are surprised that the apples are still in the basket! Looking at the Bottle, you see that there is another note within the Bottle.
Shaking it out, you unroll it and read: "I think I have accurately captured Spring in a Bottle. Although this time, anything that you may pick from the scenery will remain after the Bottle's magic has been spent. Have a very happy birthday, love."
You have been given a sunny wildflower.

Your efforts and diligence have not gone unnoticed, and you have been given a small token of appreciation.
Yes, I'm giving it early. =D Have a good one! Leea (talk) 12:34, January 16, 2014 (UTC)

I wonder what your mom and aunt think of what happens with the Bottles? "You know, sometimes Joseph finds this interesting velvet sack, and then he opens a bottle that appeared to be inside and then all this weird stuff goes on." Hahahaha. Leea (talk) 12:24, January 17, 2014 (UTC)
Meant to give this to you a while back. Thanks for everything Saint!

You have been given a Friendship Cake.

Your efforts and diligence have not gone unnoticed, and you have been given a small token of appreciation.

For your work on my avatars and many other images on Nukapedia.  A Follower  Talk 

16:35, January 17, 2014 (UTC)
And here's to 50 more good ones, I'll toast one to ya on Sunday.  A Follower  Talk  07:54, January 18, 2014 (UTC)
Did the Spring Bottle make a little movie in your head? That's what I was gunning for. Leea (talk) 12:55, January 18, 2014 (UTC)
RE: Season's greetings!
Edit
Thanks for the well wishes SP, and sorry for the belated response. Hope you've been having a good year so far.
Limmiegirl

Talk! ♪ 20:00, January 18, 2014 (UTC)
Happy birthday!!
Edit
You have been given a freshly baked sweetroll.

Your efforts and diligence have not gone unnoticed, and you have been given a small token of appreciation.
You have been given a few 5.56 rounds.

Your efforts and diligence have not gone unnoticed, and you have been given a small token of appreciation.
Happy Birthday!
Edit
Hey Saint! Happy Birthday you rascal!!! I hope you have an amazing birthday and get all that you wish for!

"Some say this user is a Patroller..."

06:04, January 20, 2014 (UTC)
Happy Birthday!
Edit
Hey SaintPain! A little birdie told me it was your birthday so here's to the best well wishes! Hope you had a great birthday! --The Old World Relics (talk/blog/contributions) 06:14, January 20, 2014 (UTC)
I hope you had a good birthday, love. Hopefully you didn't drown too many brain cells with alcohol. =P Was it a small celebration, or do you like big ones? I hope you got presents that you actually liked, and won't have to re-gift to someone else...=D Leea (talk) 21:23, January 20, 2014 (UTC)
Hello Nukapedian!
Can you please take a look at this forum and voice any opinion you may have.
Thank you
69.l25 (talk) 00:11, January 22, 2014 (UTC)
Get Better!
Edit
Then here's another present: a Get Well Wish. Get better soon! I might also advise you, if it's a cold, that you could take some vitamin C or zinc to speed your recovery. I hope you get well soon. You always have my Well Wishes. Leea (talk) 23:11, January 22, 2014 (UTC)
A (late) Holiday Gift
Edit
You have been given a minigun.

Your efforts and diligence have not gone unnoticed, and you have been given a small token of appreciation.

Merry Christmas and a happy new year, I know i may be a bit late, but had exams then and decided to delay my wishes a bit. If it's too late for you, then consider it a Chinese new year ;) Greets Peace'n Hugs

(

talk

) (

blog

) 10:43, January 30, 2014 (UTC)
Checking In
Edit
Haven't seen you around much of late Saint, everything going well? Hope to see you in chat in the near future.
 A Follower  Talk  05:33, February 2, 2014 (UTC)
Project Medal
Edit
Sorry it's late. I didn't realize the project was declared finished.

Into the wild blue yonder... 04:54, February 13, 2014 (UTC)
Been a while, man how're yo doing and what're you up to? Find me on FB (Joshua Quivey) or something!! ... Dang I hope this reaches ya. -- The Arcadian Rook (talk)Needs More Battle Cattle 01:07, February 21, 2014 (UTC)
Hey Saint
Edit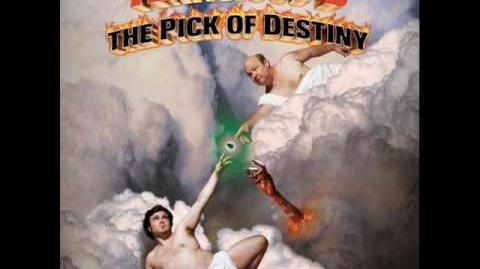 I wanted to see how things are going for you. I kinda miss your zaniness and well, just seeing you on here. Hope everything's going great. --MountHail (talk) 04:08, February 21, 2014 (UTC)
Yes, we haven't seen you in a month now. That's very unlike you. If you can, give us a sign as I'm wondering how you are. Hope all is well. Jspoel 00:13, February 25, 2014 (UTC)
Yeah, whatever happened to you Saint? A lot of people miss you! What's been going on, mate?
Brandon Fox (talk) 22:54, March 5, 2014 (UTC)
Mass post ~ Sorry y'all ~ Never thought I could be so loved ~;D
Where have you gone? I hope you didn't leave because of me... =( I hope all is well with you and your family, and that you didn't have a heart attack by digging out of a snow drift or trapped in your house with no electricity and have to eat shoe leather because all the food ran out... Please check back in sometime! I miss you! And I want you to get the Summer Bocoulttle sometime! =) Leea (talk) 23:28, March 5, 2014 (UTC)
hey saint! just got done writing my first edition of my sale thing! don't know if i'll keep the PSA title though, http://fallout.wikia.com/wiki/User_blog:Camalex97/PSA_%28Public_Sale_Announcement%29 hope it is of use to you! Camalex97 (talk) 18:12, March 19, 2014 (UTC)
Anybody in there?
Edit
Hey Saint, it's been awhile since you've been on and we are worried about you :( If you could get on and give us an update we would love to hear from you :)

"Some say this user is a Patroller..."

20:51, March 20, 2014 (UTC)
Saint, we miss yooooouuuu. Some Assembly Required! 20:15, March 23, 2014 (UTC)
THAT IS SO SWEET I MIGHT CRY ~;)
I know I been away, I am evil enough but I could not follow though this one.. I contemplated for a moment, just a moment mind you, I was gonna do an April fools joke say'n I was dead ~ Post obituary & with a picture ect. The whole bit, but that came off as to cruel so I just dumped the idea.
'* I have a sick mind ~:p'
No I'm alive I just been do'n other stuff.
One way to find me when in need is to search the web ~ Google : Levi_Kain or ""War_Pig""
I got a few voices in my head ~;p We get along ~ Most days.
Sorry I worried you M8 ~ I have not abandoned you OR died yet ~
```
Welcome Back
Edit
Just a more official welcome back... So, welcome back SP. It's great to see you and to see that you're not dead or were kidnapped by some underground smuggling ring. Either way, good to know that you're still alive and kicking. --MountHail (talk) 06:21, April 15, 2014 (UTC)
I really hope you're back! Even if it is just for a short time, at least then I'd know you were still OK. Remember that my talk page is always open, friend! ♥ Leea (talk) 11:49, April 15, 2014 (UTC)
It's good to hear from you Saint. The place isn't the same without you. Hope you find some time again to be here! Jspoel 14:49, April 15, 2014 (UTC)
You stud, you. Playing with our heartstrings like that. Some Assembly Required! 18:37, April 15, 2014 (UTC)
Yeah, AgentC talked me into it...what was it...late January, the 24th I think. Since I'm usually around here in the early morning hours, he wanted someone here at that time, since not many patrollers or admins are here at the wiki then. The added tools do help with vandalism or incorrect info that someone may add. I liken it to being a watchman (or watchwoman, in my case), but instead of a gun or baton, its a giant eraser. =P Leea (talk) 21:45, April 15, 2014 (UTC)
So what have you been doing since you're been gone? I heard you were playing a namesake game. Shame I don't have Steam. I could have seen you there. Leea (talk) 22:21, April 15, 2014 (UTC)
Heh heh. What made you decide to play this game? Do you pick up games on a whim, research them beforehand, or does curiosity grow about what it could be like? Almost all of the games I own have been researched to some degree, though I picked up Fallout 3 because I saw the ad when it was coming out and was intrigued, and picked up New Vegas in much the same way, I was finally curious "What is it like? How is it different from Fallout 3?" Or did you decide to play this game because "Hey! Its saints! Its got my name there!" =P Leea (talk) 11:27, April 16, 2014 (UTC)
Hey, I saw in comments that you were playing Saints Row 3. It's a fun game I will say. Have you ever played the previous two games? I like that the series has a different style to GTA, Saints Row is more lighthearted and about fun I feel. The first game was kinda average but still fun and enjoyable, maybe a 6/10 for me but Saints Row 2 was awesome for me. SR2 improved a lot over the original in terms of gameplay and even the story was really good. Now I ain't saying Saints Row 3 is bad, it's still good but it ain't as good as SR2 for me. I've never played SR4 but I've heard it's really good, better than SR3 anyway.
SR2 had more balance with its over the topness, but SR3 kinda goes a bit overboard with "WOAH DILDOS, GIMPS, HAHA!!" The story was also weaker. So basically for me:
SR1: 6/10 SR2: 9/10 SR3: 7/10
I will say one thing about SR3 which was better than SR2 though was that SR3 had WAY better DLC. The SR3 DLC is a hoot and a holla'.
Brandon Fox (talk) 20:12, April 17, 2014 (UTC)