Welcome to The Vault!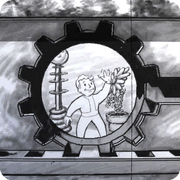 Hello, Ryker61, and welcome to The Vault, the Fallout wiki! Thank you for your contributions, and we hope you'll stay with us and make many more.
Some links you may find useful:
If you have questions, you can ask in our forums, join the live chat in our IRC channel or post a message on my talk page. We hope you enjoy editing here and look forward to working with you!
Assault Carbine
Edit
Hello Ryker61,  thank you for your recent edit to a weapon page here at Nukapedia. I just wanted to drop you a quick note to let you know that we don't put real-world weapon references on article pages, unless it's the same name as the real-world weapon, or if is mentioned by a developer that the in-game weapon is intended to represent a specific real-world weapon. You should completely familiarize yourself with Nukapedia's policies and guidelines, if you have not yet done so.
Jspoel 14:18, June 6, 2012 (UTC)
Test Edit
Edit
Just seeing how this works.
lol did you take a picture of your screen with a camera? XD
Yes I did. For future reference, please sign your posts.
Thank you for your support!
Edit
Hi Ryker, thanks a lot for voting for me. It really means a lot to me that despite we not having interacted much you still took the time to vote and comment, and I'd like to tell you how much I appreciated that. Toodles! Limmiegirl

Talk! ♪ 21:12, February 24, 2012 (UTC)
Hey Ryker, just wondering if you're interested in joining the NewsSquad. You'd need to put a bit more detail in the blogs than just a link, but I can help you with that, and they'd get more exposure.
If you're interested, I need someone to write a summary of what Pete talks about in this article, particularly about VR. Let me know if you are and write up a draft, and we'll go through it together. Agent c (talk) 14:21, August 17, 2016 (UTC)
We've registered 2 fake trademark applications and paid nothing for it. Our fast track shows the same fast track status as the New Orleans one. Agent c (talk) 10:30, August 18, 2016 (UTC)