Welcome to The Vault!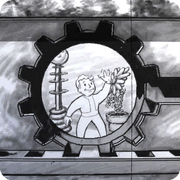 Hello, Power Bonkers, and welcome to The Vault, the Fallout wiki! Thank you for your contributions, and we hope you'll stay with us and make many more.
Some links you may find useful:
If you have questions, you can ask in our forums, join the live chat in our IRC channel or post a message on my talk page. We hope you enjoy editing here and look forward to working with you!
Hi, I can't help you with that myself, I'm afraid. Please report it to Wikia via this page, so that the tech team can take a look at it. Ausir(talk) 22:53, January 17, 2011 (UTC)
You're one of the only people on the wiki with a a sense of humor that matches my style. That bleach comment was hilarious.

My epic fail on honest hearts made me laugh. Good show, sir. User:ElGodofmetal666
3 v vegas ?
Edit
I don't dislike it much but vegas was more quantity over quality :D iv spent well over 600 hours no doubt, lol us fallout fans are gud fans 2 my current tunnel snake gang has over 100 hours on its save and the game time has passed into the next year so im pretty chilled, gud luck to u m8, c u around :) Tommygunner32 10:55, April 25, 2011 (UTC)
Atmosphere
Edit
You're welcome, however, the thing with Fallout 3 is that it just seemed to drop a lot of aspects from the original and make up it's own. At the end of Fallout the NCR is created and they go on to civilise California. However, over in Washington (Fallout 3), which is set 200 years after the Great War, there seems to hardly be any attempt at rebuilding, not to mention that after 200 years there should be a lot less radiation. I find it hard to believe that a small group of people managed to strip down an airfield and turn it into a small town (Megaton), but they can't even build a simple well to get water underground.
Fallout: New Vegas appealed much more to the people who enjoyed the originals because it didn't stray so far from the established storyline and general tone. Also Fallout: NV is not steampunk, it's retrofuturistic just like how the Fallout series has been since the start.
Oh and is the "FUCK OBSIDIAN" statement really necessary? Obsidian made a lot of people happy when they mnade New Vegas.
Mr Zurkon 03:29, April 26, 2011 (UTC)
The subject on those hackers may invite to it, but mind your comment anyway. Thanks. Jspoel

22:34, June 19, 2011 (UTC)
Capitalizing
Edit
Don't capitalize albino radscorpion or other non-unique creatures or items. Thanks. Jspoel

20:03, June 20, 2011 (UTC)
(Paradise Falls) You're welcome. I didn't like that old picture at all.
your avatar is awesome, i want that tiger with its toung hanging out lol. The Nemisisx 13:50, June 24, 2011 (UTC)
poor tiger, i did not know it had down syndrome but still its a beutiful animal.The Nemisisx 05:21, June 26, 2011 (UTC)
Please check if information you want to add to an article is already featured. --


21:13, June 29, 2011 (UTC)
This Machine
Edit
When it's been confirmed by a game developer to be based off a certain weapon, then it's OK to put it up. Otherwise, you're shooting in the dark. --Kastera (talk) 01:51, September 3, 2011 (UTC)