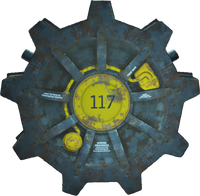 Hello! To leave me a message, simply click here!
I am usually online at this time. If not, I will be on within a few hours and will be able to respond to any messages then.
Please sign your messages with ~~~~.
Please make a heading when you start a conversation, but not for every message.
X-01 Power Armor
Edit
There is no source to suggest that X-01 Power Armor is Advanced Power Armor, because no recorded instance has ever been found in Fallout 4 that has stated in obvious reference that X-01 Power Armor is of Enclave origin. All that was stated was that it was developed "by remnants of the military after the Great War." So, any claim that it is referenced to as "remnants power armor" is merely speculation because it introduces another person's speculative material in separate form. If it can't be proved, it's just speculation. As far as I saw, speculation was expressly disallowed, but that it was widely discouraged in our community. As so, even without unreasonable founding, I thought it would be better to cut the controversial topic. --TheRoyalNate (talk) 02:28, April 12, 2016 (UTC)
You like Halo Wars! Crap i thought no-one but me and a select group that liked it! Cool!
I thought everyone loved Halo Wars. But I'd like to point out that it looks nearly identical. Not saying it is advanced power mark II. But that it is likely either Enclave, or BoS, Or a different faction of the sorts. Bethesda could say that it is. I am hoping for an Enclave DLC, or at least for a member to appear as an remnant. It'd give insight.The Reincarnation Of Akatosh (talk) 17:20, April 26, 2016 (UTC)
Please ban me from the chat
Edit
Just ban me from the chat
In regards to revision 2560591, the new wording makes it sound like speculation. I would've tweaked it to fit but I'm not near a computer at the moment. Just thought I'd leave a message as to why I temporarily reverted it Politie (talk) 20:48, April 2, 2016 (UTC)
this is a
Edit
crappy LOL edit (Letzplaygamez (talk) 01:47, May 2, 2016 (UTC))
hey whats to quickest way to become a memeber of the NCR??
-- Deathlord196xx
I am sorry, but these are new challenges for me; it is hard to make decisions in times like these. ☢ Energy X ☣ 15:28, May 18, 2016 (UTC)
Over on better-managed wikis we call that a use of administrator tools in a conflict in which the administrator is personally involved. Chaos5023 (talk) 15:38, May 18, 2016 (UTC)
I see you're in chat. Don't know if anyone's got this user yet, but they have been defacing the Vim page with nonsense. JMA4269 (talk) 03:33, May 28, 2016 (UTC)
So yeah...
Edit
Looks like that block is sticking past the undo. Can only change my chathacks on and off. I think that warrants a permablock. Dude's obviously only here to cause shit. :/ Great Mara (talk) 00:01, June 11, 2016 (UTC)
Bug Policy Proposals and Changes
Edit
Hi there, I just wanted to notify all special rights holders of the new Bug policy proposals that are being put up for vote in the forums. If you have a free moment, please make sure to go in and vote. Forum:Bug Policy proposals and changes. ---bleep196- (talk) 19:48, June 19, 2016 (UTC)
Vote Thing
Edit
Any word on when your vote thing might be ready? I am hoping to have the News Live Page ready for the weekend, and there's a spot in the "Sports" section with your name on it. Agent c (talk) 23:35, June 21, 2016 (UTC)
I removed the description of ED-E, ED-E (Lonesome Road), Prototype eyebot and Destroyed eyebot because they are unique eyebots and not a variant of the eyebot model like the floating eyebot. The article layout used for pages like Assaultron and Protectron (Fallout: New Vegas), Protectron (Fallout 4), Mister Gutsy... clearly separate Variants from Notable units. I moved those units out of the Variants section because they don't belong there. --YOD

02:51, June 25, 2016 (UTC)
On another note, this vandal is striking again. --YOD 02:58, June 25, 2016 (UTC)