Welcome to
Paladin117's
talk page! For my lawyer, Scribe73, please hit the # key!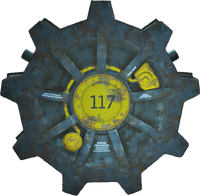 Hello! To leave me a message, simply click here!
Unless you see me editing, I am most likely not on at this time. If you leave a message, I will respond as soon as possible.
Please sign your messages with ~~~~.
Please make a heading when you start a conversation, but not for every message.
Re: Edit summary
Edit
I wanted to use something to associate with the problem of using regular Substantives as names (Vault Dweller isn't a name, but a title), to complain about it. I, however, take it back. --Breakin'Benny (talk) 18:36, November 3, 2014 (UTC)
Spam in the Chatroom
Edit
Pally, I banned Lord Winthrop for spamming the chat with nonsense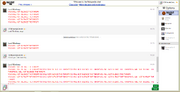 --
Cassie.Y

Talk
06:31, November 6, 2014 (UTC)
Welcome, Competitor
Edit
Here is a list of all cards available to you through the use of a blue starter deck.
Just use the tournament blog as a reference should you wish to view each card and see what each does. The link is mostly a reference guide to use while building your deck after downloading the gameboard. Enjoy!

Some Assembly Required! 03:28, November 16, 2014 (UTC)
Dakota Wolf
Edit
I checked it, he had 2 other accounts. I chatbanned those. Jspoel
13:53, December 1, 2014 (UTC)
Caravaneer at Mojave Outpost
Edit
Looking at Caravaneer right now
possible glitch
but its a different person than last time
spawn glitch
—Preceding unsigned comment added by Playertank (talk • contribs). Please sign your posts with ~~~~!
Nukapedian of the Year
Edit
Congratulations! You are a qualified nominee for NotY 2014 and will be moving on to stage II. Please see this blog here for instructions on writing a little introduction for yourself in preparation for the polling stage. If you have any questions, please feel free to ask me on my talk page. --Skire (talk) (via the courier) 23:21, December 10, 2014 (UTC)
Hello! In order to ensure that the competition finishes in a timely manner (the winner is to be announced on New Years Day), it is important that the personal introductions are posted here as soon as possible. Accordingly, I must set a deadline, which will be by the end of the day on Monday, December 15. If you are unable to make the deadline, do not worry! You can still compete in the next stage. --

Skire

(

talk

) 23:15, December 12, 2014 (UTC)