Thank you - I couldn't figure out what I was doing wrong!
Regards,
fakaiyun--Fakaiyun (talk) 23:35, May 3, 2013 (UTC)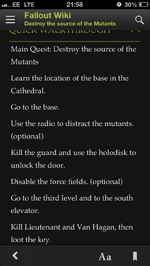 In two words... not good. This is the Destroy the source of the Mutants quest.
I'd suggest grabbing Jeorge Albor and see if he has any ideas to see if we can reformat or exclude it from the app. Agent c (talk) 21:07, May 9, 2013 (UTC)
Chat on main page
Edit
Mm, not a bad idea. I've put it up there to see how it looks. We can give it a try I think. Jspoel

23:24, May 11, 2013 (UTC)
18 makes an adult by our terms, however the children of little lamplight who are kicking him out say people leave at the age of 16, not 18. Sticky claims otherwise (that it is in fact) but if anything this would just be because he wants two more years of living in Lamplight/wants to have the player on his side so he can bitch to him about them kicking him out. Seeing as no one ever (as I recall) says "Sticky is 16/18" we should use Little Lamplight's rule of eviction, which is 16.
"Sticky will say the age for children to leave is 18, though through dialogue with other characters, it is revealed to be 16." -Happy Birthday to You/Sticky Situation. Jasper: The Wonder that is Shroomman! 17:48, May 22, 2013 (UTC)
Hey thanks for helping me I new so I still need to get a feel for this wiki
---
Bean_two
Thanks for helping me out --Bean two (talk) 16:42, June 1, 2013 (UTC) Bean_two
"Hey, I need to inform you to stop inserting strategies into the articles. Energy X 16:13, June 1, 2013 (UTC)"
ok, but I have to ask. Why are there other strategies posted on that page if they are not allowed? --Pallor (talk) 17:50, June 1, 2013 (UTC)Pallor
ok, I haven't been active in quite some time, and I don't do much editing. So I wasn't aware of the policy change. Thank you for clearing that up for me. --Pallor (talk) 18:00, June 1, 2013 (UTC)Pallor
Citadel Notable Loot
Edit
Hey, I'm writing to let you know that I removed you and the anon's additions to the Citadel's notable loot section as, according to Notable loot policy, neither T-45d nor plasma rifles are notable. Richie9999 (talk) 20:23, June 1, 2013 (UTC)
Signature template
Edit
Hey, I just finished my custom signature but I need a signature template (which I don't know how to use). How do I get one? --The Nuclear King (talk) 19:38, June 6, 2013 (UTC)
I'd suggest just leaving it alone for now. It's an experiment that I dropped due to my work on it being right when we entered our dead period, and it's something I will be reviving once Fallout 4 brings new life here. I suppose I'll even do some more work on it soon, since I was meaning to bring back my manual template for bans anyways.

Some Assembly Required! 22:16, June 10, 2013 (UTC)
Unused category
Edit
Hey Jakša. I have deleted the category you tagged for deletion, since it is an empty category, not to mention we are no longer the Vault and we have other categories that perform the same function as that one did in the category tree for news. --Skire (talk) 22:36, June 10, 2013 (UTC)
Talkpage archives
Edit
I undid some of your archive edits. Those talkpages aren't added to anymore, might as well keep content on them. Now they showed up empty and you would need to click on an archive page link to see some content. They also created a new red link on wanted pages. Jspoel

15:45, June 11, 2013 (UTC)
Wanted templates
Edit
They are being generated by the weapon comparison table. I've looked ad nauseum for where they are coming from, and I can find no mistakes in the template I wrote. For some reason, the wikicode is mistaking something I wrote in the template as a template call. I will look again to see if I can find the error. Please do not create those links, or try to delete them. The Gunny  

23:45, June 11, 2013 (UTC)
Hey, Jakša. Thanks, I'm just watching out for them whilst planning some of the film pages, unless you mean the film pages of course?
-- G͕͇̰͓̱̭̑̒̿̈́ͮ͌̓ͅO̝̪̯̲͖̦͔ͦ̉́̾̽T͓͖ͤ͊W̛̝̓̽ Ù̻͉̽́s̛͒͌͒̄͐ͨě͍͉̦͙͇ͨ̈ͦ͢r̨̞͔̜̹̹̦̪ͨͤ͗̆͐͛ | T̯̙̀ͣͪ̀̔̚a̮̞͓͈͖̒l̿ͩk̢̲̬̱̬͉̲ 20:13, June 15, 2013 (UTC)
Fallout Answers
Edit
Thanks X; looking at ways to extend the relationship between the two wikis. I was thinking maybe a "Question of the week" in the news, and more admin promotion of Fallout Answers when a question leaves them stumped... Wonder if its also possible to screenscrape a little information from F;A to put onto our game portals (I can talk to Wikia about that)... What do you think? Agent c (talk) 12:00, June 16, 2013 (UTC)
Fair edit ~;)
Edit
On the Abandoned apartments notes we might also have said types ..
Either way I like your minor edit better than mine & I just wanted to thank you for improving the note rather than deleting , reverting or rolling it back with out reguard for it's intent.
It is IMO the toughest battel of the Abandoned apartments, especially if your player character is relatively low level.
To sum up : Thank you for recognising intent and improving the edit respectfully.
Your actions earn respect.
SaintPain→ That was broke afore I got here." 10:36, June 18, 2013 (UTC)
Audio needed
Edit
Well, seeing as we'll have all the audio uploaded at the end of this project, any new quotes added will lack it, which will be standardized and look sloppy (all pages in F4 will be without) so this fixes that issue, making the wiki more complete. It also applies to weapon noises, which if missing from a page also make it standardized. Yes, quotes are optional, but if a page has quotes it should also have the audio added to go with them.
Jasper: The Wonder that is Shroomman! 16:28, June 18, 2013 (UTC)
It's forced upon us by Wikia. A Wikia bot changes all youtube tags to file uploads and credits the original user who added the tag. Not much we can do. Check their 4 of June Wednesday update. Jspoel

16:43, June 18, 2013 (UTC)
Isabella/Jason Proud Audio
Edit
Which audio holotape are you referring to? I thought the quotes came from the terminal. 69.125.134.190 21:42, June 18, 2013 (UTC)
What I'd like to do is look at this one at a time. Answers is a good one to start cos its always sort of relevant, and can help feel a mutual need - we drive traffic there to solve questions that aren't easily solved here.
Once we've gotten that right, we can look at how to rekindle the relationship with the other wikis, or look at rekindling the dead ones. Do you know anyone on Tranquility lane at all? Agent c (talk) 21:53, June 18, 2013 (UTC)
Archive button where? On talk pages? Stuff like that is usually found in the site's javascript. Anyone with admin rights can edit, as long as they know javascript. The Gunny  

01:55, June 20, 2013 (UTC)
Re: Huzzah!
Edit
Thank you X ~;)
Here's to the next 365 days!
SaintPain→ That was broke afore I got here." 07:12, June 21, 2013 (UTC)
Fallout stats
Edit
Jakov, if I wanted to find the stats for creatures from Fallout 1 and 2, where would I look? Would I have to go into the game, and if so, what do I do? Hugs

"Say 'ello to my little friend!"
Do you have a link to an original source? Agent c (talk) 22:05, June 21, 2013 (UTC)
hola Energy X
Edit
hola Energy X Higgey the Scotsman (talk page) 17:44, June 27, 2013 (UTC)
I'm just removing the ones off the completed pages at the moment. ---bleep196- (talk) 16:59, July 2, 2013 (UTC)
Unused videos
Edit
They were on the Fallout: New Vegas soundtrack page, but they caused duplicate files alerts. That's why I changed that page back to youtube links (yes, it is possible to trick the system). I missed deleting them at the time. Jspoel

22:43, July 3, 2013 (UTC)
Reconfirmation process
Edit
I reopened the discussion on the reconfirmation process at Forum:Reconfirmation_Process and I'd like your input on the ideas that we were working on. The Gunny  

20:29, July 5, 2013 (UTC)
Chat emoticon policy
Edit
That page was meant to go on my userspace... I've done goofed. -_- Fixed now.
Limmiegirl

Talk! ♪ 23:33, July 8, 2013 (UTC)
Just letting an admin know
Edit
User:Wasson...Kuasson! was spamming during (a dead) chat at around 4:43 pacific time.

"Anything, for the family" 12:44, July 15, 2013 (UTC)
Can you get in chat for a moment? Jspoel

14:17, July 15, 2013 (UTC)
I heavily suggest letting him off on this one. In my experience we don't ban for spamming a dead chat and, as much trouble has he has caused in the past, he isn't in the wrong for this one. Jasper: The Wonder that is Shroomman! 16:57, July 15, 2013 (UTC)
┌────────────────┘
I never meant for the chat logs to be a tool to retroactively ban users for their behavior hours after the fact. The chat log is a tool to be used to provide evidence of bans as they happen. I do not like the precedent it sets to go into the log and ban a user based off of the logs. The bot is notoriously unstable and should NOT be used in this way. If this is how we're going to use it, I will stop logging. I have no intention of having the log provide a means to retroactively ban users. If we don't have mods on the spot to handle situations, that's our fault for not having enough mods. I highly suggest you unban him based on the lack of precedence we have here of banning people off the logs, and banning people hours after they commit a chat violation (something else we do not normally do). Please consider this. I am not wont to reverse your ban myself, I would prefer you make the correction. The Gunny  

20:04, July 15, 2013 (UTC)
You are joking right? I just said hello and nobody was responding. So I write two lines from a song lyrics. Nobody was around. Not trying to stir up trouble but someone wrote recently before me so I was hoping if they checked chat they would say hi. Don't be ridiculous mate. --Wasson...Kuasson! (talk) 17:05, July 15, 2013 (UTC)
On Littlehorn & Associates
Edit
...Yeah, your right. It's probably for the best if we write in proven info rather than speculative info. --Christengo (talk) 08:21, July 17, 2013 (UTC)
You're joking, right?
Edit
I doubt a Mirelurk is supposed to teleport next to the player (I'm not talking about them originally spawning when entering a location, It's when you've alerted them to [Caution] or [Danger]).
It's also dependent on location, but can happen anywhere with a awkward position difference between the player. For example, the area that leads to the second cavern in Oasis has an upward cliff which you fall from after killing or saving Harold. Around 2-3 Mirelurks and Mirelurk Hunters spawn below the chasm. Gaining they're attention or even sometimes using V.A.T.S. can make them completely change position from an unreachable area as if they literally just spawned.
I recommend you try this for yourself before asking "How is that a bug?", Trust me, the Mirelurk A.I. isn't fully bug-free.
~MD(Manic dude (talk) 12:48, July 17, 2013 (UTC))
I understand, though for complying reasons, I added verification so that others can test for confirmation. ~MD(Manic dude (talk) 12:59, July 17, 2013 (UTC))
Howdy, vandal here: 68.150.67.98. I'mma leave duplicate messages on Leon, Bears and Jspoel's Tps to see that he gets dealt with in a timely manner. Richie9999 (talk) 08:02, July 22, 2013 (UTC)
FoT missions
Edit
Nah, I think a normal walkthrough, like with the first few missions, is better. A lot of missions don't have a walkthrough yet; can you add those to the other mission pages? Jspoel

22:24, July 28, 2013 (UTC)
I can fix that quick
Edit
I'll take another look and be right back.
SaintPain→ Just here to help." 14:48, July 31, 2013 (UTC)
Masticator
Edit
Yes, I unpacked the master.dat files from FO1 and FO2. Then I downloaded a tool made by Cubik, a critter editor, on NMA which can read the prototype id files. It's possible there is such a character as Xander Holyland, because in the editor there are 4 more boxer ids without a name. One of them could be him. Jspoel

18:17, August 7, 2013 (UTC)
TalCharles
Edit
Do me a favour, if the user TalCharles does attempt to sock, could you inform
RansomTime
about it? Thanks.
16:36, August 10, 2013 (UTC)
Figured to ask why the section in the quest the job that I edited that I added under notes that there is a nuka cola quantum was removed
Flash bang
Edit
Thanks for catching that, my friend. I don't what I was thinking XD --Skire (talk) 23:27, August 16, 2013 (UTC)
Fallout 2 character images
Edit
No way we're going back to models. The in-game images are much, much better. It shows the natural environment which they're in. And once a player gets in the location, he/she will know soon enough which character it is. I have 95% of the characters exactly centered in the image, so it's easy to see. Jspoel

20:17, August 19, 2013 (UTC)
"Appearances" format
Edit
Greetings - Where does it say (in writing) in this Wiki's style guidelines that all the words you restored in "Appearances" on the Crashed vertibird are required? Other Wiki's we edit don't use that format, see The Elder Scrolls Wiki for example.
(If they are required, this Wiki should consider changing it as it is needless verbiage.) Thanks DarthOrc (talk) 10:50, August 20, 2013 (UTC)
Blog on chat moderation conduct
Edit
I've written a blog on chat moderation conduct and I'd like you to take the time to read it. We feel it's important stuff, so please take the time to give it a read. The Gunny  

01:30, August 24, 2013 (UTC)
Deletion
Edit
We tried to, but we used the template wrong. Sorry.DarthOrc (talk) 09:33, August 24, 2013 (UTC)
Tanya's not a cannibal. It's her flesh dropped.
Edit
It's Tanya's own human flesh that is dropped. She isn't a cannibal. Alatari (talk) 08:20, September 3, 2013 (UTC)

You still left speculation. There is no evidence she is a cannibal or that her philosophy would explain the human flesh on her body. The most reasonable explanation is that the programmers had her drop flesh just like all the other ant faction. Alatari (talk) 10:05, September 3, 2013 (UTC)
---
GarouxBloodline - Some Assembly Required!
TALK - New Features Discussion

Hey, Mystery. When you get the chance, can you give

this forum

a look? I have a few finished ideas that I'd like to get some community input from, and your feedback would be appreciated.
Forum discussion
Edit
Hi, was wondering if you could take a look at This forum I've posted to replace our current gameplay help forums with links to the Fallout Answers wiki. Thanks. Agent c (talk) 11:21, October 10, 2013 (UTC)
Gdje ste otišli?
Edit
How is everything? I notice you've been quiet for a few months... --Skire (talk) 21:51, December 1, 2013 (UTC)
Alert - Dec 4
Edit
Hi, can you please take a look at This forum ASAP. We need all hands on Dec 4. Agent c (talk) 22:11, December 2, 2013 (UTC)
Staff invitation to NotY
Edit
Hi there. As you may or may not know, the 2013 Nukapedian of the Year contest is currently ongoing. A lack of integrity in the original polling format has spurred a change in the voting system used. Inevitably, this new system has seen significantly fewer voters participating. As such, we would like to extend an invitation for you to go participate in the voting. Directions and voting itself can be found here. Thanks! --Skire (talk) (via the courier) 02:45, December 4, 2013 (UTC)
Search suggest
Edit
The trial we're running for search suggest is limited right now. I believe it's only working on article pages. I think they are working to add other namespaces, but unless/until we end the test for Wikia, we'll have to live with what it is. I believe it was supposed to be a short test. The Gunny  

02:10, December 10, 2013 (UTC)
Season's greetings! Edit
You have been given a Season's greetings!.

Your efforts and diligence have not gone unnoticed, and you have been given a small token of appreciation.

Happy Holidays & Season's Greetings to you, from SaintPain

& Major Tom
Dead mercenary image
Edit
Hey, I noticed you removed the image on the Dead mercenary (Fallout 3) page, I'm gonna assume it was perhaps because it has the HUD in the picture?
While it does have the HUD in it, for these circumstances, the image should be fine. It's a cut character that's seen only in one single pre-release video, which has the HUD. And that video is the only picture we'll ever get of the character. It'd be better having that picture than none at all.

  OfficialLolGuy  Talk  Blog  21:23, December 23, 2013 (UTC)
I suppose the image could be cut, the crosshair and some parts of the player's fists would still be there, though. I'll cut some of it out now.

  OfficialLolGuy  Talk  Blog  21:34, December 23, 2013 (UTC)
Happy holidays
Edit

Hello bureaucrat, admin, moderator, chat mod, or patroller!
Can you please take a look at this forum and voice any opinion you may have.
Thank you
69.l25 (talk) 00:11, January 22, 2014 (UTC)
Ah. I see my mistake. Well, I left two more edits regarding skill magazines instead of books, so I do apologize for that. Thanks for the clarification.

(CeltsMan97 (talk) 00:02, January 29, 2014 (UTC))
Thanks for the clarification.
Edit
I'm new, so I'm still trying to figure out messaging and the like, but thanks for the clarification. Are most pages that have the "Notable Loot" option nearly perfect? What I mean is: do any of those pages really need edits regarding Notable Loot or no? If not, what are some things new users can easily contribute to? Thanks.
(CeltsMan97 (talk) 00:20, January 29, 2014 (UTC))
A (late) Holiday Gift
Edit
You have been given the Paladin Toaster.

Your efforts and diligence have not gone unnoticed, and you have been given a small token of appreciation.

Merry Christmas and a happy new year, I know i may be a bit late, but had exams then and decided to delay my wishes a bit. If it's too late for you, then consider it a Chinese new year ;) Greets Peace'n Hugs

(

talk

) (

blog

) 10:01, January 30, 2014 (UTC)
Referencing policy
Edit
Hi. We're looking for feedback on this and hopefully we can reach consensus quickly. Agent c (talk) (via the courier) 01:14, February 3, 2014 (UTC)
Third-Person Discussion
Edit
Hi. I've opened up a forum to discuss a proposal to deal with our first-person-in-articles issue. Can you please give it a glance and share any feedback. Thanks 69.l25 (talk) 04:40, February 12, 2014 (UTC)
Hi Energy X. I don't know if you've considered this, so I'll bring it to attention here: have you considered being listed as an "inactive administrator"? You've been editing more sparingly for the past few months, and you don't use your special-rights often. Would you be okay with being moved to the inactive list? We've gotten new, more active admins, and moving yourself would allow for you to retain your rights without having pressure to contribute as much as the most of other admins are now. Thanks 69.l25 (talk) 03:57, February 23, 2014 (UTC)
Hello fellow administrator! I'd like to implement a script from the Open Source Wiki that allows the Wikia Contributor designation to be replaced with their IP address on forums, recent changes, etc. This would be set so that only administrators would have this script enabled, and I'd like feedback to see if this is something we should implement. Leave your thoughts on my talkpage. Thanks! --TwoBearsHigh-Fiving

05:13, April 7, 2014 (UTC)
Andrews edit revert
Edit
Why did you revert my changes on Andrews' page? He doesn't count for the Armed For Bear challenge. No sergeant does. Ranger Stella does, but not him. 98.27.225.144 20:20, April 11, 2014 (UTC)
I have played them, it's just that there aren't many polls to do with them personally. And seeing as to how not a lot of people have played them seeing as they're pretty old, I'd probably end up more with "I haven't played F1/F2" votes (if I choose to add that option) than anything else. But I'll try and make it my goal to always add in a F1/F2 poll every week or two.
Brandon Fox (talk) 17:42, April 14, 2014 (UTC)
New pages
Edit
Why did you add Mardin (and Springfield) as locations for raiders? I'm sure at least Mardin doesn't have them. Those are Beastlords. You should also mind your links. Flash grenade and pump action shotgun on the Withers page aren't linked to Tactics. If you create pages, add the dialogue to the characters, like I did before. Jspoel

14:02, April 16, 2014 (UTC)
I'll see if I can get the stats from those snipers. The Tactics ghouls is tough to decide what they are, characters or creatures. Not sure of it myself what's best. Think for now leave them creatures, use the stats on the ghoul page and add a section for locations and role they play in each mission. Jspoel

23:04, April 22, 2014 (UTC)