Welcome to Nukapedia!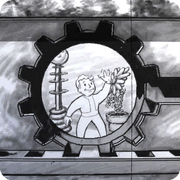 Hello, MrWestcoast, and welcome to the Fallout Wiki! Thank you for your contributions, and we hope you'll stay with us and make many more.
Some links you may find useful:
If you have questions, you can ask in our forums, join the live chat or post a message on my talk page. We hope you enjoy editing here and look forward to working with you!
Your edit
Edit
Your recent edit on the Mirelurk page is more than dubious, why remove a segment of a paragraph to later paste it in`again? This behaviour is considered edit boosting and will result in a ban if you continue it. I would advise you to read our policies. Hugs

"Say 'ello to my little friend!"
Dude I read it wrong and thought it meant something else but later I understood the sentence and realized that I made a mistake. Sorry for that! --MrWestcoast (talk) 18:37, September 18, 2012 (UTC)