Welcome to Nukapedia!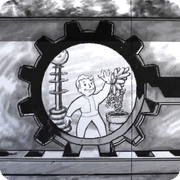 Hello, MatkoBoS, and welcome to the Fallout Wiki! Thank you for your contributions, and we hope you'll stay with us and make many more.
Some links you may find useful:
If you have questions, you can ask in our forums, join the live chat or post a message on my talk page. We hope you enjoy editing here and look forward to working with you!
Dunwich Building
Edit
I reverted your edits on Dunwich Building and Rivet City page. They weren't grammatically sound and also not real improvements I think. Jspoel
17:05, May 24, 2012 (UTC)
I edited Rockbreaker Last Gas, please do not delete that cuz I write only truth. I follow this wiki for 2 years I know a lot of pages and now I am playing Fallout 3 and whatever I see that is strange i write under Bugs or Notes. And, sorry about the gramatics I am croatian.
Verification
Edit
It's just put in place to make sure that the bug is a real one. If you need any help here you could speak to MysteryStranger. He's also Croatian I think. Kiwi

13:42, May 26, 2012 (UTC)
Bok, hvala na dobrodošlici! (Hi and thanks on the welcome!) However, we can only speak in English (speaking in other languages violates the policy). I see that you aren't very good at editing, you should think about signing up on the New User Network to improve your edits. You can sign here if you wish. MS: Destiny conquers all. 20:37, May 26, 2012 (UTC)
I will. MatkoBoS 11:35, May 27, 2012 (UTC)
Hey can you watch your grammar please. You're changing sentences which are correct and making them wrong. Kiwi

18:39, May 27, 2012 (UTC)
New User Network
Edit
Hi Makto, welcome to NukaPedia and the New User Network.
To help pair you to the right mentor, could you Please let us know what times you're likely to be on the wiki; which of the games you prefer, and if you have any special interest areas.
You can reply on my talk page which you can reach by clicking my name, and then Talk.
Thanks for choosing to join us! Agent c 19:03, May 30, 2012 (UTC)
Great. I hear you're in the same part of the world as MysteryStranger, and I can see you've already met and working together, so I'll make things official. If you need anything at all, please feel free to ask. Agent c 20:07, May 30, 2012 (UTC)
Had to revert your edit on Rockbreaker's Last Gas. The image had less quality. Do you play on PC? MS: Destiny conquers all. 20:02, May 30, 2012 (UTC)
Well, at least it's verified. Yes, I do. MatkoBoS 20:05, May 30, 2012 (UTC)
Yeah, correct. Still, you didn't answer my question. Also, leave a message on my talk page, not your own (people won't be able to see that you replied here, best to give them a message). MS: Destiny conquers all. 20:08, May 30, 2012 (UTC)
Sorry, saw your reply. Okay, for making images, best to unlock console pressing the button in upper-left corner. Write tm and press enter for removing any HUD (like HP bar). To make an image, press Print Screen in upper-right corner for making the image, then see in your files for the image. Any questions? MS: Destiny conquers all. 20:11, May 30, 2012 (UTC)
Thanks, in the upper-left corner you mean console commands? MatkoBoS 20:16, May 30, 2012 (UTC)
Yes, that is the way to access them. MS: Destiny conquers all. 20:54, May 30, 2012 (UTC)
Can you tell me more about your... availabilty (like G.E.C.K. editor, playing older games like Fallout/Fallout 2)? MS: Destiny conquers all. 19:53, June 5, 2012 (UTC) Havent understanded the question. Can you repeat in some other form? MatkoBoS 14:33, June 6, 2012 (UTC)
Well, have you played Fallout, Fallout 2, Fallout: Brotherhood of Steel or Fallout Tactics?
Also, have you installed in your PC this?
Last thing - leave a message on my talk page, not your own (so we see you replied). Just press Leave message button on my talk page, make ==Example== and write down your text. MS: Destiny conquers all. 14:50, June 6, 2012 (UTC)
Well, while I don't have a GECK, you can download it. The best search for now I found is here. It would be beneficial to have a one, but if you don't want it, so be it. If you have any other questions, then ask me on my talk page. MS: Destiny conquers all. 18:35, June 6, 2012 (UTC)
Just wanted to see if you are gone, and I see you just make comments on blog pags. I'm not forcing you to edit, but you could edit a page or two... sometimes. Energy X 15:15, June 30, 2012 (UTC)
Oh and yeah... I made a name change (MysteryStranger to Energy X). Just to let you know. Energy X 15:17, June 30, 2012 (UTC)
Well, you can check the project pages to see what needs to be done. Since you play FO3 and FNV games, you have the 5 projects:
I think the best one for you right now are the Fallout Wiki:Fallout 3 and New Vegas quotations project and Fallout Wiki:Fallout 3 and New Vegas icon addition project. They are simple, yet you can contribute. See the guidelines, sign on (if you wish) and edit. Energy X 20:04, June 30, 2012 (UTC)
That's great! Hopefully it would be sooner. Still, I'd recommend the projects above. You might get that goal before if you contribute to the project. Just to clarify. Energy X 23:22, July 1, 2012 (UTC)
Why thank you very much. Keep those edits up! {{SUBST:Signature|Energy X}} 12:55, July 14, 2012 (UTC)
Help with the quotes
Edit
Sorry, haven't played F3 for years now, so my background knowledge has gotten blurry. Don't think i'll be much of the help. --Theodorico (talk) 13:13, July 15, 2012 (UTC)
Did you depart or something? Don't yee you often. Energy X ∞ 16:01, August 12, 2012 (UTC)
Re: School
Edit
Too bad. Well, I guess you can make it to 150 edits and you greaduate in NUN, which would make you a man who knows how to make proper edits in general. Well, you could find some time and finish this. We have too many people as mentees that disappear for an unknown time. Energy X ∞ 08:43, August 30, 2012 (UTC)