Hi there!
Edit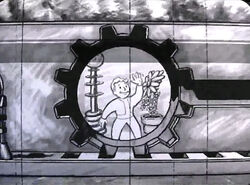 Welcome to our Fallout wiki and thank you for your contributions! I hope you'll stay with us and make many more improvements.
A little help to get you started:
I'm glad to have you here and look forward to working with you!
--
Gothemasticator
(
Talk
) 08:10, June 21, 2010
Thanks for complementing my Grunt, do you play Halo: Reach? TJbrena 16:06, January 6, 2011 (UTC)
Thanks, I kept forgetting to ask about that button. My gamertag is, you guessed it, TJbrena. I'm a Major Grade 2, and I'll never forget how hard it was to finish W.O. Grade 3. Send me a friend request when get around to it. Crap, the button isn't working. TJbrena 16:27, January 6, 2011 (UTC)
Testing, 1,2,3. And how do i make my signature all cool with my pic and everything? --TJbrena 23:54, January 6, 2011 (UTC)
Dude, I tried to send you a friend request, but it said your Gamertag doesn't exist. Is the Gamertag posted on you page up-to-date? --TJbrena 02:51, January 9, 2011 (UTC)
Hey could you send me one instead? I usually am only allowed to play my 360 on the weekend, and since you change your GTag so often, and I never change mine, I figure it would probably work better if you send me a friend invite. --TJbrena 16:06, January 26, 2011 (UTC) P.S. Yay, I used my signature!
Yeah, well, I know how how you only play with people from Australia and New Zealand, but sadly I'm from Arizona, a Legion controlled state in the Southwestern U.S. So if you don't send me a friend request, I understand it's just you following your code. --TJbrena 16:19, January 27, 2011 (UTC)
Actually, no. Its actually seems to lag less often when I play with people from other countries like Canada and the UK for example. I also played with a guy from Japan once in Ace Combat 6, he was owning everyone in his Idolmaster Su-47, we ganged up on him and he kicked our asses with such clarity and grace that I realized none of us was lagging at all.--TJbrena 16:05, January 28, 2011 (UTC)
hello from the granter
Edit
hi i just want you to leave a message on my talk page just to see if your paying atention.
Your comment about buying a pirated copy of the game has been deleted. Do not discuss this topic here. Ausir(talk) 03:27, January 5, 2011 (UTC) Fair enough--Mastererium 08:21, January 5, 2011 (UTC)
Thank You....
Edit
Thank you Masterium I love fallout one and fallout two and fallout tactics was alight but I personally feel that fallout 3 and Fallout New Vegas were the better games, and I feel that because I loved the elder scrolls long before fallout entered my life. why is it that when the gamebryo engine style was used for oblivion it was revolutionary but then when it's used for fallout it's terrible. my conclusive answer would be nostalgia dicks who need to "grow up" and stop dogging on new games that may in the future be considered "classics". Just my opinion no offence intended. 666carl666 19:20, May 14, 2011 (UTC)
I agree, but hopefully the new ID engine that they are using for the Elder Scrolls V: Skyrim will be good and they may use it for the next Fallout. (Whatever that may be.)
Sorry my mistake it was just that I had heard somewhere that ID was what the new engine was called.
Yeah ive already pre-ordered rage for august and it really does look amazing, once again sorry for that misinterpretation there, I must have had Bethesda information mixed up.
D-pad weapon changes
Edit
Hi, noticed your comment on Tag's Fallout 4 ideas blog. Unless I've missed the point totally and you're talking about something else, you mentioned that you'd like to be able to use the D-pad to change weapons - you do know how to you map weapons to the D-pad in New Vegas, right?
In the weapons list you can hold RB and then pick a spot using the D-pad. The Up button is always to switch ammo types, and you can use all the remaining 7 slots for your weapons.
Willooi 02:30, June 29, 2011 (UTC)
Hi there. Yeah I'd much prefer if things happened in real time rather than the world pausing and waiting until you are done. Especially when you pull up the Pip-Boy, if you had to do that while still taking damage, that would make a nice difference for me. I was also hoping that Hardcore mode would be more difficult overall, but I love how ammo has weight and combined with Very Hard difficulty the first half of the game is a really good challenge up until you get to Novac or thereabouts.
What I tend to do to make it a bigger challenge is play with characters with Strength of 1 or 2, just so the carry weight is reduced...however this then counts against you when it comes to the ST requirements for weapons. In saying that though, I really enjoyed the playthrough as an grenade/dynamite and pistol focused character.
Willooi 05:40, June 30, 2011 (UTC)
Fallout 1 and 2 characters project
Edit
Hello. I am just leaving a quick note to say that we need to get this project finished. Its been very slow for a long time now, and so this is just a quick note to ask for you to continue your contributions. It would be really good if we could finish this project, and if everyone does that little bit more work, I'm sure it won't be long. So please don't forget about it :). Thanks,


.