Welcome to Fallout Wiki!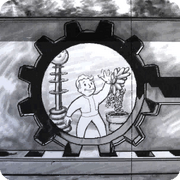 Hello, Jykale, and welcome to Fallout Wiki, the Fallout wiki! Thank you for your contributions, and we hope you'll stay with us and make many more.
Some links you may find useful:
If you have questions, you can ask in our forums, join the live chat or post a message on my talk page. We hope you enjoy editing here and look forward to working with you!
Hi,
If you have a problem with a reversion, please do not revert it, but contact the reverter directly.
It is our policy here only to report on things that are in game. The Mojavie is a large place, and many things in it are not featured or mentioned; once we do it in one place, we open the door to it being everywhere, and the wiki becomes full of irrelevant non-facts. Agent c (talk) 22:47, March 22, 2013 (UTC)
Great Khans/Hoover Dam
Edit
Hello, during the final battle at Hoover Dam, having the Khans do a suicide attack on both factions does NOT constitute them siding with either of the independent vegas forces. As mentioned earlier in your Talk page, do not revert the reversion of one of your edits as that creates an edit war, which is something we don't do. Instead contact the person who reverted your edits and read their edit summary, so that you might understand their reasoning behind the reversion. Richie9999 (talk) 05:34, March 28, 2013 (UTC)