| | |
| --- | --- |
| | Archives: #1, #2, #3, #4, #5, #6, #7, #8, #9, #10, #11, #12, #13, #14, #15, #16, #17, #18, #19, #20, #21, #22, #23, #24, #25, #26, #27, #28, #29, #30, #31, #32, #33, #34, #35, #36 |
Re: Armor pages for Fallout Shelter
Edit
I think that it will make easier to find if somebody is looking for it. I didn't knew about appearence thing in armor and clothing pages but thanks for the advice. I'll leave you to decide if we are going to make a pager for each item like armors and guns. If you wish to continue and you dont have an apple thing to play the game you can get somethings from here.
I'm going to sleep now... you know class tomorrow.
-Ahead! Lincoln Speak! 02:10, June 16, 2015 (UTC)
BTW I talked with gunny about those infobox. I said that we gonna need to build a new one cause is an simple style of statistics for those pages. I'm waiting he to see that and also I've already placed basic stats to upload in to the infobox when it get finally ready we'll be able co make those pages the right way. I would like to know too if you guys have rules or regulation to formatting item pages that you can send me to give a look at it.
Sorry what did you say? Can you write it using different words?
Oh ok I just wrote as it was in the game...
I think I'm supposed to use the Wasteland medic page as standard model for Fallout shelter armors? Lincoln Speak! 21:24, June 16, 2015 (UTC)
Check User
Edit
Hey J. Would you mind doing an IP check on this user? He was causing some problems in chat and I wanted to make sure we nabbed all of his socks. Thanks.

 A Follower  Talk  07:49, June 16, 2015 (UTC)
Thanks J. those were the other users causing trouble. I'll take care of it.  A Follower  Talk  08:03, June 16, 2015 (UTC)
Thanks for telling me that, didn't know we already had the image on here, was gonna screencap the video.

  OfficialLolGuy  Talk  Blog  13:18, June 16, 2015 (UTC)
Fallout Shelter characters
Edit
Should they get their own page or should we put both games on the same character page? Normally I'd say their mention isn't relevant enough, but I'm afraid it'll cause confusion about SPECIAL, armor etc. What do you think? - Greets Peace'n Hugs (talk) (blog) 14:19, June 16, 2015 (UTC)
Apologies
Edit
My apologies about the capitalization. And I accidentally placed the gallery there, I noticed and went to fix it but it was already fixed, presumably by you. And not being allowed to remove the chat from my profile is important for me to know, thank you. RadiationKing13 (talk) 17:38, June 16, 2015 (UTC)
Actually, I did. But this page also mentions that new feature to include those characters, with that few feature. It is because I don't know how to name that new feature... any ideas? ☢ Energy X ☣ 16:26, June 16, 2015 (UTC)
I was just making sure the pages were decapped and only disambiguated when needed. I'm on the fence about individual pages. I'd say make the pages if the content is at least as long as the crappy pages for games like BOS and whatnot if they have their own pages. We should at least be consistent. If those games don't have their own pages, then these shouldn't either. The Gunny  

20:59, June 16, 2015 (UTC)
And no. I'm waiting for the android version. My tablet is larger than my phone and my eyes suck. I'll probably see if I can whip up a quick infobox just to see if we can make these pages have enough content to be presentable. The Gunny   21:00, June 16, 2015 (UTC)
New Armor System
Edit
How are we supposed to display all of the armor pieces? (Helmet, torso, arms, and legs) In addition to that, when I type in a value it doesn't show up in the infobox, so what am I doing wrong if I might ask? RadiationKing13 (talk) 14:46, June 17, 2015 (UTC)
Template ibValue has added parameter for fo4 now. Infobox value should work to new game. The Gunny   20:00, June 17, 2015 (UTC)
Check User
Edit
Any chance you could check the following users for me:
Thanks Paladin117>>iff bored; 05:45, June 18, 2015 (UTC)
Post war countries?
Edit
In what world are Ceaser's Legion and The Enclave countries? JASPER//"Do you like hurting other people?"
14:19, June 18, 2015 (UTC)
Shelter project
Edit
Oh that is good to know because I was worried about it being with something wrong or missing. Thank you!! Lincoln Speak! 19:50, June 18, 2015 (UTC)
You clipped off the canceled games level 2 list from the site nav when you changed it to Fallout Shelter. We need a fix for this. We either go with abbreviations, or add the canceled games to the level 2 "Other games" list. Pick one. The Gunny  

I've changed it back for now. Something on Level 2 is too long and that makes it a pain for me to edit, I have to rename it, change it, and then rename it back to avoid the "too many characters" safety. A permenent solution is on the list for Saturday's meeting. Agent c (talk) 22:53, June 18, 2015 (UTC)

I already had shelter on there though... I had to hack around it the first time. Agent c (talk) 23:11, June 18, 2015 (UTC)

The edit you made to the main intro template seriously screwed up the front page. I changed it to 3 rows, as it's the only way it's gonna display without looking like crap with 9 games/links. If you don't want 3 rows, we're gonna have to change the icons/links again. The Gunny   23:52, June 18, 2015 (UTC)

It did not look good. It was 2 rows with 9 icons. You placed two icons, BOS and canceled games into the same table cell, which screwed up the cell widths, overriding the css. You got to remember that we do not make site appearance changes based off of super wide screen. Default is still 1084px. If you're going to make changes like the site nav and front page/css, you need to make sure it looks ok at that size. Or better yet, ask me to make them and I'll check them in a sandbox or tampermonkey before they're published. Don't forget what Shining said about cached changes. It can take forever for the site to recover for anons. The Gunny   00:10, June 19, 2015 (UTC)
I have some legendary weapon, armor, and character screen shots for Fallout Shelter but since I am on ipad I can't make them "pretty" can I upload them somewhere for someone else to turn into a .png? Anemoneblu (talk) 22:08, June 19, 2015 (UTC)
Fallout Shelter's characters
Edit
The example is ready at Bittercup (Fallout Shelter). Lincoln Speak! 14:29, June 20, 2015 (UTC)
The problem with the Fallout's shelter characters is that they can do what ever you want. I mean that they can go to the wasteland, work in any room of the vault or just go to the living quartes to have some "fun" if you know what I mean. I'm really not sure about how to build this page. There is one thing that I want to know and is about the Background because she comes from the wasteland when you unlock her and there is no little story. Lincoln Speak! 14:49, June 20, 2015 (UTC)
Fallout Shelter's project
Edit
Can you add you your signature after placing images on Fallout shelter's page to the Project' Progress/assignment tables?? Lincoln Speak! 17:01, June 20, 2015 (UTC)
Competition Update
Edit
As was determined in today's meeting, a few changes in my sandbox became necessary, and said changes have now been made. It was also determined that the bureaucrats should read over the changes, making sure that everything is up to Nukapedia's standards, before coming to a collective decision as to whether or not I can bring this competition up for community consideration.
It was proposed to me in the meeting, since my prizes are all Bethesda-related, that I should reach out to Bethesda to see if they are willing to endorse/help cover the costs of some of the prizes, in order to help establish legitimacy and help draw in additional attention. I have already sent a message out, and should they answer, I will be updating all communities involved with this competition immediately.
In the meantime, please take this sandbox into consideration, and get back with me at your earliest convenience (before the 25th would be for the best, since I do have other involved communities to take into consideration). Thank you for your time. User:Sarkhan the Sojourner 23:41, June 20, 2015 (UTC)
Just an update that I need an answer by tonight/early tomorrow. I have already put off the competition for over 2-weeks, and with the competition spanning over months, with Fallout 4 allegedly coming out in November of this year, I cannot afford to spend too much more of that time waiting around.
If I get approval here, I can afford one more week, in regards to getting a community forum started and a consensus gained. In the case where a consensus can be reached, I can be ready to immediately have Nukapedia involved, and the competition started. Thank you for your time and consideration. User:Sarkhan the Sojourner 14:55, June 24, 2015 (UTC)
GECK tips
Edit
Hey Js, I'm a bit rusty on the GECK, could you remind me how to change the cell's background color to increase contrast? I'm trying to get item pics.
Limmiegirl

Talk! ♪ 01:02, June 21, 2015 (UTC)
Thanks, but I meant on the render window, where the level actually is. The preview tab is a bit awkward for me, and it's a bit low-res.
Limmiegirl Talk! ♪ 16:47, June 21, 2015 (UTC)

Please see .
Limmiegirl Talk! ♪ 17:34, June 21, 2015 (UTC)
Lincoln's Repeater FOS
Edit
Howdy J, I noticed the image you uploaded for the Lincoln's repeater in Fallout Shelter and I was curious about it, as it isn't a lever action rifle as it was in FO3, but rather appears to be an M1 Garand similar to This Machine. What's up with that? Richie9999 (talk) 20:35, June 21, 2015 (UTC)
I'd argue that Lincoln's Repeater likely uses the same image as the lever action rifle rather than a hunting rifle. It is entirely possible that we are missing weapons, as the game, from one of the screenshots on the Shelter page, has 139 weapons, while we only list 89 on the weapons page. Richie9999 (talk) 20:48, June 21, 2015 (UTC)
FOS weapons page
Edit
Why did you move the fat man and variants out of alphabetical order? I could understand if you were trying to line things up by increasing damage, but that's not the case either. Typically, tables like these are arranged in alphabetical order, with variants of the base weapon listed directly beneath. We need to be consistent. The Gunny  

20:59, June 21, 2015 (UTC)
It's not about what I like. It's about consistency with the other pages like this. I have not problem if we're gonna list things by base damage or something, but that may make things harder to find in a long list. Alpha is used for that reason, and tables are sortable to find things by specific stats. I'll move them back. The Gunny   21:07, June 21, 2015 (UTC)

The infobox item and ibValue template are working properly since I fixed them earlier. The ibValue template, when nothing is parsed through the value parameters returns a "?". That's the way Theo or 69 or whoever wrote it made the template. They added a @hide function for cases like these. I suppose one of the templates was broken the whole time if there was nothing being returned with empty value parameters like on holodisk pages. As it stands, @hide is going to have to be added for the value parameter on those pages or I'll have to see if I remove the if/else return "?" for the else return leaves the parameter empty and the infobox won't parse the line. Your choice. Pick one. The Gunny   23:12, June 21, 2015 (UTC)
(←)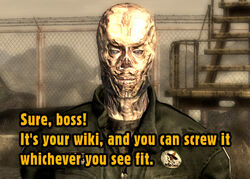 :D --
Теодорико
(
talk
) 00:15, June 22, 2015 (UTC)
I created Howard and Nora because whichever one you don't play as becomes an NPC. We do see Nora's name during character creation, it's in the E3 showcase and the PC didn't get to pick it, Howard is just a placeholder until we find out his name. This is the exact way we did the Vault Dweller's personas, like Albert Cole. Paladin117>>iff bored; 15:16, June 22, 2015 (UTC)
Capitol post images
Edit
Hey J I'm making a blog that is called The Capitol Post and you removed the category that i placed to the images that i'm going to use on it... Can you stop doing that? Hahhaha please. Lincoln Speak!
Speculation
Edit
No. You are 99% sure he is. Sorry, but speculation is not fact and the fact that you even have to say "There is a good chance he is X" and not "He is X" proves that it is not confirmed. When it is confirmed, as it may well be, then you can add it back. JASPER//"Do you like hurting other people?"
16:54, June 22, 2015 (UTC)
Then put it in behind the scenes. JASPER//"Do you like hurting other people?" 16:59, June 22, 2015 (UTC)
Hi J! I could not find the same page on the Nukа. Maybe it would be helpful?--U.Solo (talk) 21:34, June 24, 2015 (UTC)
Background
Edit
"Pre-war Junkyard or processing plant. Mountains of old cars. Large industrial cranes, walking excavators. Smoking chimneys. Silhouettes like people. It seems that it is a settlement."
a quick translation from Russian page. Sorry, dude, but I'm not Shakespeare :)
And one more page: "granite quarry", like a quarry in Barre, Vermont. If you need my help - im at your service! --U.Solo (talk) 16:57, June 25, 2015 (UTC)
Mojave Map needs fixing.
Edit
This needs the "index.html" either chopped off of it, or changed to "index.php". Capital Wasteland map still works fine, because the page wasn't included in the URL on its MediaWiki page. Thanks!

Digital Utopia (talk) 01:50, June 26, 2015 (UTC)
Quick question
Edit
We capitalize proper nouns in article titles, correct? The Gunny  

19:54, June 26, 2015 (UTC)
Checkuser
Edit
Hello Js, I would like to request a checkuser both these users below:
Lordniti2 - Possible sockpuppet of Swagler since they're making an excuse of being friends with the original account whilst in chat to unban. Whether this account is telling the truth or not. Hence, I would like to request a checkuser to confirm this. Thanks. --吉野Cassie
Talk to me! ✿ 12:59, June 27, 2015 (UTC)
No. That's just my working space. I've already ported all the info I've found to the weapons page. Only got 2 or 3 more weapons to completely figure out. We are already using the images, are we not? I'll probably do the same thing for clothing and dwellers, which is watch about 1000 lunchbox openings and record the contents. When I get them collated, I'll add to those pages as well. We're still missing a ton of stuff, but at least the weapons page is now the most complete out there. The Gunny  

23:55, June 27, 2015 (UTC)
Spam page
Edit
Hello Js, this user made a pointless page to spam. --吉野Cassie
Talk to me! ✿ 07:38, June 28, 2015 (UTC)
Re: Sci-fi fan outfit
Sorry, but i don't have a picture of it. I only saw it on a gameplay video on youtube, you can see it at the start of the video here https://www.youtube.com/watch?v=n6uNI0m6A8o.
Pinkfluffyunicorns123 (talk) 16:12, June 28, 2015 (UTC)
Railway rifle
Edit
What's your source for the armor piercing railway rifle? I have yet to see the card for one online. I had not added that weapon to the table because I was not certain of that it would be titled "armor piercing". The Gunny  

16:39, June 28, 2015 (UTC)
Lol. So they ripped all the content from my sandbox, included something I haven't yet confirmed, and we put it on our page because they did? Trustworthy? We can do better than ripping unconfirmed content from The Vault. I've verified that every other weapon listed is at least in the game. I'm removing it until someone can verify it. There's one more, the laser musket, that I won't put there also, until I actually see the card for myself. As for the highlighting, we use highlighting to show unique weapons. There are no unique weapons in this game. You can get infinite copies of everything. I don't care how it "looks". I care about it being consistent with our other overviews. Highlight means unique. These aren't unique. The Gunny   16:52, June 28, 2015 (UTC)

This is why we don't rip content from people who steal our own. It's not even armor piercing, which I figured was probably the case. It's accelerated. I don't mind you changing the page structure so the images look like The Vault's but please stop mimicking what they do. I'll say it again: We're better than that. The Gunny   16:59, June 28, 2015 (UTC)

I also just realized that you copied the content of their legend section word for word with this edit: http://fallout.wikia.com/wiki/Fallout_Shelter_weapons?diff=2280001&oldid=2279855. We have enough of a problem with folks taking our content without attributing for us to do the same thing. I've changed the legend so that it is written in our own words and I'll have to ask you not to take content from there without attribution. I would prefer that we simply create our own content. I hear enough that we are a "shitty copy of The Vault". We don't need to prove those folks right by copying their content. The Gunny   17:53, June 28, 2015 (UTC)
Damnit J, We're supposed to have a Zero Tolerance policy to this shit. If I caught Eden or Lolguy pulling this shit, they'd be banned already. We're supposed to be better than that, and if they're stealing shit from gunny's sandbox then we're supposed to be better than them. What the fuck? Agent c (talk) 18:26, June 28, 2015 (UTC)
I can't relax on this one. Every time we catch Ant at it there's an outrage - I have admins and moderators who want to ban him from chat next time they seem him do it. If Tag steals, its one thing. When we steal back, our ability to deal with it is compromised. We are not a shitty copy of the vault, and we should be doing everything we can to ensure that stays the case. Agent c (talk) 20:02, June 28, 2015 (UTC)
RE: Wild Bill's Sidearm
Edit
Regardless of how direct it may be, by policy a disambiguation is required. Furthermore, if one does not click one of the suggestions and merely searches "Wild Bill's Sidearm" or "Wild Bill's sidearm" for that matter, they are redirected only to the Fallout 3 article. As for the name, by all means let us fix the name to "Wild Bill's Sidearm" so that the capitalization is appropriate. Richie9999 (talk) 16:33, June 30, 2015 (UTC)
Whether or not it is clutter is irrelevant. Policy dictates that it remain "If a given term can refer to multiple articles (i.e. if it is "ambiguous"), the articles should be moved to non-ambiguous (or "disambiguated") titles. A disambiguation page, i.e. a page which links to all possible articles this term may refer to, should then be placed at the ambiguous title." - Fallout Wiki:Content organization guideline#Disambiguation. Until such a time as the policy is changed, the disambiguation page must remain. Richie9999 (talk) 16:48, June 30, 2015 (UTC)

Not going to get involved any further than this. I just feel it is relevant to point out that there is a difference between "...should..." and "...must..." 69.247.6.120 16:51, June 30, 2015 (UTC)

That's a nice little detail. That gives an escape. We really don't need three Wild Bill's Sidearms for a unique weapon. Jspoel 16:55, June 30, 2015 (UTC)
Plasma rifles
Edit
I'm reverting the changes you made to the damage on the plasma rifles. The two legendary plasma rifles' damage as I had them listed is correct. I know this because I watched 1000s of lunchboxes open and actually saw the in-game cards. I would normally ask you where you got the source for the change, but I already know. You took this from The Vault, too. I saw these cards with my own eyes, and I know for a fact you did not, or you would not have made the change. The only place I've seen the damage listed incorrectly on these weapons is The Vault. I'm going to be very blunt here: Stop it. Just stop. Stop looking at The Vault's content and copying it over here when there's editors here doing this the right way, by doing the research on their own. Just that you would do this disappoints and concerns me greatly. I can't believe I have to go this far, but you can take this as an official warning. Do not take unverified content from there and post it here again. The Gunny  

19:58, June 30, 2015 (UTC)
Given what's occurred over that last few days, and the fact that I have been pasting messages all over the place looking for the "missing weapon" I have listed at 17-21 damage, including on the sandbox where I've got all these stats, you'll have to forgive me for not believing that. I stand by my previous statement. The Gunny   20:21, June 30, 2015 (UTC)
Hi, Firelance.: if you are lucky and the Firelance ammo burst is close to the ground and overhead you might be able to see the ammo emerge from a tight cone shape of about 40 degrees from a central spot in the explosion, sometimes aimed downwards,This cone shape accounts for the ground scatter along with the high bounce from some of the cells and their ability to roll 100 yards or so down a slope.The greatest spread I have ever had was at a low spread site at 170 running paces from one end to the other. The tightest formation was when 22/24 ammo cells all fell inside the barn above Vault 101 along with the blaster which was hung up on the wall by the stairs.--1000HrsFallout3 (talk) 15:25, July 1, 2015 (UTC)
Back Again
Edit
Hello J! It's been awhile my friend. under this name you probably have no idea who I am. I used to be User:Dr. 0, then I was LWR Pirate. Now I'mUser:Abstractacas. I've returned to Nukapedia from a long absence because of life. I'll be sticking around for awhile. Hope to see you around.

15:33, July 1, 2015 (UTC)
Dogmeat model reference
Edit
I checked the search returns for Dogmeat and Dog, including the Dogmeat (Fallout 4) page before posting the note on the Dog (Fallout 4) page. Can you link to the page you refer it already exists as I can see no similar information posted. Thanks. For info a search for 'Dogmeat' doesn't include the Dogmeat (Fallout 4) page.Lunamoonraker (talk) 21:18, July 2, 2015 (UTC)
This is referring to your removal of the information I posted on the Dog (Fallout 4) page and you removed "Revision as of 22:59, July 2, 2015 (edit) Jspoelstra (Talk | contribs) (thats already on the dogmeat" page)" Which Dogmeat page do you refer? I can;t see any page with the info posted. Hence the post Lunamoonraker (talk) 21:46, July 2, 2015 (UTC)
Redundant Categories
Edit
To be clear, I don't entirely disagree with you on this issue. There are many marked locations that are not incorporated into subareas like towns or the Washington districts. These locations I am not removing. However, for articles like the Broadcast station there is a specific Radio locations category, this is visible on the main Fallout 3 Categories page, and as we polled in the forums the categories are primarily used for editing navigation purposes. Having to sort through 350+ articles on one page is nightmarish, and unwieldy, even more so on mobile. I will however refrain from removing further articles from the location categories for now, as I would like to discuss this further with other special rights holders, as I feel currently the FO3 and FNV locations categories are far more chaotic and unorganized than 1, 2, and tactics are and I want to discuss reorganizing the system of categorization for these games to make things more efficient and less unwieldy. ---bleep196- (talk) 17:46, July 3, 2015 (UTC)
Here it is! Hope you enjoy :) --Skire (talk) 22:28, July 5, 2015 (UTC)