Welcome to The Vault!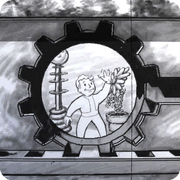 Hello, John Breasly, and welcome to The Vault, the Fallout wiki! Thank you for your contributions, and we hope you'll stay with us and make many more.
Some links you may find useful:
If you have questions, you can ask in our forums, join the live chat in our IRC channel or post a message on my talk page. We hope you enjoy editing here and look forward to working with you!
Nelson Mayes
Edit
I was busy doing some redirecting and saw you added Mayes' first name? Where did you find it? Greets, Jspoel

10:40, April 14, 2011 (UTC)
It's something that has been decided in the past I think. Take for example Mayes. Ausir himself (founder this wiki) redirected it from Quartermaster Mayes to Mayes. I guess they don't like ranks to be in the page title. But when a first name is discovered, that can be added of course. When looking at character pages, you'll still see that the rank of the character is used often. But the page title has to be just the name, with or without first name (with some exceptions). Jspoel

20:32, April 14, 2011 (UTC) You can call me J if you want (I could have chosen a better nickname when I signed up).
It's ok for now. The previous one was from an NCR trooper so this one can too. But if someone finds a quote they say themselves than that one has priority. Greets, Jspoel

19:32, April 21, 2011 (UTC)