Hi there!
Edit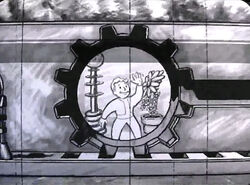 Welcome to our Fallout wiki and thank you for your contributions! I hope you'll stay with us and make many more improvements.
A little help to get you started:
I'm glad to have you here and look forward to working with you!
--
Ghouly89
(
Talk
) 04:20, May 16, 2010
That gun
Edit
Don't take it upon yourself to change an article based solely on your own opinion. If you don't know the source of something, find it OR something that contradicts it before changing it. --Kris

03:47, October 15, 2010 (UTC)
It's possible that, if you don't report a vandal by posting a message on a admin's talk page, that they will go unpunished. I try my best to catch all the unreported vandals but I, like all other admins, am only human and may miss things. Please help us out by dropping one of us a message, and the vandal will be blocked - if not by the admin you contacted, then by another. --Kris

12:29, November 13, 2010 (UTC)
We don't have anything special to see that, at least nothing that's not available to normal users; pages such as Special:RecentChanges and Special:WikiActivity which list recent edits on the site are available to everyone, as is the page history; the only thing of that type we can see that isn't available to normal users is the history of deleted pages. I do try to keep tabs on what's going on with WikiActivity, but there's just too much going on for me to be able to even see the listing of every last edit, much less look at what was edited. Administering a wiki as popular as this one is not a one-man job, which is why there's an army of admins to do it. --

Kris

21:00, November 13, 2010 (UTC)
Radioactive Core
Edit
Hey, you might stumble upon this post, Radioactive Core (weapon). Just to let you know, DON'T DELETE IT. It's based on real facts and is about the only post that has been edited by anyone. Azf12 23:01, November 20, 2010 (UTC)
WTF!!!!!
Edit
YOU STUPID RETARD, IT WAS TRUE! GOD YOU'RE A FUCKING IDIOT! IT WAS IN THE GAME, IT WAS ALL TRUE! AND YOU DELETED THE ONE POST NO ONE EVER TRIED TO EDIT! IT WASN'T A FUCKING MOD YOU STUPID RETARD. YOU'RE THE EVIL BROTHER. GOD I'M PISSED RIGHT NOW. Azf12 23:13, November 20, 2010 (UTC)
No need to report this behavior, I've already taken action. --

Kris

23:17, November 20, 2010 (UTC)
Vandalism
Edit
Hello, and sorry this response is a tad late. Yes, I've been an admin here since March, but I'm one of the less active ones. I'm especially busy right now with school and the coming holiday, during which I won't be near a computer to get on the wiki. Anyhow, if you ever have questions / need help, you can ask me. Who knows, I might be around to check my talk page and other stuff more often in a few weeks or so. ;)
- Ghouly89  (Talk)  00:31, November 21, 2010 (UTC)

Radioactive gore
Edit
Radioactive gore is a weapon used by Feral ghoul reavers. It does appear in the game. --Anon talk 00:49, November 21, 2010 (UTC)
Notice...
Edit
Hey Jackass, I have a notice for you: I have a very short temper and I really don't know any baseIDs. I don't think the Radioactive Core has a BaseID because it's part of a reaver. It is a weapon, and it's not a mod. Haven't you gotten hit with a Radioactive core? Ever VATS attempt it? Reavers often throw it if your at a distance, so you have a chance to VATS shoot it (it moves at normal speed not slow-mo). The Radioactive Core does 100 damage, but about 25-15 damage if you get hit by it in VATS. Just to let you know. Azf12 00:26, November 24, 2010 (UTC)
Your name is Jackass2009, I'm not calling you like the bad word. Sorry if it confuses you. Azf12 00:26, November 24, 2010 (UTC)
Your name confuses me
Edit
Because I can't find a loophole to call you something less offensive. Azf12 00:27, November 24, 2010 (UTC)
Well when I VATS attempted I thought it said CORE not GORE. Azf12 21:49, November 24, 2010 (UTC)
I've never written a fanfic, or posted/edited anything on a Fallout 4 page. If you could point out where I've done this it would be helpful. According to my followed pages, the last thing I edited was the Liberty Prime page, and that was just for a spelling error. Did you post your message on my page by mistake?
Ghost Harvester Remains
Edit
Hey J man, I corrected the stupid post for Ghost harvester remains. Some retard put it as a grenade, I had to correct it. Cheers, Azf12 00:18, December 29, 2010 (UTC)
User conduct
Edit
Please refrain from insulting editors, even in the edit summary boxes. On another subject, we don't avoid spoilers anywhere on the wiki. We do add a spoiler tag to upcoming content, but that's it. No need to remove spoilers from any articles.--Gothemasticator 01:50, January 2, 2011 (UTC)
Cass's Page
Edit
That anonymous user asked on the Talk page whether he should include that sentence a few minutes ago. I replied and told him it was fine, since it was technically a player interaction (albeit a small one) and he wasn't reading anything into it. So you can call me wrong, but that guy's not a vandal.Minor Edits 01:58, January 7, 2011 (UTC)
I'm a vandal block me :3
Edit
I was the one who edited the cass page, not vandalism, i even talked about it in her talk page. --Nuke-a-Punch 02:11, January 7, 2011 (UTC)
Lol, ok, i'll try to log in more often to avoid things like this.--Nuke-a-Punch 02:17, January 7, 2011 (UTC)
Cultural refs
Edit
"Mayor Cobb - I like the sound of that." That phrasing exists all over the place, not just in Back To The Future.
"Brain's best friend" is a play on the phrase "Man's best friend," not a reference to the dog horror movie.
Manhunt 2 has been brought up many times in the past. The connection is paper-thin. No reference there.
Titan A.E. - Much like "Mayor Cobb" above, just a common funny way to phrase something. No direct connection to Titan A.E.
And the XBox "reference?" How is that a cultural reference at all? It's not.--Gothemasticator 10:50, September 4, 2011 (UTC)