Welcome to The Vault!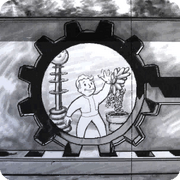 Hello, Jackalex13, and welcome to The Vault, the Fallout wiki! Thank you for your contributions, and we hope you'll stay with us and make many more.
Some links you may find useful:
If you have questions, you can ask in our forums, join the live chat in our IRC channel or post a message on my talk page. We hope you enjoy editing here and look forward to working with you!
Userprofile infobox
Edit
I've added 2 infoboxes on your userprofile page. Edit it and you can see how it works. In the top infobox (Graham) I've left some parameters for you to fill in (or not). The one below gives it (Caesar) gives the same result. Don't send me a threatening message, intentions are good :) Jspoel

17:12, July 4, 2011 (UTC)
"i will get you"
Edit
You have been blocked from editing for three days for intimidating behavior/harassment, for your comment on Yakov's talk page. This block will extend to chat. --Kris

09:56, July 29, 2011 (UTC)
I've removed the chat ban since your editing block has expired. --

Kris

15:49, August 1, 2011 (UTC)
That's good to hear. Nemisis has made a wiki to put fan stories up, in case you didn't know. You could put it up there if you haven't already.

03:57, September 14, 2011 (UTC)

You have been banned from chat for a period of 3 days (72 hours) from the time of banning, for overstepping the rules and regulations of the chat in these/this way: breaking rule 1. When the 3 day period has passed, please contact me
on my talkpage
, just click the "leave a message button", so that I can lift your ban.
Note that there are no such things as a premature lifting of a chatban, and that it is not up to you to decide what qualifies as the aforementioned violations against chat policies.
Here's
some reading until next time. Have a good day, without Vault chat. 13:18, October 23, 2011 (UTC)
You've been unbanned.
"Say 'ello to my little friend!"
You've been banned from Vaultchat for a period of 7 days (168 hours) for overstepping rule/rules number: 8.
Don't come whining about how the ban was unfair. If you got banned, if was for a reason and whining does not improve your situation, and may lead to extended bans.
When your ban is up, leave me or another administrator or moderator a message on their talkpage. To leave me a message, just click the mobster Vault boy in this message.
13:02, October 31, 2011 (UTC)
Unbanned. "Say 'ello to my little friend!"
Why don't you change the links so they include the whole name in the "best kills" section by putting | after the real link and then the new name like this: legendary deathclaw rather than text after? you can also do this with weapons so you don't have the specific game extension after the name.
[[Deathclaw (Fallout: New Vegas)#Legendary_deathclaw|legendary deathclaw]]
Just an idea,


12:55, November 11, 2011 (UTC)
Chat ban: Round 3
Edit



You were banned from chat due to a breach of the chat rules. You broke rule 1 andthis is your 3rd ban, thus will be blocked from chat for a 1 month, at which point you will be required to contact me so I can lift the ban.
If you fail to contact me, then your ban may not be lifted at the time of expiry for which you are solely responsible for.
If you have any questions, please post the on my talk page.

"dude, do you know what it's like to be insulted huh, do you?
Yakov insults me as you know but please man, i'll behave. "
Yes, I do actually, having spent most of my life being insulted I'd say I know what it's like and seeing as you say yak insults you that means YOU should know what it's like to be insulted. Not nice is it? Why do you think it's okay to do the same to others, hmmm?.
You should know the rules by now.
Jasper: The Wonder that is Shroomman! 16:05, November, 2011 (UTC)
One month from Nov. 30th is December 30th. I dont know what's up with the date template, but the blocklog lists the ban as then, so as long as you remind me on the 30th I can unban ya then, for the new year.
Merry Christmas to you to.
Jasper: The Wonder that is Shroomman! 18:34, December 14, 2011 (UTC)