Welcome to The Vault!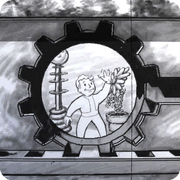 Hello, JackFrost23, and welcome to The Vault, the Fallout wiki! Thank you for your contributions, and we hope you'll stay with us and make many more.
Some links you may find useful:
If you have questions, you can ask in our forums, join the live chat in our IRC channel or post a message on my talk page. We hope you enjoy editing here and look forward to working with you!
2nd person, 3rd person
Edit
Here at The Vault, using second person (you) to refer to the player/player character is acceptable. Also acceptable is the 3rd person that you have been using. Thanks for your edits. Just want you to be familiar with editing practices around here. Cheers.--Gothemasticator 01:42, December 21, 2010 (UTC)
Well, then I will no longer change 'you' to 'the player' when I see it. ;)
Over at the Red Dead Wiki we don't use 'you' simply because a lot of the editors there are a bit grammatically challenged and tend to use entirely too many pronouns as it is.
Anyway, thanks for the note.
- JackFrost23 17:49, December 21, 2010 (UTC)
Notable Loot Sections
Edit
Are only for notable, rare to find loot. The only times generic loot (magazines, chems, ammo, generic weapons) should be noted is if they appear in unusually large amounts. Also, random loot containers should remain unlisted as well.

Message 06:02, October 21, 2011 (UTC)
They would have to be multiples of the same magazine. And if they are in articles they shouldn't be. Skill books should be though. I clean the loot sections from time to time but sometimes people come behind me and put random stuff back in there without me noticing. And I didn't get any particularly large amounts of ammo when I went through there without the Scrounger perk. I'll check again. Message 06:18, October 21, 2011 (UTC)
Ya gota lot of guts donyca?
You can create the article again, but mind to follow the proper layout. Meaning the page has to have proper categories, templates and headlines. The one deleted did not have that. ☢ Energy X ☣ 18:24, November 19, 2015 (UTC)
Not sure if you still visit here, or if you remember me from the Red Dead wiki, but just a quick note regarding quest images. After the arguments about Cambridge Polymer Labs (quest), there was a discussion at Forum:What should become the standard for Fallout 4 quest images? which might be worth a look. Aya42 (talk) 18:45, February 6, 2016 (UTC)