Welcome to The Vault!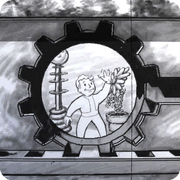 Hello, JackBlack5150, and welcome to The Vault, the Fallout wiki! Thank you for your contributions, and we hope you'll stay with us and make many more.
Some links you may find useful:
If you have questions, you can ask in our forums, join the live chat or post a message on my talk page. We hope you enjoy editing here and look forward to working with you!
Infoboxes
Edit
Currently we are waiting for Wikia to fix the infoboxes glitch. Typically, the image size parameter is not needed and so adding them now is not necessary. Should they be unable to fix the problem in a reasonable amount of time, these parameters will have to be applied. --Skire (talk) 02:14, May 16, 2013 (UTC)
Please refrain from adding the size parameter to the infoboxes. While I understand that it fixes it, from what I gather and understand we are currently waiting to see if Wikia will fix the issue as it was some update of theirs that caused it in the first place. Richie9999 (talk) 05:53, May 16, 2013 (UTC)
Patience
Edit
We asked you to refrain from adding those parameters until we hear back from Wikia offer a possible and more simplified fix. I'd like to ask for you to please respect our wishes.

Some Assembly Required! 20:20, May 16, 2013 (UTC)