Welcome to Nukapedia!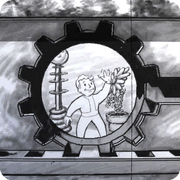 Hello, Harkat, and welcome to the Fallout Wiki! Thank you for your contributions, and we hope you'll stay with us and make many more.
Some links you may find useful:
If you have questions, you can ask in our forums, join the live chat or post a message on my talk page. We hope you enjoy editing here and look forward to working with you!
Chatban lifted
Edit
You can chat again. Jspoel

20:22, June 17, 2012 (UTC)
I cant see anything in the chatlog to that effect. 3 day ban for being a dick / excessive profanity / trolling after many warnings. Agent c (talk) 18:33, August 6, 2012 (UTC)

I checked after your first such accusation, and could see nothing to that effect. Even if they did it still doesnt justify you spamming non sequitors just full of swear words. Given that you don't doubt that you said it, and dont actually list any reason why you said it except for simple parroting (which in itself is kind spammy) I consider this issue closed. Now if you want to open a complaint about someone else I will need to know the name and time of the person who made the alleged comment... Agent c (talk) 19:50, August 6, 2012 (UTC)
You have been banned from the chat for a period of 1 week for capsing multiple times after everyone was told to stop posting things in caps. I suggest that during this week you completely familiarize yourself with our rules and regulations if you wish to return at the end of the ban. --

Talk 20:26, August 19, 2012 (UTC)
Bans expire automatically when the time set is finished. You are not showing up as banned. --Talk 15:46, August 29, 2012 (UTC)
Hello. For poor conduct in chat, namely testing the patience of chat moderators and myself, as well as voiced planning to break the rules, I have banned you from the chat for 2 weeks. You had also been warned not once but several times by different users and failed to change your behaviour. The ban expires automatically and we look forward to seeing you in 2 weeks. Take care. --Skire (talk) 18:28, August 29, 2012 (UTC)
A warning is not an excuse for posting forbidden material, and cool story, bro. Hugs

"Say 'ello to my little friend!"
Scarface decided couldn't even bother to handle this, and I don't blame him. It would have been me banning if he wasn't faster. As for when you'll be back, one month. This is your last ban that isn't infinite. So when you do come back, watch your behavior please. Might I Say You're Looking Fit As a Fiddle! 11:25, September 15, 2012 (UTC)