Welcome to The Vault!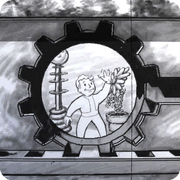 Hello, Grammarlad, and welcome to The Vault, the Fallout wiki! Thank you for your contributions, and we hope you'll stay with us and make many more.
Some links you may find useful:
If you have questions, you can ask in our forums, join the live chat in our IRC channel or post a message on my talk page. We hope you enjoy editing here and look forward to working with you!
Three-Card Monte
Edit
You found the right guy (active admin or rollbacker in general). That was a nice find. I say we go by the .msg file, so I changed it to Three-Card Monte with a dash. Jspoel

18:39, June 25, 2011 (UTC)
I wont take it personally, don't worry. I've always been quite vocal (maybe not as vocal as Yakov about Fo3, but anyway) on my opinion about people that do these things, and it was intended as humour. I just happen to be quite protective and passionate about proper roleplayin', that's all. Hugs Scar: "Say 'ello to my little friend!" 21:37, June 25, 2011 (UTC)
Don't worry, being vigilant is never a bad thing!
Factions Trailer
Edit
Here it is bro, saw you wanted it in the forum and pulled it up so here you go!
http://www.youtube.com/watch?v=7WH5fPq26BU
ToestheUnwholy 23:17, June 25, 2011 (UTC)
A funny story is I had never even cared about Fallout until I decided to pick up New Vegas a couple weeks after it came out. I havn't played another game since. ToestheUnwholy 18:13, June 26, 2011 (UTC)
The thing about Fallout 3 is I can't RP the same as on New Vegas, and its missing the survival skill which I loved. Its missing alot that New Vegas had ToestheUnwholy 18:38, June 26, 2011 (UTC)
I probably will too, I am working on my good PC and when I fix it I'll probably get it. ToestheUnwholy 19:37, June 26, 2011 (UTC)
I feel your pain bro

ToestheUnwholy 01:43, June 27, 2011 (UTC)
Hey thanks for noticing that broken link. Ive fixed it now. If you like Metro you should join the wikia. We need new users.--Smish34 (talk) 11:44, June 26, 2011 (UTC)
To leave, or not to leave...
Edit
That's the question. I've already made my transition to the Vault (calling it the "new Vault" is wrong. The Vault moved, left the Fallout Wiki behind) but I'll still be here. I won't be editing as much here, mostly staying on chat and commenting on blogposts, but I'm in no way gone from this wiki. Hope that answers your question. Hugs

"Say 'ello to my little friend!"
Not sure what the future will bring for me, but for now I'll be staying here. This site needs an active admin and it looks like I'm the main man here to do it. I can't let this place be vandalized, it deserves a fair chance to survive. The reason for Ausir and the other bureaucrats to leave were not really mine, I was happy here. Now we have 2 Fallout wikis, with split efforts, split attention from visitors and probably future competition when the new game is released. It's a shame it has come to this, but were going to have to do with it. Pretty heavy forum thread comment about the move btw, not sure Ausir will respond. Jspoel 13:48, November 27, 2011 (UTC)
Re:Are you staying?
Edit
As I noted on my userpage, I move. veryblackraven 14:27, November 27, 2011 (UTC)
I'm going to check in every once in awhile on the wikia vault, but I'm already at the new Vault and I intend to do my editing there. Shadowrunner(stuff) 20:21, November 27, 2011 (UTC)
In all actuality I will be editing both sites. What I edit on one I will carry to the other. There needs to be active admins here and I don't want the leave this site alone to die off. Now if we could just do something about the bronys here :)--Kingclyde 07:34, November 28, 2011 (UTC)
I've already moved. ---bleep196- 03:42, November 29, 2011 (UTC)
I'll edit content on The Vault. I might pop in to Fallout Wikia from time to time to see how things are going and how my blogs are faring.

Tagaziel (call!) 17:13, November 29, 2011 (UTC)
To answer your question
Edit
I'll be staying here. I don't remember what email or password I used to register my account over there. I registered for a different site over there that wasn't the new Vault, and so I don't remember anything. My edits have been low recently due to various things, but mostly just playing games. I hardly ever turn on my PC now since I no longer have a controller to game on the PC. I'll try and be active as much as I can, but it'll be a tad difficult. TrailerParkApe Hellions of Earth 00:46, November 30, 2011 (UTC)
Not really anywhere
Edit
Though I'm not spending much time at either wiki right now, I'm moving to the Vault. Clean Up 23:46, November 30, 2011 (UTC)
I'll be moving along with the real Vault, and leaving this fake Vault behind. --Kris

07:52, December 5, 2011 (UTC)
Shame that a previous Admin can have such an unprofessional and spiteful view on things. Skål! 02:27, February 23, 2012 (UTC)