Welcome to The Vault!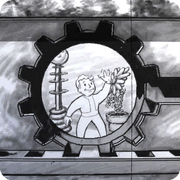 Hello, Gingerkibble, and welcome to The Vault, the Fallout wiki! Thank you for your contributions, and we hope you'll stay with us and make many more.
Some links you may find useful:
If you have questions, you can ask in our forums, join the live chat in our IRC channel or post a message on my talk page. We hope you enjoy editing here and look forward to working with you!
We don't talk about theorys and/or speculation. Its cannon or nothing mate. JASPER//"Do you like hurting other people?"
21:20, September 19, 2010 (UTC)
Speculation
Edit
Here at the Vault, we look down upon speculation. If you keep adding this into the articles, we will block you. Nukey (talk) 21:24, September 19, 2010 (UTC)