Welcome to Nukapedia!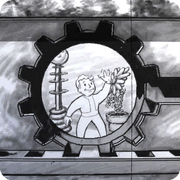 Hello, Ghost&gazz, and welcome to the Fallout Wiki! Thank you for your contributions, and we hope you'll stay with us and make many more.
Some links you may find useful:
If you have questions, you can ask in our forums, join the live chat or post a message on my talk page. We hope you enjoy editing here and look forward to working with you!
Hi, On the pages you've been following box it says my name on it, Why?
"Editing With Triple S Technology!" 7:49, September 27, 2012 (UTC)
Adding yourself to the list of chatmoderators while you're just a regular user is not a smart thing to do. That really doesn't improve your chances when you apply to become one when you do meet requirements. Jspoel 10:26, September 27, 2012 (UTC)

You have been banned from Chat!
Your infraction is of rule #7
Your ban is set for 3 DAYS.
To clarify the rules of chat, follow this link.


Gothic Neko
Neko's Haunt
To clarify further, do not attempt to impersonate a chat moderator or any member of the staff, impersonation is against the Terms of Use for all wikia network sites.
Gothic NekoNeko's Haunt 11:59, September 27, 2012 (UTC)
Promotion
Edit
I feel I should tell you that neither Sannse nor JASPER42 have anything to do with promotions. You would have to ask one of the four bureaucrats, but even then, you don't meet the requirements for a promotion. Paladin117>>iff bored; 14:57, October 5, 2012 (UTC)
I understand you've been warned for wiki spam before. As such, I am forced to ban for 7 days. The room was warned 2 minutes earlier to end the discussion as it had been classified as spam. Agent c (talk) 22:20, October 5, 2012 (UTC)
Banned from chat
Edit
You were banned from chat for the reasons you were warned about. Spamming. You were also warned about recruiting from here for you wiki. Please do not do that without permission of the bc's or admins. Plus the ideal place for a topic like that is the forums. Also back talking to the mods may not get you into their good graces. So once this ban time is over, please try and be a little more understanding of the chat rules and be respectful to the mods. Thanks.--Kingclyde (talk) 22:23, October 5, 2012 (UTC)
Thanks to the nice message you left on Agent C's talk page you have no been banned from the wiki as well for a 1 week time frame. Please feel free to utilize this time to review what you have done wrong and ponder how manners in today's society are lacking. Thanks.--Kingclyde (talk) 22:26, October 5, 2012 (UTC)
Banned yet again
Edit
As I entered chat I noticed your previous messages and once again they fall under Rule #7. This is your third chat ban. This time frame is for 3 weeks. You have also been blocked from the site as your behavior in the past after a chat ban is rather poor. Same time frame. Once again, take the time to review our policies and brush up on the ins and outs of social interactions. Thanks.--Kingclyde (talk) 10:46, October 17, 2012 (UTC)
You and your sock account have been blocked permanently for abusing multiple accounts. Even having wikia change you username to circumvent your block here. Good job!--Kingclyde (talk) 12:28, December 5, 2012 (UTC)