Welcome to The Vault!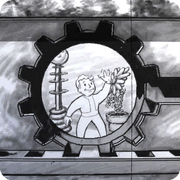 Hello, Gears of duty, and welcome to The Vault, the Fallout wiki! Thank you for your contributions, and we hope you'll stay with us and make many more.
Some links you may find useful:
If you have questions, you can ask in our forums, join the live chat in our IRC channel or post a message on my talk page. We hope you enjoy editing here and look forward to working with you!
Removing vandalism
Edit
Thanks for cleaning up the Fallout 4 page. When removing vandalism please check the page history for anything that was removed from the page when it was vandalized, there was a section that the vandal removed, which I replaced. Easiest way to do it is look at the history and then click "edit" next to the revision before the vandalism. Once the page loads, click "save" and it'll revert it to that version. --Kris

15:05, October 3, 2010 (UTC)

Speaking of vandalism someone deleted everything under new vegas places
Raiders Invitation
Edit
You have been asked to join the Raiders of the Lost Vault, a very exclusive group in the vault. If you would like to accept this invitation go to the Raiders Alliance page in the off-topic forums. You have been examined and approved into this group by Deathclawpoop. We look forward to working with you Deathclawpoop 22:20, October 12, 2010 (UTC)
I'm on the scene. Let me know if there's anything I missed. --Kris

10:34, October 15, 2010 (UTC)
I couldn't do it all by myself, because the "contributor" kept reverting my edits. I assume the vandal is blocked now? Gears of duty 10:54, October 15, 2010 (UTC)Gears of duty
Yes, I blocked him. It wasn't the first time he's vandalized pages so he won't be back until the European release of FNV. --

Kris

11:08, October 15, 2010 (UTC)

Removed spam above. It can still be seen in source mode. YuriKaslov 21:53, February 8, 2011 (UTC)
No problem. YuriKaslov 22:02, February 8, 2011 (UTC)
Thanks man, I try to do my best, improvement and all that. I work on drunkduck.com, ever hear of it? Mafia Mettaur 22:10, February 28, 2011 (UTC)
I know, but I didn't want to be faced with any flame for "my mistakes" on that channel in the past. Thanks for your message though. --Callofduty4 23:25, March 3, 2011 (UTC)
I was away for a while. I've given him a good block. Thx for letting me know. Greets, Jspoelstra 18:24, March 9, 2011 (UTC)
Just givin a shout out to a fellow wastelander! After all we Rangers have manners. Helljumper4--Desert Ranger at heart... 19:47, March 14, 2011 (UTC)
Restoring pages
Edit
Thanks for the help restoring some pages to their pre-vandal state, it's appreciated! Greets, Jspoelstra 22:10, March 14, 2011 (UTC)
Vandal blocked
Edit
That sure is a malicious editor. He's facing a 2 week block now. Thx for the info! Jspoelstra 00:37, March 27, 2011 (UTC)
Anonymous user (82.34.144.164)
Edit
Just so you know, when you reverted 82.34.144.164's edit on Butcher Pete (Part 1), that was blatant vandalism. I've already reported it to Gothe, but just try to be more observant in the future. Best regards, Kastera (talk) 21:11, March 28, 2011 (UTC)
I understand; I used to be the same way. But, if at any time, you feel like it's vandalism, just report the supposed vandalism to an admin and let them sort it out and take care of it. It usually goes pretty well and you have the opportunity to get a better reputation around The Vault. - Kastera (talk) 21:20, March 28, 2011 (UTC)
Yep, that guy was a vandal. He's already been blocked by Jspeol. I take it you were the one who reported him? Best regards, Kastera (talk) 21:55, March 29, 2011 (UTC)
Well spotted once again. You're becoming the vandal reporter here on this wiki. I or another admin on duty will be glad to take your calls. Jspoel 10:02, March 31, 2011 (UTC)
GhashBone
Edit
I have reverted your move-edit on GhashBone. It's GhashBone and not GnashBone. You would think it's GnashBone (Gnash is more likely) but it's GhashBone. I have just double-checked it with the GECK. Greets, Jspoel

16:03, April 1, 2011 (UTC)
Yes, it was also logical because the other dog's name is BoneGnash. But it's no problem, I know you made the change in good faith.
I noticed you linked Crutch as notable loot on the Cliffside prospector camp page. In the future, you can remove such items since they are not notable (too common). See The_Vault:Article_layout_guideline/Location_article for guidelines on location article layout. Jspoel

17:55, April 1, 2011 (UTC)
Automatic rifle
Edit
I have left them a message on the subject, however I am not a admin as of yet (soon hopefully). But if he does it again, report it to a admin for a ban for the following, insulting another user, edit warring, ignoring warnings on vault policy.

21:42, April 2, 2011 (UTC)
Just a little tip for you, for pages like "Recompense of the Fallen", if we already have page for it then it is best to do a redirect. For example where they have misspelled a single letter or capped letters that are not capped in the main page, this is the best solution as any user who comes along afterwards and trys to create the page again, will be redirect to the right page. To redirect a page, simply replace the page contents with #redirect [[pagename]]

19:59, April 7, 2011 (UTC)
Already banned them while you was sending me a message =P

17:26, April 12, 2011 (UTC)
Dead wind cavern
Edit
Rolled it back, let me know if they revert it again and I will have a word with them and direct them to vault policy.

23:20, April 16, 2011 (UTC)
I'm convinced also. I'll lift his block. Jspoel

14:00, April 21, 2011 (UTC)
I see that you are an experienced wiki user and would like to ask you a question. How do you add that green box at the top of your profile page that shows things like race, location, faction, perks, traits, etc. if you could answer my question that would be very helpful.Veteran Ranger 00:59, April 24, 2011 (UTC)
Xbox Live
Edit
Thanks for adding me on XBox Live. (Ross Spartan117) --Dhshrh 16:18, April 26, 2011 (UTC)Dhshrh
Ok, thanks. Can't see everything. It's good to have some help. Jspoel

14:16, April 27, 2011 (UTC)
Adminship
Edit
I think it's best to wait a bit. For now, I've given you rollback rights that will allow you to fight vandalism more easily. Ausir(talk)
13:41, April 30, 2011 (UTC)
Workbench locker vandal
Edit
Sorted, thanks for the heads up.

22:16, April 30, 2011 (UTC)
Deathclaw
Edit
In the past (even before my time) there's been a lengthy discussion about capitalisation and even now it's giving everyone a headache, including me. Concerning the deathclaw, I think it's best to lowercase it when used mid-sentence. You can find some capitalisation guidelines here. Jspoel

16:45, May 2, 2011 (UTC)
Hey there, when you edit links try to make sure you aren't linking them excessively like on the Cindy (Fallout) page. --

18:27, May 4, 2011 (UTC)
I did say edit ;) it's just semantics. And though there was no other link to vault in general on the page, I can understand you missing the Vault 13 one. Thanks. --

18:35, May 4, 2011 (UTC)
Fallout Answers
Edit
Since I find you to be a useful, dedicated worker here, I am inviting you to make an account on Fallout Answers, a site dedicated to answering questions about the Fallout series that The Vault does not directly address. The reason I ask is because the workforce on this site is quite literally three people. Three people cannot handle the mass array of questions that come through efficiently, so I ask you to help answer questions as well. It would be a massive help to the Fallout community. Let me know your decision on my talk page. Kastera (talk) 17:45, May 8, 2011 (UTC)
Try it now; I left out one letter in the URL. It should work fine now.

Excellent! If there any problem, just come to me and I'll be able to sort them out.
User talk page
Edit
He is fully allowed to under the policy.

19:42, May 12, 2011 (UTC)
He keeps coming
Edit
Thanks, user ban again and Kevobk's page protected ;). Itachou [~talk~] 23:37, May 28, 2011 (UTC)
Sorry m'bad... My head kinda flipped the whole thing... Good catch. Hugs Scar: "Say 'ello to my little friend!" 14:39, June 1, 2011 (UTC)
Hello Gears of duty ;)
Thanks to warned me, keep up the good works! Itachou [~talk~] 17:37, June 3, 2011 (UTC)
Lesko's Lab Coat
Edit
Hi, Would just like to say that the revert on this page has reverted the image to one of Dr. Li's coat, as was mentioned in the edit comments. BLKSCheapshot 21:23, June 9, 2011 (UTC)
Capitalizing
Edit
Hello my friend ;)
Yes, all creatures without a proper name remain lowercase, it's just forgotten mistakes before the policy is in place (like other creatures or other things). If you see one, feel free to correct it =). Have a nice day and see you soon! Itachou [~talk~] 15:18, June 19, 2011 (UTC)
Cartman had the same issue. It only seems to be compatible with Explorer. Hugs Scar: "Say 'ello to my little friend!" 20:01, July 1, 2011 (UTC)
I'll do the same then ;). Hugs Scar: "Say 'ello to my little friend!" 21:20, July 6, 2011 (UTC)
GhostAvatar already got him, but nice reaction time anyway. :) --Kastera (talk) 17:52, July 26, 2011 (UTC)
The guy's been taken care of. Sad I can only give him a week ban, what with the possibility of the IP being used by someone totally different the next day. Kastera (talk) 06:12, July 29, 2011 (UTC)
Allright, thanks. Jspoel 20:21, September 5, 2011 (UTC)
Vandal alerts
Edit
You have been great help telling us about these vandals you have earned our thanxs
You wouldn't happen to live in Askøy would you? ;) Skål! 08:21, September 14, 2011 (UTC)
Would have been funny if I knew you personally. Have quite a few friends that live out in Askøy/Oslo. Just got back from a couple month trip not so long ago also. Skål! 08:29, September 14, 2011 (UTC)
Du er veldig snill! Skål! 08:35, September 14, 2011 (UTC)
My apologies! I am actually not Norwegian myself. ;) I have been trying to pick up Bokmål for a around a year now, but it has been slow progress since I have no one to speak it with here in the States. Feel free to add me if you would like. XBLGT - ViralProspekt. Not much time to play anymore these days with work, but I try my best to get on every now and again. Skål! 08:50, September 14, 2011 (UTC)
You have been given an ice cold Nuka-Cola.

Your efforts and diligence have not gone unnoticed, and you have been given a small token of appreciation.
Birthday
Edit
Hey, that's some good advice. I think I'm going to follow it! Thanks for the congratulations. Jspoel

13:12, October 8, 2011 (UTC)
Fallout: New Vegas creatures project finished
Edit