Welcome to The Vault!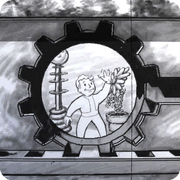 Hello, Gdubs, and welcome to The Vault, the Fallout wiki! Thank you for your contributions, and we hope you'll stay with us and make many more.
Some links you may find useful:
If you have questions, you can ask in our forums, join the live chat in our IRC channel or post a message on my talk page. We hope you enjoy editing here and look forward to working with you!
Editing other people's forum post
Edit
Do not do this again. This is a warning. Simply reply to them below instead. Ausir(talk) 08:00, November 6, 2010 (UTC)
I Apoligise the poster seemed very foolish and I made correction where he stated frustration on a game mechanic that wasnt forced on him by anything more then his lack of perception ( perhaps his real life perception is 3 or lower). Gdubs 23:43, November 8, 2010 (UTC)
Real-world weaponry
Edit
We don't put comparisons to real-world weapons on our weapons pages, unless there is a sourced developer statement.--Gothemasticator 04:46, November 9, 2010 (UTC)
Is this a reference to the Light Mahcine Gun, This Machine or both? I believe This Machine is undeniably an M1 Garand.
We had a big to-do about the whole comparisons phenomenon when pics of weapons started to surface, even before the game came out. Here's what we discovered: gun enthusiasts will not stop quibbling and disagreeing about exactly which model of which gun the in-game weapon resembles and whether or not it's based on an amalgam of several guns, etc. We had to lock pages to stop the bickering. So, while I do not doubt your knowledge, we have enacted a practice of not including any such comparisons.--Gothemasticator 05:00, November 9, 2010 (UTC)
I understand, people could disagree about the LMG. This machine however, looks like an M1, holds 8 rounds and makes a "PING" nose when the clip is changed. It is very obvious so people should be able to figure that out on there own anyway (Im not even sure why i believe it needed mention). Gdubs 05:24, November 9, 2010 (UTC)