Welcome to Nukapedia!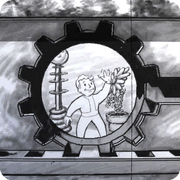 Hello, Game-ing master, and welcome to the Fallout Wiki! Thank you for your contributions, and we hope you'll stay with us and make many more.
Some links you may find useful:
If you have questions, you can ask in our forums, join the live chat or post a message on my talk page. We hope you enjoy editing here and look forward to working with you!
You have been banned from chat for a 3 day time span. You violated rule #1 listed here. Please review the policies and guidelines listed here. Thanks and we look forward to seeing you in 3 days.--Kingclyde 21:21, March 27, 2012 (UTC)
To answer your question, no I wasn't insulted. But you were warned by a chat mod, an Admin, and a bureaucrat at least not to repeat. *shrugs*. Agent c 21:21, March 27, 2012 (UTC)
I've now removed Clyde's ban. I recommend rereading the rules of chat before rendering the chatroom and following them in the future as subsequent bans increase with length. Agent c 20:52, March 31, 2012 (UTC)
Hi, I don't mind if you use stuff from my profile, but isn't your's blank? Also, by erasing I assume you're referring to the cazador and Mobius pages. The cazador edit I didn't revert so much as I moved it to the Notes section. Borous isn't a great source for the year that they were created since his chronometer was reset like all the others. Even when asking him, he seems unsure: "... and something about hawks, which made it around... eh, 2003? May? Tuesday. It was definitely Tuesday." The Mobius edit I did revert because there is a limit of five quotes per page and you added a sixth one to it. That being said, I was surprised the 2003 thing wasn't on the cazador page to begin with, so it was a good inclusion. Paladin117>>iff bored; 22:21, July 22, 2012 (UTC)
Signature
Edit
Is this what you wanted?: Isaac

JasmineJo

23:00, July 22, 2012 (UTC)
Timeline
Edit
What you're adding to the timeline is irrelevant to Fallout in most cases, and is dotted with poor English conventions. Make sure you have a good understanding of historical differentiation in the Fallout world (See Divergence). --Skire (talk) 23:36, July 22, 2012 (UTC)
Talk page
Edit
Do not remove content from your talk page, especially when the content documents previous offences in either chat or on the wiki itself. The policy can be found here. --Skire (talk) 23:59, July 22, 2012 (UTC)
Grammar and spelling
Edit
Mind your grammar/spelling. I just had to correct two edits on weapons pages. You need to start a sentence with a capital letter and a name also starts with a capped letter. Jspoel

14:26, July 23, 2012 (UTC)
Honestly, you really need to mind your English writing conventions. Do not use "u", and use proper spelling and grammar. Check our editing guideline for details. --

Skire

(

talk

) 01:45, July 27, 2012 (UTC)
'Level' Article
Edit
Please cease and desist adding the bug to the article level as it neither conforms to current policies, Fallout_Wiki:Content_policy#Bugs, nor conforms to spelling and grammatically correct standards we expect of all editors. Further attempts at adding said content will be taken as an edit-war.

Gothic NekoNeko's Haunt 01:47, July 27, 2012 (UTC)
Rad Regeneration
Edit
You've been advised several times by different administrators to be mindful of your English conventions and grammar. And now you are going out of your way to ruin proper grammar on a page. If it happens once more it will be a block. --Skire (talk) 18:37, July 30, 2012 (UTC)
You undid a perfectly good edit for no reason. It removed the apostrophe - take a look at the link I posted, it's quite obvious. --

Skire

(

talk

) 20:28, July 30, 2012 (UTC)

No, it's player's - it's possessive. The apostrophe is necessary. Come on man, this is second grade English. --

Skire

(

talk

) 20:49, July 30, 2012 (UTC)
That depends. Patrollers are made through a bureaucrat's approval, but in a community vote that might affect you. I myself will almost never vote for someone who has been banned before. And don't put too much into thinking about "promotion". There is no hierarchy here, everyone is equal (yes I am the same as you). And dedicating yourself to "climbing up the ladder" will only hurt you in the end. Take that as some friendly advice =) --Skire (talk) 16:34, July 31, 2012 (UTC)