Welcome to The Vault!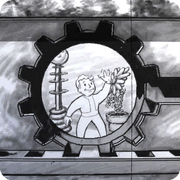 Hello, G0LD3NF1RE, and welcome to The Vault, the Fallout wiki! Thank you for your contributions, and we hope you'll stay with us and make many more.
Some links you may find useful:
If you have questions, you can ask in our forums, join the live chat in our IRC channel or post a message on my talk page. We hope you enjoy editing here and look forward to working with you!
Big Empty
Edit
Don't make links to the page itself, like you did on the Big Empty page. And you capped feral ghoul reaver which is also not necessary. And I noticed a few other unnecessary/wrong changes (like overlinking Elijah and a wrong Christine link). Mind your edits please. Jspoel

14:54, May 27, 2011 (UTC)
A few more on the Honest Hearts page. In general, don't cap items, consumables, creatures etc. if they're not unique or aren't a proper noun (which is quite often).