| | |
| --- | --- |
| | Archives: #1, #2, #3, #4, #5, #6, #7, #8, #9, #10, #11 |
Thanks! --Theodorico (talk) 22:22, August 30, 2012 (UTC)
Embedded vids
It's a mix of server space issues on wikia's side (which i think has been resolved now) and page loading time for our friends the still use dial up or other slow connections. Plus linking is way easier than copying a vid from youtube or wherever. I mean if I made a vid of myself chasing a deathclaw and was going to upload to youtube and here, why not just upload it once to youtube and then just do the embed link here? That's my logic.--Kingclyde (talk) 00:22, August 31, 2012 (UTC)
John_Maxson
i know, i haven't changed the link
all i did was make it say "John Maxson" instead of "John_Maxson" with the link remaining correct
i see what you did now, nevermind
Macic (talk) 18:37, August 31, 2012 (UTC)
Nukapedia commercial
Out of curiosity, where did you see that commercial with the inactive admins? Jspoel

21:10, September 2, 2012 (UTC)
Images
Sounds good. Agent c (talk) 21:27, September 3, 2012 (UTC)
Hey I hadn't noticed that yet. I should make that one I think. I've just received a badge for 7000 images. But that is since the start of the achievements end of april 2011. I uploaded a few thousand more before that is my guess (character images). So that means almost half of the images here are images I uploaded... Though I probably also have overwritten some. Jspoel 21:37, September 3, 2012 (UTC)
patroller
Thanks, Energy! --Theodorico (talk) 23:25, September 8, 2012 (UTC)
Vote
Sorry, I forgot to log in, however I do recommend adjusting your message there as its too overly hostile. As I'm striking out my own vote, and immediately placing another one, good faith should be telling you its a logged out regular. Agent c (talk) 13:21, September 10, 2012 (UTC)
My Yes-Man Poll
What ever it takes to have some fun. Thank you for not deleting it out right. I thought it was a blog. You know the tools better than I.
Now that it has been moved I hope you join in.
I know Yes-Man would get a kick out of it.

SaintPain→ Look for me Dec 22 Y'all know what I'm say'n. 13:16, September 11, 2012 (UTC)
Keep falling in and out of coverage.

Poll:The_Hole_-_Companion_Cup_4_-_Freak_Week
Something to Add to the Fallout 4 Page
Hi, I was wondering if you could add information from this article regarding the rumors of Fallout 4's setting being Boston?
http://asia.gamespot.com/news/fallout-4-set-in-boston-6392271
Thanks.
--Maca16 (talk) 16:04, September 13, 2012 (UTC)
Anniversary Polls
To be perfectly honest, I haven't thought it through too much. I'm thinking a poll for the popular games in the series (Fallout 1, Fallout 2, Fallout 3, Fallout New Vegas, Fallout Tactics) and then one big poll regarding the entire series (not sure what it will be yet). If you had any more possible polls, just leave them on my talk page and tomorrow I'll just sort of do it up on the spot.


03:21, September 14, 2012 (UTC)
Actually, I hate to give you such short notice, but I'd be very appreciative if you could write up the poll for tomorrow. I'm sure the people won't mind, so long as you give them plenty of stuff to vote on. I'm having a celebration tomorrow (personal thing) and I might not get the chance to update the poll as usual. If you could handle that for me tomorrow, that would be awesome. On top of that, if you remember, I'm going on holiday for the two saturdays afterwards. If you wanted to, it would help me out heaps to fill in for me then. Again, sorry for the short notice. 11:37, September 14, 2012 (UTC)
Cool, no worries. I'm going to be on holiday from September 20th to October 3rd, so I'll miss out on the Anniversary, unfortunately.


12:15, September 15, 2012 (UTC)
Wikia's Fantasy Fellowship
Hey Energy X!
Wikia is hosting a "Fantasy Fellowship" to commemorate The Hobbit and Hobbit Day! We were wondering if you were interested in signing Fallout Wiki up for the fellowship and potentially see if the community was interested in forming their own "Adventure Dream Team" with Fallout characters as part of a fellowship?
The details can be found on this blog and you can sign up for the fellowship here! We're hoping that a lot of wikis participate and come up with their own fellowships to compete against other wiki teams to see who can complete the quest.
Let me know if you (and Fallout Wiki) would be interested!

(talk) 20:13, September 14, 2012 (UTC)
Hey!
The characters could be from any fantasy-based series/game, and not limited to LOTR franchise, so Fallout qualifies for sure :) Do let me know if other people are interested. If you are, we'd like to put up a blog badge shown in this blog showing that the wiki is a participant. Let me know if this is something you're interested in.
Thanks!

(talk) 20:22, September 14, 2012 (UTC)
Your proposal
GarouxBloodline - Some Assembly Required!
TALK - 16:36, September 17, 2012 (UTC)

I'm afraid I've already done that. :( If you want it come out properly, you're going to need to re-size it. If I had Photoshop, I would do so myself, but I merely have Picasa, so it'd either turn out choppy or I'd have to re-make the image from scratch. (Which I'm not going to do. :P)

---

Like I said, I understand that, and I've already tried. The example page I created has both ticks checked. Without the fix tick checked, it creates around 7-8 smaller squares of the image that repeats itself as you scroll down. It doesn't work either way because it has an awkward sizing in response to how the theme designer butchers any image(s) ran through it.

---

If you'd like, I can create example pages for both options so you'll have reference points if you plan on modifying the image. As for the forum, go ahead and give it another look. I added an update section to the bottom.
chat music
I'm looking setting up JunkRadio at the moment. Basically the music licensing costs a fortune. Unless wiki has composer and performance licenses we can tap into, we can't afford it :-( . Agent c (talk) 22:49, September 17, 2012 (UTC)
Screenshot
Sorry it took so long. I had to resize the images and stuff.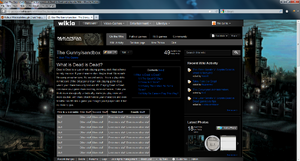 The Gunny  

22:33, September 20, 2012 (UTC)
New Background
Ooh. That's a really nice theme you just added to the forum. I tried my best to create a ruined city theme, but either I couldn't get permission to use other people's images, or I'd completely butcher my own examples.

Some Assembly Required! 22:45, September 20, 2012 (UTC)
Hmm. Not telling you what to do or anything, but it'd probably be for the best if you tried to get the artist's permission first. Else, they could come here and declare that we need to remove their art. Some Assembly Required! 08:19, September 22, 2012 (UTC)
Image
Energy, do you have a purpose for the Necr.png image? Otherwise, you can delete it. Jspoel

15:34, September 21, 2012 (UTC)
Thank you
I appreciate your kind words, Jakov. I'll try my best, but Porter's shoes are awful large ones to fill. I'd settle for being half as good as Porter, but I'll do my very best.  The Gunny  

19:58, September 24, 2012 (UTC)
Hi, I was wondering, how does one become an administrator or something with a authority status or something so people will no who I am. I am not trying to be smug or uptight or a turd, but I would one day like to end up where you are. Cheers!
"One Chem And You're Mine!" Tuesday 3:16pm 25th September 2012 (UTC)
Cook Me Plox
There's something fishy going on here. When you look at his edits on 5 september, 1:37 hours, you'll see that he made 9 edits in a minute. Only a bot can do that, and even then the connection would have to be optimal. I see bots making edits here around 6 a minute. Just sayin'. Not a target for me anyway. I will be happy with my 100k. Just downloaded the XCOM demo, I think I'm gonna set my sights on that game pretty soon now. Jspoel

20:36, September 25, 2012 (UTC)
Re: Image
Thans for the fix! Dwellersims (talk) 10:10, September 29, 2012 (UTC)
Chat
As much as I would like to, I am at work for the next 45 mins. Agent c (talk) 20:17, September 30, 2012 (UTC)
Don't worry, I'll be watching recent changes. Agent c (talk) 20:26, September 30, 2012 (UTC)
Chat
Sorry, I just got home from work, did you need me for something? Paladin117>>iff bored; 00:09, October 1, 2012 (UTC)
Chat
Sorry that I came late. Why did you need me in chat?--

A Safe People is a Strong People! 01:18, October 2, 2012 (UTC)
Neutral votes
I am open to advice as to how I might prove my self.
SaintPain→ That was broke afore I got here." 22:55, October 2, 2012 (UTC) Thanks for the reply, I'm pretty sure I already do most of the things you suggest, maybe all but "New User Network as a mentor" How dose that work, is there a link with guidelines ?
SaintPain→ That was broke afore I got here." 00:14, October 4, 2012 (UTC)
I am always willing to help anyone here, new or veteran editor, even anonymous users if they ask. That is why I became a member, to help any and all at any time but let me ask you honestly brother, what do you think the chances are C would approve me mentoring anyone ?
He says he dose not hate me but maybe you know him better than I do. If you honestly think there is a chance it would help I'd not be too proud to ask.
SaintPain→ That was broke afore I got here." 11:07, October 4, 2012 (UTC)
Long live with Moose
Hey Mystery! Just letting you know that the Patron's Lounge has moved into the fora space. The Moose will no longer be released in editions, and will now rely on updates which will brought to the community's attention through the SNM Discussion Board. Which of course means that you can now update your Patron whenever you wish! With this recent renovation, I would like to ask of you to advertise your Patron a bit and maybe even update to help bring community awareness back into the Lounge. Thanks for reading! :)

Some Assembly Required! 23:24, October 3, 2012 (UTC)
Your message
The internet's out at my house. I just popped into work to check email and saw your note. I'll have to check into it tomorrow, hopefully my internets will be back up then. The Gunny  
01:32, October 4, 2012 (UTC)
Internet's back up. I looked at the page, what part is not correct? The Gunny   19:56, October 4, 2012 (UTC)
Home Viewer Contest
I considered having my entries in that contest, but aren't they supposed to be location-neutral? My current blogs wouldn't really work, except maybe my most recent one. Paladin117>>iff bored; 04:41, October 5, 2012 (UTC)
Twitter
On the chance you don't hear from Yessie this week, hit me up sometime in PM Chat for the Nukapedia Twitter password so you can tweet the new poll. Agent c (talk) 22:37, October 6, 2012 (UTC)
Theme Discussion
Naturally. It would be unfair of me to force a change on anyone. Not to mention that such a forceful vote would be vetoed within the hour - if even that.

Some Assembly Required! 20:25, October 10, 2012 (UTC)
Check User
I didn't check that user anymore. Gunny unblocked him I trust with good reason. About my 100k wiki, can you give me admin rights there? I'd like to try some thing out and that's a safe place for it. Jspoel

15:41, October 11, 2012 (UTC)