Welcome to The Vault!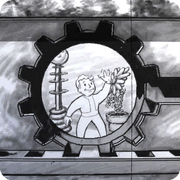 Hello, Eganio, and welcome to The Vault, the Fallout wiki! Thank you for your contributions, and we hope you'll stay with us and make many more.
Some links you may find useful:
If you have questions, you can ask in our forums, join the live chat in our IRC channel or post a message on my talk page. We hope you enjoy editing here and look forward to working with you!
Re: Should this user be banned?
Edit
Yes, you did the right thing :) I've blocked the user. -- Porter21 (talk) 11:08, January 26, 2011 (UTC)
Regarding the hunting rifle
Edit
Thank you for your recent edit to a weapon page here at Nukapedia. I just wanted to drop you a quick note to let you know that we don't put real-world weapon references on article pages, unless it's the same name as the real-world weapon, or if is mentioned by a developer that the ingame weapon is intended to represent a specific real-world weapon. Thanks again.
Above is the template message created to address such real-world weapon comparisons. You're new here, so you didn't know. But now you do. Cheers.--Gothemasticator 05:26, January 28, 2011 (UTC)