Welcome to The Vault!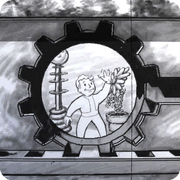 Hello, Draevan13, and welcome to The Vault, the Fallout wiki! Thank you for your contributions, and we hope you'll stay with us and make many more.
Some links you may find useful:
If you have questions, you can ask in our forums, join the live chat in our IRC channel or post a message on my talk page. We hope you enjoy editing here and look forward to working with you!
Calculator
Edit
I got my information from the Computer page, where Calculator is listed as an A.I. That's why I reverted it. But looking further into it I see on Calculator's page it's not self-aware and controlled by several brains, so that would make it a cyborg I reckon. You can change it back again. Jspoel

22:42, July 3, 2012 (UTC)
Gatling refers to Richard Gatling, inventor the Gatling gun in 1861. So it's Gatling, not gatling. Jspoel 23:27, July 3, 2012 (UTC)
Capitalisation
Edit
The "War" in "pre-War" is capitalised, as it has been decided so by the community awhile ago. Although I don't personally agree with it, that is the standard and is to be followed. This is because "War" refers to the Great War, which is a proper name of an event. --Skire (talk) 23:04, July 5, 2012 (UTC)
Survivalist's rifle
Edit
Hi there! Regarding one of your edits on the Survivalist's rifle page: Doesn't Section 16 of the Canadian Charter of Rights and Freedoms establish that both French and English are official languages of Canada? --Skire (talk) 17:20, December 28, 2012 (UTC)
It does, but only Quebec has a significant amount of francophones (I think roughly 50% of Quebec-ers are french), whereas the other provinces have less than 5%, most are anglophone. It could be that the rifle was used in another province, but I'd bet it was for Quebec. Draevan13 (talk) 17:26, December 28, 2012 (UTC)
I live in Quebec, and the stop signs here are only in French. Quebec's government is afraid that French is "dying out", so they do little things like that to "preserve" the language. I've been to the province of Ontario, however, and the signs there are in English. Draevan13 (talk) 17:30, December 28, 2012 (UTC)
On a side note I'm from Ontario (Hello Fellow Canadian!). Anyways, you are indeed right that Quebec does in fact have the highest majority of french speaking people, yet other provinces are not as low as 5%. Myself in lower Ontario am located near a number of small, french speaking towns. And I also know that New Brunswick also has a high majority of french speaking locals, nearer to 35% if I recall correctly. Just sharing some knowledge with a fellow Canadian! Yours Always; --

"Those Old World Relics still stand..." 18:36, December 28, 2012 (UTC)
Check out the forum/poll/vote thingy I just added, for you to vote if TDD should have his rights taken or not. Thanks. QueenBuffy Nov 26, 2013
I'm finally helping you out, and you defend him? LOL Make up your mind. QueenBuffy Nov 26, 2013
Outside Wikis
Edit
Please take outside Wikia troubles to another wiki (Community Central is a good choice). We would really appreciate not having drama here from communities that are not our own.

Some Assembly Required! 22:39, August 5, 2014 (UTC)
Good to know. Hope the situation over there is resolved amicably. :) Some Assembly Required! 22:46, August 5, 2014 (UTC)
Fallout 3 reference
Edit
Absolutely. A source for that behind the scenes note was sorely missing. So go ahead and add it! I noticed two other interesting notes as well. The Enclave assault on Rivet City that got canceled and the reason for the father/son storyline choice. Not sure we've got that mentioned somewhere. Jspoel

16:34, December 12, 2014 (UTC)
VATS on reaver and overlords
Edit
You should better check your stats on chances to get head shots. With all three perks added, I got to 93% chance to hit, not 74. Jspoel

16:29, December 13, 2014 (UTC)
Add it as a bug then, with a verify tag. Then ask someone (for example in chat who also plays on Xbox) if they get the same result. Then it will be verified. Jspoel 17:05, December 13, 2014 (UTC)
F4 gameplay
Edit
It was confirmed before that in the Press release, but thanks. Agent c (talk) 12:23, June 9, 2015 (UTC)
Promotional items
Edit
It's on a dutch Fallout twitter site: https://twitter.com/hashtag/Fallout4?src=hash Jspoel

17:15, June 9, 2015 (UTC)
Sure. Strange no one noticed it earlier. You should use the character template, which you can select when creating a new page. It's the same layout Dogmeat (Fallout 3) has. Jspoel

14:47, June 15, 2015 (UTC)
Can you add a reference to that Bethesda blog confirming the name? References are important. Jspoel 15:03, June 15, 2015 (UTC)

We already have a page for him. It was just under Protagonist's dog until we could confirm its actual name. Hawk da Barber 2013 - BSHU Graduate 15:35, June 15, 2015 (UTC)