Welcome to The Vault!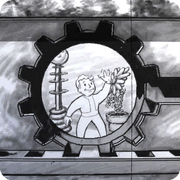 Hello, DeadlyPrey, and welcome to The Vault, the Fallout wiki! Thank you for your contributions, and we hope you'll stay with us and make many more.
Some links you may find useful:
If you have questions, you can ask in our forums, join the live chat or post a message on my talk page. We hope you enjoy editing here and look forward to working with you!
GRA locations
Edit
The location of weapons are random. If you see something like "If Gloria Van Graff is dead etc." please remove it and if it's a unique weapon, add "or" and make a link with the second phrase =). Itachou [~talk~] 14:42, September 30, 2011 (UTC)
Hi DeadlyPrey =)!
The user Comedian1988 has check and the location are actually not random, sorry my mistake.
If the original vendors are dead then the weapons will appear on Vendortron. If the original vendors are alive, then Vendortron will not have them. Have a nice day and see you around! Itachou [~talk~] 10:24, October 4, 2011 (UTC)
I have already replied on the talk page. I think its pretty clearly a reference to the musical, but see the talk page. Cheers! BILLYOCEAN Wanna talk? 03:46, October 4, 2011 (UTC)
Re: Bitter drink recipe
Edit
First off, the "Transcript" section is for what the note says exactly. Furthermore, the reason you didn't find it on the bitter drink page is because I added it after I reverted your edit :P. The recipe belongs more in the actual page and not the note. Hope this clear things up. --Kastera (talk) 01:50, October 7, 2011 (UTC)
Blood sausage
Edit
Hello DeadlyPrey,
On the blood sausage page, are you sure you found blood sausage and not black blood sausage on patient zero?
If you check the edit summaries on the page history, you'll see why I changed the edit. Patient zero's inventory lists only black blood sausage, and that's all I've found on him with or without the perk. Just trying to get accurate info on the page.
All the best, --FourWayDiablo(talk) 12:50, October 7, 2011 (UTC)
Signature link.
Edit
Just a quick note (you may know this already). If you want to give people a direct link to your Talk page in your sig, you could try this:
Click Edit on this message, and copy the following code:
DeadlyPrey(talk)
Go to your "My preferences" in the top-right drop down box.
Paste the code into your preferences signature box.
Save at the bottom of the page, and that should do it.
Hope this helps, --FourWayDiablo(talk) 15:58, October 8, 2011 (UTC)
Holdout.
Edit
Hi DeadlyPrey,
What was your reasoning for changing the holdout link on the MFC cluster page? I know it wasn't much of a scroll-down, but the link went straight to the improved holdout section. Just interested.
All the best, --FourWayDiablo(talk) 03:15, October 11, 2011 (UTC)
12 gauge
Edit
your point makes sense except for the fact that coin shot doesnt add the 15% to wear like magnum does. so i will be changing it back. sorry if this may sound rude but it is not.--Ohno itsthecopz 05:11, October 11, 2011 (UTC) thats fine it did sound redundant but i didnt know a better way to word it--Ohno itsthecopz 14:08, October 11, 2011 (UTC)
The problem is that none of this can be backed; we don't know if he shot himself, drank himself to death or just got radiation poisoning. The best course of action would be to remove it all and say the nature of his death in unknown. --Kastera (talk) 20:12, October 13, 2011 (UTC)