Hi. You told me to. --WrightEveryTime 20:56, June 22, 2013 (UTC)
Reeeeaaaaaal human bean and a reeeeeeaaaal heeeeeroooo

Hawk da Barber 2012 - BSHU Graduate 20:56, June 22, 2013 (UTC)
Happy Level Up Day
Edit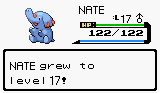 Jasper: The Wonder that is Shroomman! 17:16, June 25, 2013 (UTC)
Happy Birthday!
Edit
Happy Birthday Nate! Hope you have a great day, and enjoy the cake!
You have been given a yummy Birthday Cake.

Your efforts and diligence have not gone unnoticed, and you have been given a small token of appreciation.
Now on a completely unrelated note, I'm sure you can recall how I always pester you with getting an image for the polls. Well, it finally bothered me enough to make one myself. This may have been a bad idea as it's quite bad xD Anywho, you can check it out and a mock-up of a (kinda) poll in my sandbox here. Now with that, I'd say the best course of action would probably to have one image or the other, but if you look both, go for it. I'd personally go with the news-header template one (the one on the right) as it looks better and allows for a link to your talkpage and any other text you want. It does auto-aline to the right side though. As for the image I made myself, if you choose to use that, I say probably best to center it and showcase it as a banner of some sorts. I've also threw a news template on the bottom so it will bring the wiki in other media template and the possibly of a date of publication (even though it's not really needed). In the end though, it's all up to you and I won't be hurt if you decided not to go with my suggestions. Anyways, Happy Birthday again Nate! Enjoy your day and see you around. Yours Always; --The Old World Relics (talk/blog/contributions) 19:28, June 25, 2013 (UTC)
Happy birthday DG! --Skire (talk) 19:29, June 25, 2013 (UTC)
Happy Birthday!
Edit
You have been given the Riot Breaker.

Your efforts and diligence have not gone unnoticed, and you have been given a small token of appreciation.

Enjoy, a unique Cattle prod for keeping those pesky NYC citizens in line. Richie9999

(

talk

) 23:27, June 25, 2013 (UTC)
Hey Nate, Happy Birthday!
In addition, I managed to experiment a while and inserted some colors in the poll, as it would be nice to use that in polls. You can see it on my user page. Energy X 12:16, June 26, 2013 (UTC)
Happy B-Day Buddy
Edit
Since you're getting older, wiser, and bigger... I'd say you can fit in this now...
You have been given A suit of Advanced Power Armor.

Your efforts and diligence have not gone unnoticed, and you have been given a small token of appreciation.

It's a little rusty... but nothing a little Abraxo, black polish, and tactical ingenuity (and glass) can't fix. Happy B-Day, you're officially big enough to wear power armor now.

08:10, June 28, 2013 (UTC)
Happy overdue belated birthday
Edit
Just kidding, today is now your birthday because I refuse to be admit to being late and because I know you'll yield before my awesome power!!
Anyway, here thou are:
You have been given a weapon appropriate for your expenditure.

Your efforts and diligence have not gone unnoticed, and you have been given a small token of appreciation.

When considering just how important you are to both my regime and my feelings, I could not think of an any more appropriate weapon than this beautiful piece of French equipment. You can see France's success of their invasion of Russia during the Winter in every detail.

--

The Ever Ruler

(

talk

) 04:06, July 10, 2013 (UTC)
You have been given A weapon for when your arsonal.

Your efforts and diligence have not gone unnoticed, and you have been given a small token of appreciation.
Sorry about the lateness!
hey can u unband eric
Saturday polls: Episode IV (A New Suggestion)
Edit
1. How did you conclude Fallout 3's The Pitt Add-on?
a) I sided with the slaves, hurray for freedom!
b) I sided with Ashur, he made me lieutenant!
c) Never played/ downloaded this add-on.
d) I ran away as soon as I saw Werhner. Never trust a shady looking dude with an eye-patch!
2. Being honest, have you ever played any of the original Fallout games (Fallout, Fallout 2, Tactics)? -Note, played does not have to mean completed-
a) Never played any, but intend to in the future.
b) Never played any and do not intend to.
b) I've played one of them.
c) I've played two of them.
d) I've played all three of them.

A bonus
3. What is your favourite mutant?
a) Anthropods (ants, scorpions, cazadores, radroaches ect.)
b) Ghouls
c) Super mutants
d) Ghost people
e) Animal-esque mutants (brahmin, dog, giant rat ect.)
f) Plant based (spore plants, spore carriers)
g) Reptile (deathclaw, gecko, mirelurk ect.)
h) A DEAD mutant

Hope you enjoy :)
Brandon Fox (talk) 21:22, August 5, 2013 (UTC)
Invictus
Edit
I've been trying to think of a way to incorporate Invictus into my entry like I did with AX-0, and I believe I found a way to do justice for your character. Figured this would be a good time to start recognizing the other contestants in my entries, now that we're so close to the end. Interested?

Some Assembly Required! 09:23, August 9, 2013 (UTC)
You know, your profile music is amazing in that its intro reminds me of both M.A.S.H. and Age of Empires 2.

Some Assembly Required! 07:06, August 13, 2013 (UTC)
I don't know about all that, but I'd definitely drop a pretty penny on it. :P
23:50, August 13, 2013 (UTC)
Profile music
Edit
Hey DG, how do you get a song to play on your profile?
Regards,
Brandon Fox (talk) 18:30, August 14, 2013 (UTC)
Super Important
Edit
DIPPING STICKS.
Jasper: The Wonder that is Shroomman! 23:43, August 16, 2013 (UTC)
Chat Ban
Edit
Before you go nuts, it was a two hour ban. You know why. Edit: your next 'real' ban if going to be the permanent one. Keep that in mind if you plan to run for mod.

Might I Say You're Looking Fit As a Fiddle! Talk to me! 23:45, August 16, 2013 (UTC)
Jesus Christ Vic, they're minerals. Jasper: The Wonder that is Shroomman! 23:47, August 16, 2013 (UTC)

I.m aware as their status as minerals. As for you Nate, I should have to disable my pings and then re-input them later just because you and Liam are abusing them. You could have said what you said without pinging me. I can't add a signiture on my phone, but it's Victor the Securitron as you know. 00:00 UTC August 16, 2014.
Is your mentee active? If not, please remove them from the active table at the NUN. The Gunny  

18:06, August 18, 2013 (UTC)
Saturday poll: Episode V (The Suggestions Strike Back)
Edit
Got some more if you're interested DG
1) What major country would you like the next Fallout game to be set in?
a) The United States. The home of the Fallout series.
b) China. Let's find out how the commies are managing after the War!
c) Russia. Let's find out how the commies are managing after the War!
d) Great Britain. Alistair Tenpenny and Moriarty left there for some interesting reason, right?
e) Australia. In the Land Down Under; you better run, you better take 'covah!
f) Any other country, please comment.
g) I don't care where the next game takes place.

2) If you could have a fist-fight in real life with any of these major characters from Fallout: New Vegas, who would it be?
a) Benny
b) The King
c) Julie Farkas
d) President Kimball
e) General Oliver
f) Mr House. If he was, you know, in his prime before the War.
g) Caeser
h) Legate Lanius
i) Other? Please comment.

3) Same as question number 2, but this is now out of the DLC of Fallout 3 and New Vegas
a) General Jingwei
b) General Constantine Chase
c) Werhner
d) Ashur
e) Professor Calvert. If he was, you know, in his prime before the War.
f) Desmond
g) Tobar the Ferryman
e) Somah
f) Paulson the Cowboy
g) Elliot the Military Medic
h) Toshiro Kago (The Japanese samurai dude)
i) Other? Please comment.
Brandon Fox (talk) 15:34, August 26, 2013 (UTC)
One other thing
Edit
Just to say, I think you're terrific with the polls. I don't think I could ever do as good a job as you can, especially with your interesting anecdotes and stories. And besides, the "Gunner Polls" sound way cooler than the "BF Polls", which sounds like something from a teen girl magazine.
Stay cool, bro.
Brandon Fox (talk) 08:33, September 1, 2013 (UTC)
Breaking Bad
Edit
Only 4 episodes left...
CommanderNuka (talk) 01:26, September 6, 2013 (UTC)
Saturday Poll: Episode VI (Return Of The Suggestions)
Edit
Hi once again DG!
1) How did you complete the Stealing Independence quest from Fallout 3?
a) Convinced Button Gwinnet I was Thomas Jefferson and stole the Declaration and gave it to Abraham Washington
b) Sided with Button Gwinnet and made a forgery of the Declaration to give to Abraham
c) I just killed Button Gwinnet and stole the Declaration to give to Abraham
d) What is this quest you speak of?
2) If you completed the quest by convincing Button Gwinnet that you were Jefferson, who did you say you were giving the Declaration to?
a) I told him I'm taking it to our new president, because America just won their independence!
b) I told him I'm taking it just for safekeeping.
c) I told him I'm taking it to King George III of Great Britain! America surrendered to Britain!
d) I told him to just shut up and give me the document already.
e) I ended up killing him anyway because he annoyed me so much.
Brandon Fox (talk) 17:34, September 10, 2013 (UTC)
Philadelphia?
Edit
During our half term in February next year, for a week I'm going with about 15 other people from my school to do an exchange visit to a high-school in Virginia. At some point we're also going to visit landmarks in Washington DC and Philadelphia :)
Sounds fun to me, and who knows, I might see you in Philadelphia! We're going to climb the Rocky steps :D
Brandon Fox (talk) 20:49, September 23, 2013 (UTC)
Yep, I spoke to the head of our sixth form and she said that I definitely have a place for the trip. I just need to ask her what day/s we will be in Philadelphia. That sounds rad, I actually get to meet you in real life! Probably get a picture of us on the Rocky steps, but don't mind the puzzled reactions of my classmates as I run up to an American I seem to already know :D Stay cool bro :)
Brandon Fox (talk) 18:53, September 27, 2013 (UTC)
---
GarouxBloodline - Some Assembly Required!
TALK - New Features Discussion

Hey, Gunner. When you get the chance, can you give

this forum

a look? I have a few finished ideas that I'd like to get some community input from, and your feedback would be appreciated.
Your recent poll
Edit
I'm just kind of curious. What's wrong with your motivation Nate? And are you quitting?
Brandon Fox (talk) 11:30, October 13, 2013 (UTC)
That's a shame to hear bro. It's a tough job that does take time and dedication. Unless you plan a day to sort the Polls out, things just eat into your schedule. If you wanted somebody else to take over, I wouldn't mind, I guess this is an application then. I've already done it in an essence, considering I've made a few suggestions anyway.
Brandon Fox (talk) 15:46, October 13, 2013 (UTC)
My answers..
Edit
Unfortunately I have no ideas on what to ask. If its canon disputed I always just check the dialogue. Now on that topic I feel not enough is done. I'm working on it but I am only one person with limited GECK knowledge and time.--Ant2242 (talk) 20:23, October 16, 2013 (UTC)
I left a few question suggestions for you on your forum. I hope they're good questions, and that we might have a chance to clarify upon some long-standing disputes we've had here.

Some Assembly Required! 20:48, October 16, 2013 (UTC)
AMA with Chris Avellone
Edit
Great work setting up this question and answers forum with Chris Avellone, Dead Gunner. That should certainly help with the project and further improve the wiki! I'm not that familiar with the canon myself, but I see others are already added some good questions. Good initiative and my thanks. I also read you wanted to pass on your poll in November; I understand you've become to busy in real life. Also thanks for all your work there; it has been an important feature of the wiki for a lot of users to enjoy. I certainly would like for it to continue and I read BrandonFox has shown interest. I have the feeling that could be a good choice. Maybe you can also ask in your next poll as a side question if others have interest to give everyone a fair chance. Jspoel

22:02, October 16, 2013 (UTC)
Sure, I can understand you lost motivation. When it's becoming an obligation more than something you look forward to and you enjoy doing, it's time to give someone else the opportunity. Jspoel 22:54, October 16, 2013 (UTC)
Pollmaster
Edit
I reckon I will submit my name for consideration, although in my opinion I don't think a change is needed unless it's on your initiative. Either way, I'd be willing to take them over in due course.
ōrdō āb chao 03:31, October 21, 2013 (UTC)
Poll idea oct 21st
Edit
At first glance this might sound like a rehash of the best town poll but it this case it is important that the idea is what community you would join as a true blue fully supporting member even with no more or less special rites or privileges than any other member of the community & it is assumed you would be given some kind of owned bed & a place to safely store your gear as a fully excepted member of the community, even as an exception to standing rules.
So here are my proposed options with some notes. "Of course if you choose to use this concept you are more than welcome to reword it any any way you see fit."
Remember this is not about what is the best or safest location but rather all about the community their life style choices & why you would join them, comments are highly encouraged.
Vault 101 ~ Who says you can never go home ?
Megaton ~ This town is da'bomb!
Rivet city ~ I like BIG BOATS & I can't deny...
Dukov's Place ~ Either as a drink'n buddy / bouncer or more personal service provider.
Arefu ~ There is always room for one more shack.
Meresti Metro station ~ Bloody Mary, Mathew, Luke, John, Tom, Dick or Harry anyone ?
Tenpenny Tower ~ Either as a Ghoul or Zombie hate'n socialite.
Girdershade ~ Nuka-Cola fans unite !
The Lincoln memorial ~ Free at last, FREE AT LAST!
Paradise Falls ~ GO Capitalism !
Fort Bannister ~ Dirty Deeds done dirt cheap.
The Republic of Dave ~ My country tis of thee...
Canterbury commons ~ Home to Comic con 2277.
Evergreen Mills ~ It's a thug life fo me.
Under world ~ Sure it reeks of the grave but I just love Halloween.
GNR ~ Either as a BOS security detail or a radio station intern.
Raven Rock ~ "Let them come! Wave upon traitorous wave will crash against the Enclave's walls!"
Big Town ~ " If the mutants get you, come back and haunt me. "
Little Lamplight ~ " Hey did you hear the one about the ridiculous mungo who... Oh wait. Um. Never mind. "
The Citadel ~ "I cannot -- I will not -- allow the Enclave to control the one thing that could bring even the slightest spark of hope to these people."
Andale ~ " Family first! And any man who says anything different is saying something wrong. And you should hit that man. With a stick. "
Reilly's Rangers Compound ~ " The best merc group in the Capital Wasteland. "
Oasis ~ Please note how you deal with Harold's request.
OK so that is 23 choices but I guess a write in from the DLCs could be added.
It's your deal brother use this idea or not, how ever you choose ~;)
SaintPain→ Here to help." 19:11, October 21, 2013 (UTC)
No worries brother ~ Keep up the great work.
SaintPain→ Here to help." 19:43, October 21, 2013 (UTC)
Poll guy
Edit
I just wanted to say DG, thank you for giving me the poll guy position. As far as I knew, there were other people who were interested in the job and I'm appreciative that you decided to give it to me, at least for a while to show if thinks work out or not. :)
Brandon Fox (talk) 16:27, October 31, 2013 (UTC)
About that banner... it doesn't exactly have to be ready for this Saturday, of course only if you have the time though, because it's only gonna be my first Poll right? But as for a banner, I'd like it to be like, the view of the New Vegas Strip in the evening (you know, like the Lucky 38 with the lights and stuff shining into the sky like on the cover of the Ultimate edition for New Vegas? Always looked cool in my opinion), but no ranger in front of the Strip. And in big bold white letters could maybe be "Nukapedia's Saturday Poll". To be fair, I'm taking stuff from this: http://fallout.wikia.com/wiki/User_blog:Yes-Man/Saturday_Poll_-_Special_Edition
but I quite like it. Obviously, the Yes Man picture won't be part of the banner. I haven't decided on adding an avatar to the banner, maybe it's too early for that. Plus, I'm not sure what the picture would be. Let me know what you think Gunner :D
Brandon Fox (talk) 22:56, November 5, 2013 (UTC)
Good news DG, Yes Man already made me a banner which I think is really cool. So you don't have to worry about making one now. Thank you for the help all the same though.
Regards, Brandon Fox (talk) 15:18, November 7, 2013 (UTC)
Best of luck in your wish to serve brother
Edit
Have you locked in what it is you would like to do? Matching the right branch & job will boldly effect your whole experience.
SaintPain→ Here to help." 21:51, November 11, 2013 (UTC)
So you want combat arms ~ I see that & while I respect our infantry I've known too many that have gifts that were under used. Speak to your recruiter about Combat Military Police units. Tell them you want to clear buildings, defend supply routs and have the best weapons.
Non garrison MP units carry better fire power than a Marine infantry company with a mortar platoon attachment & that is say'n a lot. Ask Gunny if you doubt it.
As I have said above I have true respect for the infantry of any branch but their individual talents tend to be under used.
You have proven your self to be a smart guy. I think you would serve better in a smaller team environment. Military police are typically broken down into 3-4 man teams from larger combat units, they operate far more independently than in garrison units. The team leader is given a mission they move faster into it than an infantry company could.
No pressure but of all the jobs I held in the military combat MP is my most dearly missed & the fact it reads better on a resume in civilian life after you've done your time dose not hurt.
Again please just consider your choices well & I wish you all the best.
SaintPain→ Here to help." 22:48, November 11, 2013 (UTC)
" Sounds good to me Brother
SaintPain→ Here to help."
Just a film question
Edit
Hey Nate, I know how you like the military and hope you can join them in the future so it got me thinking. Have you ever seen Black Hawk Down before? That's like, one of my favourite films. One of the only films to make me cry...
Brandon Fox (talk) 15:14, November 16, 2013 (UTC)
When the soldiers are overrun at the crashed helicopter, they end up only firing a pistol until hundreds of militia just swarm the area. Made me cry when I first saw it, maybe just me..
There's no need to rush to respond to messages Nate, don't worry. :)
Brandon Fox (talk) 15:07, November 20, 2013 (UTC)
I already have actually. I've ordered a book which gives accounts from some of the soldiers who went into the battle of Mogadishu. I ordered it for my English as our exam is on "The Struggle for Identity in Modern Literature". I wanted to do some of my wider reading for the course (wider reading are texts which we choose ourselves and analyse which we have to quote for 1 half of the exam). I figure the themes are the struggle for peace, camaraderie, hope, sacrifice ect.
Brandon Fox (talk) 20:09, November 20, 2013 (UTC)
Just missed you.
Edit
Can you pop back into chat again?
sectatorapocalypsis 22:54, November 18, 2013 (UTC)
Hey bud, haven't seen you in chat the last few days :/ If you want I'll be in chat tonight. If you get on, message me.

"Some say this user used to be a Patroller..."

04:52, December 1, 2013 (UTC)

Some Assembly Required! 09:49, December 2, 2013 (UTC)
It killed me when I first saw it! We were searching for all of these made for everyone, and I happened across it. xD Anyways, glad you took it all in good fun. I even found the pedophile one made out for me. lmao.

Some Assembly Required! 21:43, December 2, 2013 (UTC)
Alert - Dec 4
Edit
Hi, can you please take a look at This forum ASAP. We need all hands on Dec 4. Agent c (talk) 22:17, December 2, 2013 (UTC)
Season's greetings! Edit
You have been given a Season's greetings!.

Your efforts and diligence have not gone unnoticed, and you have been given a small token of appreciation.

Happy Holidays & Season's Greetings to you, from SaintPain

& Major Tom
Patroller
Edit
Hey Gunner, I've been asked to drop you a note... If you still don't intend hanging around the wiki, drop gunny a note and he'll uncheck the patroller box...
Sorry you're feeling this way, and hope everything works out great for you if you're still going... Including the military if thats still what you want to do. Agent c (talk) 21:19, December 18, 2013 (UTC)
Ok. I've seen this coming for a while now. If I don't hear from you in a day or so, I'll remove them. The Gunny   01:35, December 19, 2013 (UTC)
Sure thing man
Edit
If you ever want to chat up yourself, just send me a message through my talk page, steam, or skype I suppose. —Preceding unsigned comment added by Aleksandr the Great (talk • contribs) 22:53, December 18, 2013 (UTC). Please sign your posts with ~~~~!
Project award
Edit
Sorry it's so late. I realized these never got handed out.
Nukapedia Project Medal

For participating in your second Walkthrough Chart Project.  The Gunny  

23:37, December 31, 2013 (UTC)
Philly update
Edit
My teacher said that we will be visiting Philadelphia most likely on February 16th which is a Sunday. Otherwise, it'll be the next weekend. Basically, just make sure you're free on either 15-16th February or 22-23 February.
Brandon Fox (talk) 21:40, January 6, 2014 (UTC)
I have a date! It's Sunday 16th of February. When I'm in the US, I'll try and text as soon as possible with a time. I'll be in touch in about a month's time then, Nate! :D
Brandon Fox (talk) 23:40, January 13, 2014 (UTC)
Enclave pic
Edit
Omfg dude, that is so epic. That's going on my desktop good sir. xD
15:55, January 19, 2014 (UTC)
Old school song
Edit
Rediscovered some old skool shit from back in the day I'm betting dollars to donuts you haven't heard. :P
Check it out, you'll like it.
http://www.youtube.com/watch?v=PIERO0iXGuA
21:36, January 19, 2014 (UTC)
We have a three day head start on you. Think you can catch up?


01:04, January 21, 2014 (UTC)
Admin request
Edit
Hi. Because of a timing issue, we're asking people who originally voted in the admin request for OfficialLolGuy to just vote again now the vote has been reopened. The new poll closes on 1 March. Thanks. Agent c (talk) (via the courier) 16:15, February 22, 2014 (UTC)
RE Philly :(
Edit
It was freezing as hell in Philly on Sunday, and it was icy everywhere! I don't blame you bro. I also couldn't text you with a specific time because I lost my hand luggage at the Dulles airport and that had my phone charger in it. It was an amazing trip regardless though. I aim to go back to the States someday.
Brandon Fox (talk) 10:19, February 24, 2014 (UTC)