Welcome to Nukapedia!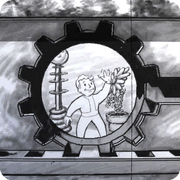 Hello, CharlesLeCheck, and welcome to the Fallout Wiki! Thank you for your contributions, and we hope you'll stay with us and make many more.
Some links you may find useful:
If you have questions, you can ask in our forums, join the live chat or post a message on my talk page. We hope you enjoy editing here and look forward to working with you!
Nice Job
Edit
You sir, are a gentleman and a scholar. Liked your comment on the application, well versed and down to earth, something hard to come by these days. Ever thought of getting more involved in the community? We could use people such as yourself. Hope you have a good day.
Pony of the East
01:51, March 22, 2012 (UTC)
If you're referring to the welcome message, it's automated, but you're welcome. :) Feel free to send any questions my way if you need any help around here.

Skål! 17:29, March 24, 2012 (UTC)
No need to feel silly, I think the majority of us thought the same thing at first. :') I also see that you mentioned that you were a long time lurker here as an anon? Skål! 03:10, March 26, 2012 (UTC)