Welcome to The Vault!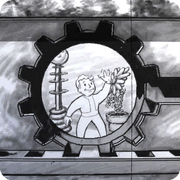 Hello, Capt.Lee, and welcome to The Vault, the Fallout wiki! Thank you for your contributions, and we hope you'll stay with us and make many more.
Some links you may find useful:
If you have questions, you can ask in our forums, join the live chat or post a message on my talk page. We hope you enjoy editing here and look forward to working with you!
You were lagging disruptively in chat, so I had to kick you. Leave me or another admin/mod a message when you want back in. Hugs

"Say 'ello to my little friend!"
Poll Idea
Edit
Hi there. Thanks for the suggestion.
Cool poll idea, but I don't know how it would work in a poll format, just because there are so many different possibilities for the fate of the Mojave if the Courier isn't involved - think about DLCs; would Ulysses destroy the Legion and NCR? Would the Think Tank escape and turn Nevada into their personal playground? Or would Salt-Upon-Wounds defeat Joshua Graham and make his way to New Vegas?
However, that's not to say I don't like the idea. In fact, I think I'm going to include it in next week's edition of the polls, as a third question that people can debate. Not an official poll, but just something to get people talking. Again, thanks for the suggestion!


10:03, July 16, 2012 (UTC)