Welcome to The Vault!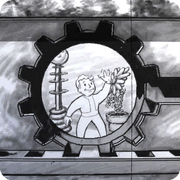 Hello, Bwilderbeast, and welcome to The Vault, the Fallout wiki! Thank you for your contributions, and we hope you'll stay with us and make many more.
Some links you may find useful:
If you have questions, you can ask in our forums, join the live chat in our IRC channel or post a message on my talk page. We hope you enjoy editing here and look forward to working with you!
Looks like you figured things out. Nice page.--Gothemasticator 02:17, January 3, 2011 (UTC)
Thanks (need to redo the map though). Bwilderbeast 09:33, January 3, 2011 (UTC)
Little Lamplight Bugs
Edit
I'm assuming, since the page says it was edited by you, that you are in control of what's written on the wiki page for Little Lamplight. I wanted to add something to the list of bugs. Although minor, there is a bug on the PC version of Fallout 3 in the shack just outside of Little Lamplight. If you pick up an item, using the default key "Z", and move it along the right-hand shelf inside the shack, it will make the sound of glass breaking, rather than metal-on-metal. I know this is insignificant as far as bugs are concerned, but I wanted to voice that it was present in the game.
I'm not in charge of the page, it just shows the name of whoever last edited it! I just tried to reproduce the bug and only got a clinking sound, not breaking glass when moving stuff on the shelf with the glass pitcher on it. Perhaps I'm not doing it right. Why not add something to the Lamplight discussion page and see if anyone else finds the same thing? (remember to sign your name, just type in four ~ in a row at the end of your post) Bwilderbeast 10:28, February 27, 2011 (UTC)
Honest Hearts information
Edit
There is no need to add that something appears in an add-on if it is a common item or storage unit. --


16:49, May 20, 2011 (UTC)
And reply to people on their own talk pages, judging by the above you don't do this. If you don't they won't know you've replied.
What - so I copy and paste a contribution here onto the posters page, respond and wait for them reply by replying here. Or do I just post without what I'm responding to? That seems a really stupid way to go about things.Bwilderbeast 15:52, June 15, 2011 (UTC)