Welcome to The Vault!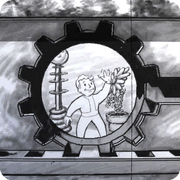 Hello, Brotherhood-overlord-6, and welcome to The Vault, the Fallout wiki! Thank you for your contributions, and we hope you'll stay with us and make many more.
Some links you may find useful:
If you have questions, you can ask in our forums, join the live chat in our IRC channel or post a message on my talk page. We hope you enjoy editing here and look forward to working with you!
Stop making idiotic edits. LMG is a rifle and remnants is heavy and I don't know what else you screwed up. If you don't know something check the GECK or leave it to more experienced editors.
LMG is a RIFLE.
Edit
Can you or can you not understand it? It has no backpack, it is holstered like a rifle (and the power armor clipping issue that applies to the rifles and only the rifles applies to the LMG), it is affected by the rifle perks and it's kills are counted towards rifle kills so LMG IS A FUCKING RIFLE.
Merc outfit
Edit
Right. Everyone can have a lapse in concentration. Jspoel

01:03, November 16, 2011 (UTC)