Welcome to Nukapedia!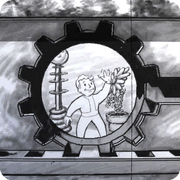 Hello, Arahant, and welcome to the Fallout Wiki! Thank you for your contributions, and we hope you'll stay with us and make many more.
Some links you may find useful:
If you have questions, you can ask in our forums, join the live chat or post a message on my talk page. We hope you enjoy editing here and look forward to working with you!
New User Network
Edit
Hi Arahant, welcome to Nukapedia. Thanks for joining the New User Network.
In order to help me pair you to the best mentor, could you please let me know what times you're likely to be on the wiki (and your timezone), which fallout games you prefer, and any specialist sujbect that you may be interested in.
Thanks. Agent c 16:54, June 3, 2012 (UTC)
Hi there Arahant, I'm Guardian and I've asked Chad (Agent C) to be your mentor. Are you happy with that? Can you tell me what you are looking to do here? I notice that you've set up a couple of blogs, but do you intend to edit too? You won't need much help with blogs I don't think, but if you do, then ask me. In fact, if you have any problems at all, just leave me a message on my talk page and I'll get back to you promptly :). Nice to meet you, and see you soon!

Φύλαξ

[~μίλησε μου~]

00:32, June 4, 2012 (UTC)
Hey, no problem. If theres anything we can ever help with, just give us a shout. Agent c 23:42, June 6, 2012 (UTC)