Welcome to The Vault!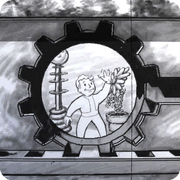 Hello, Alfie9000, and welcome to The Vault, the Fallout wiki! Thank you for your contributions, and we hope you'll stay with us and make many more.
Some links you may find useful:
If you have questions, you can ask in our forums, join the live chat in our IRC channel or post a message on my talk page. We hope you enjoy editing here and look forward to working with you!
Mine's Nighthawk2K10. Tezzla Cannon

16:29, August 26, 2010 (UTC)
Why did you add an unrelated image to the Megaton refugee page? --Kris mailbox 16:33, August 26, 2010 (UTC)
Re:Fuck off
Edit
No. I won't fuck off. Leave it alone. It's supposed to be there to mark that soemthing in his/her inventory is unobtainable. Which brings me to another point, do not insult otehr editors, or you get blocked.
Vandalism
Edit
That was a bad idea. Try not to do that anymore next week when your block expires. --Kris mailbox 12:25, August 27, 2010 (UTC)