Welcome to The Vault!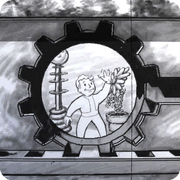 Hello, Alex6122, and welcome to The Vault, the Fallout wiki! Thank you for your contributions, and we hope you'll stay with us and make many more.
Some links you may find useful:
If you have questions, you can ask in our forums, join the live chat in our IRC channel or post a message on my talk page. We hope you enjoy editing here and look forward to working with you!
My blog post
Edit
Can you comment in "Ideas for the next Fallout game"? --M72 Gauzz

00:23, June 1, 2011 (UTC)
There was some kind of error sign so I thought what I did will remove it. Sorry if i made a mistake. -James Jr 10:54, June 1, 2011 (UTC)
File:Mbox archivepage.png
Edit
I've uploaded it over at the Russian wiki. -- Porter21 (talk) 07:10, June 25, 2011 (UTC)
File:Aliens.jpg
Edit
Sorry, I took so long to get back to you. What do you want for the image i.e. A image from the GECK or the Game, a particular alien or just a general one etc.

17:17, August 12, 2011 (UTC)
He may not answer in a while because he's very busy. Ausir is the founder of The Vault. Jspoel

14:15, October 28, 2011 (UTC)
OK. --Alex6122 © 14:17, October 28, 2011 (UTC)
The Vault
Edit
Are you having trouble with the account migration tool? I'm asking because it seems you're editing anonymously on falloutwiki.com. -- Porter21 (talk) 12:36, December 11, 2011 (UTC)
Well, we've haven't been able to track down why the migration tool doesn't work for some users, so it could be any number of things. Your account got transferred though. If you want to reclaim it, I can offer you an alternative way to do it:

Register a new account (with a different name) on falloutwiki.com.
Send me a message here with the name of your new account (so I can confirm that it's not somebody else who's trying to reclaim your account).
I'll then merge the two accounts so you can log into your old account with the new account's password.
Link to the Uk wiki is up on the front page, Alex. The Gunny  
01:09, March 17, 2013 (UTC)
Interwiki
Edit
Hey, I noticed that Убежище has some content that we haven't covered yet, and I was wondering if it was okay if I would translate a few pages from your wiki and import some images. - Greets Peace'n Hugs (talk) (blog) 11:05, May 21, 2014 (UTC)
No problem. Does this need my permission?) --Alex6122 © 11:34, May 21, 2014 (UTC)

In theory, no, but I felt like it would be better to ask first. Would you also like me to notify you of content I notice to be missing on your wikia? If so, would you like me to make a list, or would you rather have that I make the pages, translate to Russian what I can and add the "stub" category so you can finish it to a better state? I will probably start the work end of June. - Greets Peace'n Hugs (talk) (blog) 11:38, May 21, 2014 (UTC)

Variation with "stub" me more appropriate. With the "stub", you can also add the template "Переведено" (translated). --Alex6122 © 17:42, May 21, 2014 (UTC)
Merry Christmas and a happy new year
Edit
I would like to use the Christmas-wishes-tradition to thank those around me who kept this wiki and daily life more fun for me during the past year. Everything just seems so normal and evident that we are here almost every day, yet it's very worthwhile to consider for a moment how wonderful it is to have all of you around me, making editing and being on chat a lot more enjoyable. I would also like to use this opportunity to wish a happy and healthy new year for you and everyone around you, with perseverance in tough times, but most of all, with wonderful moments among enjoyable friends and family. Merry Christmas, and a very happy new year in which all your wishes may come true! - Greets Peace'n Hugs (talk) (blog) 18:02, December 25, 2014 (UTC)
Thank you and same to you! --Alex6122 © 15:23, December 26, 2014 (UTC)

I noticed that Vault 101 image change and I'm contemplating to revert it. I like the dark style. It goes well with the Fallout theme, and it's the standard brightness setting in Fallout 3 and New Vegas. I see your point though, there are images that you can't really figure out without clicking on it. I may replace some of those in the near future. But I'd rather not see it overwritten by others. If you want another image, best to upload it to the Russian wiki. Jspoel 21:25, May 28, 2015 (UTC)
It doesn't help. I couldn't select the refids with old css and with the new one I still can't. (I could select the cell names though) Jspoel

00:31, January 2, 2016 (UTC)
No. I'm not a css man. But it's a very minor problem. Almost no one uses monobook and selecting in the infobox isn't used much. Sum those 2 up and it's not really a mention-worthy problem. Jspoel 00:40, January 2, 2016 (UTC)
Happy new year!
Edit
I would like to use the Christmas/New Year-wishes-tradition, though I'm a week late, to thank those around me who kept this wiki and daily life more fun for me during the past year. Everything just seems so normal and evident that we are here almost every day, yet it's very worthwhile to consider for a moment how wonderful it is to have people like you around me, making editing and being on chat a lot more enjoyable. I would also like to use this opportunity to wish a happy and healthy new year for you and everyone around you who is dear to you. I hope you'll have a great and healthy new year in which all your wishes may come true! - Greets Peace'n Hugs (talk) (blog) 00:10, January 6, 2016 (UTC)
Thank you and same to you!--Alex6122 © 04:49, January 6, 2016 (UTC)