Welcome to The Vault!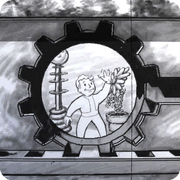 Hello, AlChestBreach, and welcome to The Vault, the Fallout wiki! Thank you for your contributions, and we hope you'll stay with us and make many more.
Some links you may find useful:
If you have questions, you can ask in our forums, join the live chat or post a message on my talk page. We hope you enjoy editing here and look forward to working with you!
Userpage image
Edit
I removed your userprofile image. It has to start with user according to our policy. And I'd appreciate it if you don't make the name exist out of 30 something numbers again. Thanks. Jspoel

10:08, October 11, 2011 (UTC)
ummm.....
Edit
so umm... captain ballarms video coming some time soon? --

Paladin ACES

08:52, January 2, 2012 (UTC)
message to alchest breach
Edit
alchestbreach do you think you could do ranger armor mods, because everyone probably likes the ranger armor,some house mods would be nice too,this is soldiercapo aka Col. Grau Von Konigs, signing off
Alchestbreach, I watched some of your videos & thought it would be really fun if you went to find Janet when she was kidnapped by the Business Radroaches. I have some ideas using my Fallout New Vegas Character:
"Jerrymccarthy, sold Janet as a Sex Slave to the Business Radroaches for 60,000,000,000 Billion Caps. He is a enemy of the NCR, Legion, New Vegas, and Brotherhood of Steel. He is always helping powder Gangers, Great Khans, Freeside, Novac, Followers of the apocalypse, and Boomers. He is a very talented young man, he is a master at Guns, Speech, Energy weapons, Medicine, Lockpick, and Unarmed combat. His favourite weapon is Elija's LAER Rifle and Bozar (GRA), he carries around several companions.
1. Arcade Gannon 2. Radroach named Robert 3. ED-E 4. An Ghoul named Yum Yum
His last locations were: 1. old Mormon Fort 2. Nellis Airforce base 3. Red Rock Canyon 4. Novac
His favorite Armor is: 1. Courier's Duster (got it from Lonesome Road) 2. Bounty Hunter Duster 3. Desporado Cowboy Hat 4. Armor of the 87th Tribe (Found in Dry Wells)
His Facial looks are: 1. Hair Style: Sarge 2. Facial Hair: Muttonstache 3. Caucausian 4. Dark Brown eyes 5. Really dark black hair (0 Red, 0 blue, 0 green) 6. Large Eyes 7. Heavy head (Adjusted some what near the middle shifting toward heavy) 8. Male 9. Large Mouth, small underbite 10. Short Sellion height, long nose, medium bridge deph, in between down & up nose, pointy nose (sort of.
His special stats: Strength: 7 perception: 6 endurance: 7 chatrisma:6 Intelligence: 6 Agiility: 8 Luck: 8
What do you think Alchestbreach?

71.8.119.10 03:18, August 5, 2012 (UTC) your fan Jerrymccarthy (Fallout avatar name) :D
meet me at new vegas nexus name hangfire99
                                                                                                                                                                     soldiercapo again, just a suggestion,but could you do minecraft mods?

suggestions
Edit
soldiercapo here,some suggestions, do you think you could make a khajiit follower? minecraft mods would be cool, plus on fallout nv you should make your own questline like VoicesFromTheDark. (skyrim mod suggestion) do some skyrim estate mods and satchel mods. Auf Weihersen, Over und Out, Your Viewer Soldiercapo (Soldiercapo2)