This is the Toaster... The Answering Machine can't come to the wiki right now. Please leave your message after the Pop...
Edit
(Before posting, please play the music)
If you have something you would rather discuss in private I can be emailed here.
Office Hours: 1800-0000 Monday. 1200-1400 and after 1600 Tuesday. 2100-0000 Wednesday and Friday. 1200-1500 and 2100-0000 Thursday. 1300-0000 Weekends.
I am currently in Timezone: GMT
If you don't see me about, or in chat in these times, drop a note here and I'll probably come running
Caption image of the year
Edit
Agent, I'm thinking we could introduce a caption of the year contest. Nothing complicated, just a bit of easy fun. You started it in July this year and we now have about 22 images. There are some possibilities. We could make it 2 semifinals in your wiki news digest, with 11 images each and then a final with 8 or so in these final 3 weeks of the year. Or make it simpler, just one week, end of this month and you select the 8 with the most votes to compete against each other in digest of 28th of December. How's that sound? Jspoel

19:59, December 5, 2013 (UTC)
Interactive map
Edit
I made this gigantic interactive map of the entire Fallout universe, on Google Maps. It literally covers almost everything there's a known location for. https://mapsengine.google.com/map/edit?authuser=0&hl=en&mid=zy5erQ51ukcU.ktGYzdDqm_wA Can this be on the Fallout world article, or something? I can alter it if there's any differences needed, or anything.

  OfficialLolGuy  Talk  Blog  22:28, December 20, 2013 (UTC)
Blog Posts
Edit
Can i do a new blog post about a imaginary story narrated in Journal entries?--StevenSeagull (talk) 21:33, December 21, 2013 (UTC)

Thanks for the information. I'll see what i'll do--StevenSeagull (talk) 12:18, December 22, 2013 (UTC)
Thanks for offering the service, but I really can't see Fallout Answers using it in the immediate or even the near future. Fallout Answers hasn't been remotely active for several months; we haven't even had a new question for at least 30 days, it's likely longer than that but the wiki activity feed only goes back a month :/. Until the site starts humming again, access to Twitch for us is not necessary but thanks for the offer. I'll let you know if I need access to it. --Kastera (talk) 23:59, December 22, 2013 (UTC)
Another gift under the tree
Edit



For Chad, from Neko

You have been given a seasonal present!

Unwrap!
Just for you on Christmas Non-Religious Holiday of Choice!

The IGN Reporter's guide to News


Binds when picked up
Use: Opens the book
"A children's picture book, oddly published in the journalism section"

Use
The book is devoid of any information, only containing speculation and rumours on what the book might be about.
Happy holidays
Edit

NotY board meeting reminder
Edit
This is a reminder that our next meeting is scheduled to be Thursday, 26 December at 2100 GMT (1600 EST, 1500 CST, 1400 MST, 1300 PST) in the Chinese FO wiki chat here. We will discuss the final winner, runner-up, as well as a winner of the best newcomer prize. Please be on time. And Happy Holidays, my friends! --Skire (talk) (via the courier) 00:59, December 25, 2013 (UTC)
A Holiday Gift from the Outcasts
Edit
You have been given a pet Radroach.

Your efforts and diligence have not gone unnoticed, and you have been given a small token of appreciation.
Merry Christmas!
Edit
Merry Christmas Chad! I hope you have a great day and you get all of what you want out of it!

"Some say this user used to be a Patroller..."

06:17, December 25, 2013 (UTC)
Merry X-mas smoothie
Edit



For: The Chadmin or is it... BureauChad now?

From: The Zombie

You have been given... is it winter outside? Whatever, a winter present.

Courtesy of an Amazon drone. Hope you have a box cutter.
For your wise discretion and erudition of canon.

A printed copy of the Fallout Bible!


"Printed on recycled fanfic papers. Tears not included"

Perhaps a passage to lighten the mood?
St. Avellone 4:21 "And the Chosen One rode in to Navarro on the back of a two-headed bear, and 'lo on high the Enclave did fear him and his humillity."


Credit goes to Duncan for coming up with this passage in a heartbeat after I told him what I had got you. Some rewording was done with his consent.
TheContributer1
Edit
Wasn't sure if I should mention, but their last block was a month long term as well. Great Mara (talk) 04:14, December 28, 2013 (UTC)
Make-up date for board meeting
Edit
Hi everyone. The final board meeting is scheduled at 0100 GMT (2000 EST, 1900 CST, 1800 MST, 1700 PST) on Monday, 30 December (evening of Sunday, 29 December for the US). Please do your best to make it to this meeting. --Skire (talk) (via the courier) 00:43, December 29, 2013 (UTC)
Other media
Edit
Hi Agent c. I have to apologize. It was my personal mistake not to add the attribution template right away, The Vault has nothing to do with it, and as you can see, Tagaziel was the first to point out my mistake. By the time you wrote me I have already added the attribution template to the article. I have now added a Nukapedia logo to the template. I didn't mean to offend you or anyone on Nukapedia. Sorry if I did. veryblackraven 22:10, December 30, 2013 (UTC)
Voice actors
Edit
Did you already receive word from Matt Grandstaff about the Fallout 3 add-on actors? I'm anxious to get them tbh. Probably tough to get his attention? Jspoel

14:16, December 31, 2013 (UTC)
Congrats
Edit
Welcome to the club. I expect that box of cigars you promised shortly. The Gunny  

15:08, January 1, 2014 (UTC)
Messages
Edit
No official tone - I am merely asking inactive Special Rights holders to reiterate upon whether or not they'd prefer to step down, or if they have plans to return to active editing soon and whether or not they'd prefer holding onto their tools. This is an important stage leading up to the finalizing of the forum brought up by 69 and myself, so both of us along with other supporters have interests in moving this forward rather than drawing it out further than the extensive forum and chat debates already had.

Some Assembly Required! 23:33, January 1, 2014 (UTC)
Yes. "We" is an accurate description, as these messages have been discussed and thought out thoroughly through multiple parties - not just myself. Yourself included, although I'm aware you have more reservations than some of us on these topics. Some Assembly Required! 23:37, January 1, 2014 (UTC)
Your Cratness
Edit
Hey Chad, congratulations on the new position. You're cut out for it mate!
You have been given Two glasses of champagne.

Your efforts and diligence have not gone unnoticed, and you have been given a small token of appreciation.

A little Bubbly for your new position.

--

TwoBearsHigh-Fiving

23:38, January 1, 2014 (UTC)
Possible vandal
Edit
Hi, could you check this user http://fallout.wikia.com/wiki/Special:Contributions/71.7.201.192 and see if this is worth a block? Thanks. --FFIX (talk) 19:07, January 2, 2014 (UTC)
Bur-oh crap
Edit
Congratulations on the new position, Chad! You deserve it and I know you'll excel - you already have. Thanks for everything that you do for us. ~ Toci ~ Go ahead, make my day. 01:53, January 3, 2014 (UTC)
Lion Poster
Edit
So i was looking at your profile and i saw that poster with the lion's mimicking The Lion King and i saw how it says Australia, Canada, India then New Zealand in a vertical line, if only it said something Like Denmark instead of New Zealand so then when you take the first letter of each word it would say ACID lol.The Nemesisx.
I'd like your opinion
Edit
Hello there. I know you're busy, but I know that you host the Fallout Apprentice, and though I am not applying for a spot in the competition, I'd like you to look over my blog of short stories and tell me what you think, though they're not Fallout related. Here's the link. Leea (talk) 17:22, January 5, 2014 (UTC)
Profile templates
Edit
Hey bro. I am in a need for some help with my profile. I'd like to put a achivement box (whatever it's name is) and some other stuff. I have already done some things in my profile, by checking other people's profile (Ex: Dead Gunner) but it is a bit hard and time consuming. If you can help me maybe by showing some kind of shortcut or in any other way i would apreciate it very much.--StevenSeagull (talk) 21:06, January 6, 2014 (UTC)
Thank you for the support. I'll tell you if i don't find what i want. May the Seagull Creed be with you.--StevenSeagull (talk) 21:02, January 8, 2014 (UTC)
Did you get the Email?
Edit
From store@bethsoft.com
CommanderNuka (talk) 01:11, January 9, 2014 (UTC)
http://i.imgur.com/mO8WrfW.jpg
CommanderNuka (talk) 01:49, January 9, 2014 (UTC)
Patroller Rights
Edit
Hey Chad, How's D.C.? I hope it's good. :) Anyway's...On to business. I am applying for Patroller Rights. I feel like I am ready to take on the responsibility of the rollback tool and keep my watchful eye on Nukapedia for vandals and spam. As you know, I have been working hard these last few weeks since re-joining Wikia to get back to my pre-absence state. This has not come with it's downfalls but I haven;t given up and will not give up. I have been here for well over a month, I have passed over the 350 edit limit with a total of 707 article edits, and I have not been site blocked or banned at all since being back. Anyways, I hope this is enough for me to become a Patroller and start helping out a little more each day.
P.S. Tell Mel that I said "Hai (>°u°)> *hugs*" for me? Thanks!

"Some say this user used to be a Patroller..."

08:41, January 9, 2014 (UTC)
Alright, I'm not in a hurry. Have a good day. "Some say this user used to be a Patroller..." 15:11, January 11, 2014 (UTC)
Ah. Thanks for that. And I know better than to ask about Fallout 4 - that's not even in production yet, as far as anyone knows. Timeoin•Say G'Day•View my work 13:02, January 12, 2014 (UTC)
Nukapedia on youtube
Edit
Chad, can you give me some instructions on how to upload videos to youtube by using our Nukapedia account? The Vault has the Fallout 1/2 cutscenes and I want those here too. Jspoel

18:43, January 13, 2014 (UTC)
Probably best done by mail, because I don't know our log-in account anymore. Jspoel 18:44, January 13, 2014 (UTC)
Since my replies are off-topic, I'll go ahead and move them here. I've been bad about being off-topic on forums lately.
Ban discretion is found under our guidelines - which are guidelines for the specific purpose of being malleable. Policies have nothing to do with that.
If I read your comment wrong, then I am sorry. I just thought it was really weird that you would even bring up his Administrator request, and so again, I'm sorry if I misinterpreted it. Some Assembly Required! 22:36, January 13, 2014 (UTC)
As you know, we have spoken in chat - but I will reply here with a shorter version for transparency reasons.
I don't care for petty feuds. I don't like that I have to question who's really my friend here anymore. And when all of the sudden this stuff comes up, when I am called a liar and my integrity, which I have worked hard at maintaining, is questioned, I do take a defense against it. However, I am here for the information, and I have no wish to hold grudges or keep fights alive longer than they have to.
As long as the private messages and the accusations drop, I am perfectly willing to let this drop, as well. But, like I said over Skype, what Mel did was inexcusable. I will trust that you had no part in what she said, but I will no longer tolerate her behaviour. If she ever takes that behaviour to Nukapedia, something will be done about it.
Now, with this unpleasantness aside, I am perfectly willing and capable to keep a professional relationship with you to help better this wiki, and in the end, I do hope we can at least be civil, should we ever decide not to be friends. Now let's just put this to rest... it's making me feel old.

Some Assembly Required! 23:11, January 14, 2014 (UTC)
RE: Patroller
Edit
Thanks Chad! I really appreciate this! Sorry about leaving this morning, I was having computer/connection problems. Pop in chat and talk to me :)

"Some say this user used to be a Patroller..."

03:21, January 15, 2014 (UTC)
The Guardian
Edit
Was just reading the comments on the Yodel Guardian article and I saw one from AgentC - I said to Andrew "I wonder if that is Chad" and clicked the profile and saw the Fallout Wikia link on website! Haha, how random!!!

"Even In Death May You Be Triumphant" 17:47, January 17, 2014 (UTC)
The strangest of coincidences :) But yeah, Yodel suck lol

"Even In Death May You Be Triumphant" 10:41, January 19, 2014 (UTC)
Congrats on Overseership
Edit
Hey C, just found out the news. Embarrassingly enough. I wish I was around to show my support on your request (not that you needed it), but oh well. You'll just have to make do with my standard BCship gift.
Limmiegirl

Talk! ♪ 20:56, January 18, 2014 (UTC)
You have been given your very own Overseer's Office.

Your efforts and diligence have not gone unnoticed, and you have been given a small token of appreciation.

For becoming a Bureaucrat! Limmiegirl Talk! ♪

20:56, January 18, 2014 (UTC)
Google account
Edit
Chad, we have a problem with our Google account link on the front page. Do you know the correct link? Jspoel

22:56, January 19, 2014 (UTC)
Ok, thanks, I changed it. Hope it stays working. Are you going to vote on the Porter thread?. Time's almost up. Jspoel 23:32, January 19, 2014 (UTC)
vault trinket
Edit
Hi! Nope, I can't see any traces. Sorry. --Теодорико (talk) 08:21, January 20, 2014 (UTC)
RE: Tag, Ant and the Vault
Edit
Alright Chad, I will bite my tongue on this, but if I notice anymore stolen pages I don't know if I can refrain from it.

"Some say this user is a Patroller..."

18:38, January 20, 2014 (UTC)
Something I picked up
Edit
Could you clarify on your meaning of "We can only accept conversations on Slavery as it appears in the Fallout universe only." please? --Skire (talk) 22:43, January 20, 2014 (UTC)
Dysfunctional
Edit
I doubt any of those discussions went on for a week though. Nor do I imagine there was any serious debates against administrators on any of those topics.


00:36, January 21, 2014 (UTC)
Soon as I opened the link and Tezzla's avatar, knew it'd be a good read.
I'm just trying to keep my mind off the fact that I'm hungover and feel like crap.


01:12, January 21, 2014 (UTC)
Hello bureaucrat, admin, moderator, chat mod, or patroller!
Can you please take a look at this forum and voice any opinion you may have.
Thank you
69.l25 (talk) 00:11, January 22, 2014 (UTC)
My blog.
Edit
Do you have any idea from my blog? http://fallout.wikia.com/wiki/User_blog:SuperTaiko1 SuperTaiko1 21:14, January 23, 2014 (UTC)
Hey, when you get a chance check out the Codex page. I did a lot of research for it and put in a whole lot of stuff. Tell me whatcha think! :D

"Some say this user is a Patroller..."

07:39, January 24, 2014 (UTC)
Dialogue files progress
Edit
I've created 9 FNV dialogue export files, for the characters with the most lines. When they are created, they get a name DialogueExport<name character>.txt. I suggest we leave the DialogueExport out for the name we're gonna use. You can see the results and naming in Category:Fallout: New Vegas dialogue files. Theo asked me a complete export so that's what I did. He then uses his bot with this as result, for Caesar. I've done extensive research on which columns we need and come up with User:Jspoelstra/sandbox1. It's similar to what TV has. I'm going to ask Theo to put these 9 files into tables and see how it looks. Possibly one column can be removed and one merged, first I'd like to see how things look. In the meantime I'll take a look at a fitting infobox. If you have a remark, let me know. Jspoel

22:05, January 25, 2014 (UTC)
Rollback.
Edit
Hey Agent C, I am have been trying to find my rollback feature but I have come to the conclusion that I do not have it. No where to be found. I have been using the "Undo" for everything. I have the [Mark as Patrolled] feature but that is all. Do you think you could check on this for me? It would be much appreciated. Thanks :/

"Some say this user is a Patroller..."

11:28, January 26, 2014 (UTC)
Season Bottles
Edit
I remembered that you liked the stories about the Season Bottles, so here's a link to the story of the Spring Bottle. I think I got the paragraphs right this time. =) Leea (talk) 22:04, January 26, 2014 (UTC)
Them new templates
Edit
OK. After a quick look at all them new template, I redid the update template to use the Mbox meta as a base. All the other inline templates look OK as they are, but they're redlinking all the cats. We'll have to create those cats and categorize those cats in the category tree. Other than that, they look OK now. Not sure why Leon added all those template link templates, but I'm assuming they are used on the template docs for those new templates. When I get a chance, I'll check to see if they're all used or not. The Gunny  

01:01, January 27, 2014 (UTC)
Talkpages
Edit
I've added my explanation on A Follower's talkpage. Seeing "bug reports" spin off into general chatter is much of why I removed them, especially since they were structured as personal anecdotes and could be constructive completely on accident. 69.l25 (talk) 04:39, January 27, 2014 (UTC)
Broken Hills mine
Edit
I changed the Broken Hills mine image back; it's good. You probably replaced it because Chuck Stodgers isn't there anymore and that cave part is missing? Some time ago I read somewhere that that he was cut in a later patch. Tried to find it on NMA, but not reachable at the moment. Jspoel

14:02, January 27, 2014 (UTC)
Korney San uploaded a new image. Suprising no one noticed it earlier since the 8 years this wiki's been up on Wikia... Jspoel 15:17, January 27, 2014 (UTC)
Trivia night
Edit
Hey, I'm again active, could we talk on chat about the trivia night? - Greets Peace'n Hugs (talk) (blog) 15:48, January 27, 2014 (UTC)
Patroller
Edit
Isn't there a vote for becoming a Patroller? Leea (talk) 13:12, January 28, 2014 (UTC)
What sort of tools does a Patroller have?Leea (talk) 13:23, January 28, 2014 (UTC)
I hope I will then be of valuable service to the community with better tools, to boot. I just hope I don't make a fool of myself and do something wrong. But do Patrollers get to ban anyone? Or is it just rollback tools? Leea (talk) 13:56, January 28, 2014 (UTC)
No, I don't want to ban anyone. I just wondered if that was part of the Patroller's toolset. I'll take to job as Patroller. I hope I will live up to expectations. =) Leea (talk) 14:10, January 28, 2014 (UTC)
Post-Apocalyptic News Article
Edit
Hey Chad. I just read quite the interesting article from IGN (insert IGN hate here) that talks about the post apocalyptic genre, mainly it in former eastern bloc countries and the impact of games such as STALKER and Metro. Quite the interesting read and some good words from the developers. Might be worth reading through and putting some highlights in a new digest. Up to you of course. The article can be found here: [1] Yours Always; --The Old World Relics (talk/blog/contributions) 19:19, January 28, 2014 (UTC)
The chat bot is back up. As a related note to that, I do want to mention that I'd seen a number of people using the chat logs in a way I never intended them, and in a way I will never support. That is using them to essentially spy on what's said in chat. There was even someone off wiki who was spying in on chat by using them. When I created that tool, it was with the intent that it would help us moderate chat and give us a tool to easily provide logs when our moderators need to act on the rules. I was clear that it was not intended as a tool to go through the logs and retroactively sanction users when mods weren't active. I also refuse to see it used to spy on chat. If this continues, I will either change the way it logs so it writes the logs offsite (which I now have the capability to do), or I will simply cease using it. I'm letting you guys know publicly so my intentions are clear to everyone. The Gunny  

20:39, January 28, 2014 (UTC)
TP Policy
Edit
Want to add that potential bugs shouldn't be removed in the policy page? I know there has been some confusion with this; the recent tp removal did not remove a bug but rather clarified on a faction-related in-game occurrence. 69.l25 (talk) 00:17, January 30, 2014 (UTC)
I actually think we could open a forum to discuss this. There's a differing of opinion here, and it's only hurting us if it goes unresolved. 69.l25 (talk) 00:20, January 30, 2014 (UTC)

What do you think the reaction in chat is going to be? As Lyndon B. Johnson said, "If one morning I walked on top of the water across the Potomac River, the headline that afternoon would read: 'President Can't Swim.'" But as for the bug removal, I contacted an admin this time who agreed with me that the talk page post should be removed. It's not actually about a bug, and perhaps that would change your mind. 69.l25 (talk) 00:26, January 30, 2014 (UTC)

On the previous removals, yes. But for this one, I've found a justification and it's been resolved. Bleep's proposed that I run any possible bugs by him before I remove them. I suppose this way we can pinpoint which posts are actual bugs and which are not adding anything. Hopefully this helps as long as it sounds good to you. 69.l25 (talk) 00:36, January 30, 2014 (UTC)
69.l25 Adminship Request
Edit
I've reflected on this past month here. It was designed to serve as an outline of how I personally approached the opportunity and what I find important. I've addressed the general concerns and why I am still seeking adminship. If you find it important, please take a look. 69.l25 (talk) 02:17, January 30, 2014 (UTC)
A (late) Holiday Gift
Edit
You have been given a Vertibird.

Your efforts and diligence have not gone unnoticed, and you have been given a small token of appreciation.

Merry Christmas and a happy new year, I know i may be a bit late, but had exams then and decided to delay my wishes a bit. If it's too late for you, then consider it a Chinese new year ;) Greets Peace'n Hugs

(

talk

) (

blog

) 09:46, January 30, 2014 (UTC)
Source for the Enclave image
Edit
The image, known as "Enclave_Symbol_(Fallout_3).png" (Without quotations, of course), was the original version of the Enclave's emblem on the Enclave article and was the main image for the article as well, until December 3, 2013 at 16:06, when it was replaced by the image "Enclave_Symbol_(FO3).png" as a result of Eden2012's edit. The original image, that is the "(Fallout_3)" version, not the "(FO3)", appears on the articles Enclave Radio, Enclave Remnants, 120 User pages, and Dead Gunner's forum post asking for moderators to have the right to kick people from chat (Appears in the form of a user signature), making for a total of 123 separate pages with the image.
I will admit, the "(FO3)" variant appears in more articles than the other one, but that's only due to the new one being used in the "Navbox Enclave" window on those articles. I don't consider that usage as being a true part of the article, seeing how the image does not make an appearance in the main parts of the article (Gallery, infobox, etc.).
The main reason I'm attempting to keep the "(Fallout_3)" version on the Enclave article is to keep consistency between articles prominently displaying the Enclave emblem on main parts of their pages. Other than that and a few minor reasons, I think the previous version looks better, sporting a 3D design compared to the flat, 2D look of the new one.
However, I realize that you simply asked for the source of the image I'm using, and I made my response far more than that, and I apologize. All you really need to regard is the first paragraph.
P.S: I accidentally created a variant of the original image, except it only has a 200 x 200 pixel resolution. The file's called "200px-Enclave_Symbol_(Fallout_3).png". It's used in 2 user pages (My own included), and also, in a case I find quite ironic given the circumstances, one of Eden2012's own blog entries.
Adminship request
Edit
I'm happy we've finally come to a result with all this, but I have a question about the result. You say several members have "taken back" their vote; I've only seen one. Who am I missing? Of course the community is divided on this topic, but I'd like to see some specifics. 69.l25 (talk) 22:17, February 1, 2014 (UTC)
Yes, that's what I thought. I'm asking who else changed their vote; had we re-voted, I would have known anyway, and I'd like to know who specifically is concerned with my performance. 69.l25 (talk) 22:26, February 1, 2014 (UTC)

They told you that? I heard the criticisms; there were a lot, but they were typically coming from the same people -- and people who voted "no." I'd like to know who else had an influence in the decision. This would be clear in any other adminship request; we've never done "private votes" before. Why are we starting now? 69.l25 (talk) 22:37, February 1, 2014 (UTC)
Understood. I won't bother you about it anymore. But next time, just consider what people are saying about me in chat too. The same person that types their concerns respectfully in a vote section could also be calling me an "asshole" in chat. And when you take that behavior seriously, you're validating what they're saying about me; it makes only a hostile environment. 69.l25 (talk) 23:16, February 1, 2014 (UTC)
Look, they can say whatever they want. If I find something that bothers me, I'll post it on my userpage. It's a public chat, and I can quote people from it if I want. Who is it hurting if I have it there? 69.l25 (talk) 00:23, February 2, 2014 (UTC)
Are you going to be in chat for a while? There's something I want to bring up privately. 69.l25 (talk) 02:33, February 2, 2014 (UTC)
Twitter feeds
Edit
Thinking about putting the @Fallout and @Nukapedia twitter feeds on the main page, in the left column near the bottom to fill up that white space. Here's what I've cooked up so far. How's it look and just how far down the bottom do we want to try it? All the way? Above the "Helping out" and below the "Did you know"? Let me know. The Gunny  

02:14, February 3, 2014 (UTC)
WHATS BLANKING --I0001110101 (talk) 08:02, February 3, 2014 (UTC)10001110101
I know you don't like me, but your recent comments were out of line. As a bureaucrat, you are supposed to be professional, and I'm supposed to be looking up to you. Would you stop stirring the pot? 69.l25 (talk) 21:10, February 4, 2014 (UTC)
[05:13] <Agent c> I didnt see him vote no

[05:13] <Agent c> I saw his original yes vote

[05:14] <Agent c> what an asshole

Now do you have an idea? Is it so much to ask that my vote not be dismissed so easily? I've done nothing to stir anything up on my own; everything I've done these past few days has been as a result of someone else's comment(s). 69.l25 (talk) 21:20, February 4, 2014 (UTC)

Nukapedia chat is a public means of communication, and I have every right to quote anything anyone brings up in there. For someone preaching moving on, you're hesitant to apologize for insulting me. This conversation is clearly going nowhere, so just know this: don't bring me up in chat, and there won't be a problem. My request is over, and I'm done being antagonized by most of the people here; I will take the necessary steps forward, but only when people drop this subject. 69.l25 (talk) 21:29, February 4, 2014 (UTC)
I edited the Armor of 87th tribe page, but when it was published, a bunch of red text came up about "unrecognized punctuation marks." I can see through the "recent changes" tab that the text is intact, but the red "punctuation marks" words and codes are still there. Did I do something wrong? Leea (talk) 13:15, February 5, 2014 (UTC)
News Digest
Edit
Hey, Chad. Do you think you could add the wiki's newest project to your next edition of the news digest? It's a fairly simple little blitz and I'd like to get as many potential contributors as possible involved. Thanks.

Into the wild blue yonder... 18:30, February 5, 2014 (UTC)
The FNV (+add-ons) dialogue mini-project is pretty much complete, Chad. Almost all dialogue is uploaded, converted by Theo and added to the pages. All within a week!. Can you make it a headline in your news digest? With this screenshot example if you can. And the thanks to all who contributed. Jspoel 20:07, February 8, 2014 (UTC)

Is there a reason you didn't mention the FNV dialogue project completion in your digest? Jspoel 18:37, February 9, 2014 (UTC)

I'd rather see it mentioned now. We've encountered some problems with the Fallout 3 dialogues, so that may still take a while. The FNV dialogues has cost many manhours and deserves a seperate mention. And when you do, you can also mention that all terminal entries are now added the Fallout 3 (+add-ons) locations infoboxes. Jspoel 19:08, February 9, 2014 (UTC)
Patroller
Edit
I was meaning to tell you this in chat, but it seems I've missed you. User: Yukichigai is listed as having rollback rights, but is not listed as a patroller on the administrator page. He is not part of the "patroller" category, although would it be worth listing him as one on that page due to his rights?
And on a separate note, I'd like for you to take a look at this blog, as it's better I address what's happened instead of just ignoring it. Thanks 08:00, February 10, 2014 (UTC)
Hi Chad. Since it seems that my Skype messages haven't been received successfully, I just wanted to remind to let me know when the results of the caption contest are to be posted, if that is still your intention. --Skire (talk) 21:59, February 10, 2014 (UTC)
Did you know
Edit
At additional publications of the fallout manual writed down on little letters saiyn the following: All references to the government sanc- tioned and controlled FEV virus are not allowed in this publication. Making a reference for the FEV virus of the game.
RadStorm (talk) 22:47, February 10, 2014 (UTC) --RadStorm (talk) 22:47, February 10, 2014 (UTC)
Emoticon maintenance policy
Edit
Hey C, the emoticon maintenance policy votes are done, now its just waiting for bureaucratic confirmation of the results.
Limmiegirl

Talk! ♪ 23:32, February 10, 2014 (UTC)
Third-Person Discussion
Edit
Hi. I've opened up a forum to discuss a proposal to deal with our first-person-in-articles issue. Can you please give it a glance and share any feedback. Thanks 69.l25 (talk) 04:40, February 12, 2014 (UTC)
Picture for next week's Caption contest?
Edit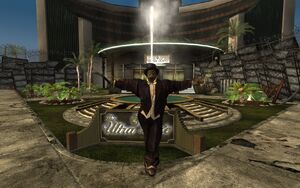 I dunno how the pictures for the Caption contest are chosen, but here's something I think you might like.
Brandon Fox (talk) 20:19, February 12, 2014 (UTC)
Patroller rights
Edit
I hereby would like to officially inform you that you can remove my patroller rights. I would like to thank you for my time over here and the trust that has been put in me all the time I have been here as special rightsholder. I will most probably leave the wikia, but I may jump in chat from time to time. Yours sincerely,
Third-Person Project
Edit
Hi Chad. Would you mind adding the Tackling First Person; Converting to Third-Person forum to the Community Messages? I'm in the process of seeing who is volunteering for the project, and it can use as much exposure as possible. I would add it myself, but I don't know how or if I even can. Thanks 69.l25 (talk) 04:12, February 15, 2014 (UTC)
Patroller Request
Edit
Hello, Chad. I wanted to hereby formally request patroller rights, as I have met the requirements for them, and have contributed in projects which you can see on my userpage, such as the charts project for both Gamebryo games. Furthermore, I have lately been working on removing speculation from pages such as this. In addition, I have been active on this Wiki both in chat and editing for almost three years, and have skills with the GECK which is uncommon. As you know already, I have never been site or chat banned. I believe that, assuming the New User Network picks back up, I could be great at helping people learn editing basics, and am here almost every day in chat or browsing the Wiki and can be easily contacted. My edits can be seen here. I appreciate you taking time out to read this, and appreciate any response you have for me. - Chris

06:58, February 16, 2014 (UTC)
Hi Chad. Not that I think he'll need it, but I strongly support Chris in attaining patroller rights. His editing maturity has manifested itself very well recently, especially in his help with the featured articles list. --

Skire

(

talk

) 16:49, February 16, 2014 (UTC)

Correct my if I'm mistaken, but unless Chris is requesting Patroller rights and relinquishing his Chat Mod rights, he is requesting Moderator rights-- both Patroller and Chat Mod rights; Moderator Requests require a vote, though, but is this just asking for an endorsement or something? 69.l25 (talk) 18:19, February 16, 2014 (UTC)
It would be nice...
Edit
.. if you answer my last comment on my talk page. --Modgamers (talk) 11:39, February 16, 2014 (UTC)
I have something important to bring to your attention when you have a moment. Ping me the next time you're in chat and I'll fill you in. Thanks.
 A Follower  Talk  04:52, February 18, 2014 (UTC)
Feature box fix
Edit
Victory!

I think I finally came up with a solution to those couple of issues with the feature box. First, I got it to stop adding those additional lines at the bottom, and secondly, I think I've got it so that the box automatically sizes properly for both images and text. After trying some fancy solutions, I finally tried something simple and stuck the image and content in a single cell table. Worked dandy. Take a look at User:The_Gunny/sandbox3 and see if you can spot any problems. I think I can make the changes to the template without having to change anything on the pages it's transposed to. Let me know. The Gunny  

15:28, February 19, 2014 (UTC)
I changed it tonight. Let me know if you run into anything wonky. Everything looks ok to me. The Gunny   03:09, February 20, 2014 (UTC)
I've actually been meaning to get with you and do just that and planed to before posting anything but I wasn't expecting to have anything to post so soon so I was holding off on it. Saturday will be fine we can discuss it then. --RAM

23:00, February 19, 2014 (UTC)
Hey Chad. When you officially reopen OfficialLolGuy's admin request, I would recommend restarting the poll itself entirely and inform those who have voted already to recast their votes. This is because some of the concerns raised were about the applicant not meeting the official minimum requirements, concerns that should now be nullified. I have my bot ready to send a mass message if you choose to take the clean slate path. --Skire (talk) 02:32, February 22, 2014 (UTC)
Also concerning requests (in general): I know there's a policy that doesn't let new users vote on privilege requests within a certain time of account creation, but I cannot seem to find it. 1) Do you remember how long a user has to 'be' before they can vote and 2) where is this policy written down? Thanks, Kastera (talk) 17:55, February 22, 2014 (UTC)
Sorry I wasn't able to get with you last week. I was really busy. But I Should be able to sometime this week. --RAM

06:04, February 24, 2014 (UTC)
Hey, Chad, not sure if your still around but the chat is without any stars or the bot, and some minor spamming is going on.--Emiko (talk) 16:15, February 24, 2014 (UTC)
Meeting Date
Edit
Original deadline has been pushed to tomorrow, so I want to take this chance to discuss a formal meeting time so I can get together with all of the Bureaucrats and discuss possible affiliations and what would be expected from both sides. The opportune time for me would be at 6:30 (as of now for reference, the time is currently 4:26). Does this time suit you as well, or would a different time fit better into your schedule?

Some Assembly Required! 22:29, February 24, 2014 (UTC)
My schedule is flexible this week. If everyone else is available at an earlier time for your convenience, then we will work with that instead. Some Assembly Required! 22:34, February 24, 2014 (UTC)

It seems 15:00 will be the best time - does that work with you (for convenience, it is now currently 9:24)? Some Assembly Required! 15:24, February 25, 2014 (UTC)

Perfect. Not sure we should do quite yet if Clyde does not answer, but it seems we should be able to get in the majority, if not everyone. Some Assembly Required! 15:28, February 25, 2014 (UTC)

Jumping into chat now an hour early if you want to get some basic questions out of the way before we all get together. Some Assembly Required! 19:50, February 25, 2014 (UTC)
Re: Saviour of the dammed
Edit
Thanks. I never thought I would do it at first, either. I started out just thinking I would get to 100 days and that would be doing pretty good. Then I just kept going, and luckily the power stayed on and the internet connection stayed up (or at least neither one went down for more than 24 hours). It's certainly a relief to have it done. I'll drop you a line in a few days for the news. What day do you put everything together? --FFIX (talk) 00:32, February 27, 2014 (UTC)
Shout-out
Edit
Would you mind mentioning the Third-Person Project in the news for next week? It's work best if more people are aware of it. 69.l25 (talk) 01:41, February 27, 2014 (UTC)
Enclave pages
Edit
Due to how much of a mess the Enclave military strength page is, how vague it is, and how it hardly follows the MOS, as well as how Enclave coverage in general doesn't, I'm considering a complete overhaul of the military strength page, renaming it to "Military of the Enclave" (unless a proper source for "Enclave Armed Forces" is found), redesigning it, giving it better and more in-depth, readable coverage, and following the rest of the content layouts and creating separate articles for "Chemical Corps" and "Atomic Energy Commission", etc. What do you think?

  OfficialLolGuy  Talk  Blog  15:45, March 1, 2014 (UTC)
My internet's been inconsistent lately and I was wondering if the messages I sent to Skype went through... --Skire (talk) 21:18, March 1, 2014 (UTC)
permission?
Edit
I was editing the skill books pages, when I saw that the page name of "Big Book of Science" of Fallout New Vegas is in italics. Could this be changed by changing the name of the page? If so, I'd like permission to change the name. Just to take the italics out. Leea (talk) 12:47, March 2, 2014 (UTC)
Sid Meier Interview Opportunity
Edit
Hey there, Agent C, my name is Doug from Wikia's Community Development Team. We're organizing an exciting interview with Sid Meier over on the Ace Patrol Wikia. I heard from another CD member that you might have some solid questions! If so, go ahead and leave them in the comments to this blog post. Thanks so much, have a good one! TheBlueRogue
(profile)•(talk)•(email) 16:32, March 3, 2014 (UTC)
Our stance on the Fallout 2 restoration project
Edit
Chad, do you know some of our wiki stance and history on the Fallout 2 restoration project? Theo asked me here. It seems to me that very little of it is mentioned here and what is mentioned, is treated as cut content. Looks to me we see it as a mod and don't cover it. I did check it on NMA and it's interesting content. But on the other hand, there are many version updates which would alter our content much. What do you think of it? Jspoel

18:49, March 7, 2014 (UTC)
Hey Agent C, long time, no talk, I have a question, can we delete all the pages of graves? They are kinda pointless and serve no purpose at all.... —Preceding unsigned comment added by Fireburn12 (talk • contribs). Please sign your posts with ~~~~!