Welcome to The Vault!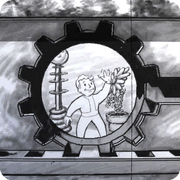 Hello, Aestune, and welcome to The Vault, the Fallout wiki! Thank you for your contributions, and we hope you'll stay with us and make many more.
Some links you may find useful:
If you have questions, you can ask in our forums, join the live chat in our IRC channel or post a message on my talk page. We hope you enjoy editing here and look forward to working with you!
Thanks a lot for smoothing out my edit on the Toaster!
I wanted to add something about having an option of saying "I have a toaster" without having toasters, but obviously, I really didn't know how to put it.
Suggestions of a Grammar Fascist
Edit
Hello Aestune =)
I see you have remove one of your sentence about me. I reput it, because things should not be hidden, it doesn't work like that here. Itachou [~talk~] 12:22, August 12, 2011 (UTC)
You don't have the right to restore other people's words when they've thought better of it. If you don't agree, I will be happy to consult the folks at Wikipedia and get their opinion on the topic. Aestune 12:32, August 12, 2011 (UTC)
I have shortened your ban
Edit
To one week after reviewing the data at hand. You were indeed quite offensive to several admins and other users. This wikia is used to help people with the Fallout games, not to be made a place that is hostile. Name calling and other rude behavior will not be tolerated and a further ban will be invoked. Please do not force my hand on this matter. Thanks.--Kingclyde 22:45, November 30, 2011 (UTC)
A most ungracious parting shot given you are being compelled to shorten a ban that was wholly unjustified in the first place. You say "don't force my hand" but what you really mean is you don't want to be put on the spot. You guys are on the way out - let's leave it at that. Aestune 10:05, December 1, 2011 (UTC)
Ban has been reinstated to indefinite. You are clearly here to stir trouble. We are in a transitional state and do not need someone such as yourself causing trouble. I gave you the benefit of the doubt and here you are insulting the editors yet again (the reason for the ban). Sorry to say, but you are banned.--Kingclyde 10:47, December 1, 2011 (UTC)