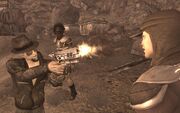 Li'l Devil, GRA Hunting Revolver - Like hard-hitting handguns? Then we've got a pair of knockouts for you. First up is this unique 12.7mm Pistol called "Li'l Devil". It may not look like much, but it does more damage than a standard model, fires faster, and is so stubby that we've heard you can conceal it quite easily. When we took it to the range, we found that it's even more accurate! If semi-autos aren't your style, here's the GRA take on the mighty Hunting Revolver. How do you improve a scoped hand cannon like this, you might ask? How about a Match Barrel mod, for starters? On top of that, throw in a Six Shot Cylinder for an extra dose of .45-70 Gov't downrange.

12.7mm JHP, 5.56mm Match, 5mm JSP, and 9mm JHP - A fresh lineup of custom rounds for our dedicated hand loaders. 12.7mm and 9mm Jacket Hollow Points retain most of the damage bonus of ordinary Hollow Points with a less severe armor penalty. 5.56mm Match gives a slight damage boost and a significant spread reduction. 5mm Jacketed Soft Points bolster the humble round's modest damage output while retaining most of its armor penetrating power. The cost is a significant increase in weapon degradation. Requires Hand Loader, naturally.
25mm and 40mm Pulse and Plasma Grenades - Tired of using your Grenade Launcher and Grenade Machinegun to "just" blow things up? Why not fry or melt them with Pulse or Plasma Grenades? You like Pulse Grenades, right? Plasma Grenades, too? Then what's not to like about shooting them out of a gun? Before you ask: yes, 25mm Pulse and Plasma Grenades are safe to use in the 25mm Grenade APW.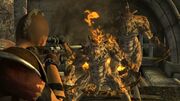 GRA Anti-Materiel Rifle, Assault Carbine - For our more hard-nosed "operators", we've got two customizable rifles in big and small calibers. First up is the GRA Anti-Materiel Rifle. Personalize this hard-hitter with a Custom Bolt (increases rate of fire), Suppressor (reduces sound — does NOT silence it), and Carbon Fiber Parts (lowers weight). For close-quarters armor-piercing mayhem, we've got the GRA Assault Carbine. As with standard Assault Carbines, you can outfit them with Extended Mags (GRA variants required), but you can also boost weapon longevity with a Forged Receiver and increase the rate of fire with a Light Bolt.
12 Ga. Flechette, Dragon's Breath - You know we love shotguns. We're especially fond of the 12 Gauge variants. Between Buckshot, Slugs, Coin Shot, and our new 3/0 Buck, 4/0 Buck, and Pulse Slugs, you've got loadout options. Is that enough? No matter the number, the Gun Runners answer is always, "No." So here are two more. Flechettes and Dragon's Breath. Flechettes are tiny metal darts that replace traditional shot. Great for armor penetration, though not quite as damaging. Dragon's Breath is for people who occasionally want to set things on fire. Why you want to do that with a shotgun, we don't know. We've stopped asking. Here you go. Just keep your engagement ranges close or the Dragon's Breath will produce a pretty cone of flame and nothing else. You're welcome.
Bozar - Some have called this beauty the "ultimate refinement of the sniper's art". We call it a highly accurate Light Machine Gun with a mil-spec scope, a 30-round magazine of 5.56mm, and a rate of fire that can project a withering storm of lead downrange in no-time flat. The compensator keeps it accurate even on full auto. With 5.56mm Match ammunition, you could mag-dump into a Bloatfly's head at a hundred yards with all shots on target (no guarantee implied).
Come back Monday and Tuesday for the final two Gunner Runners' previews.