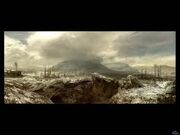 I am starting a new online Fallout RP entitled "The Misty Trail" soon. I will post another blog on rules, character creation, and much more to fill you in on what exactly expect tomorrow.
Also, when the blog is actually posted tomorrow you can submit characters and there information. I will randomly select 5 of the submit characters by Wednesday of this week, and have the very first part of the saga posted by Friday. I plan on posting a new event every 3 days to keep it going.
If you have any questions now, please hold them until tomorrow. However, if you would possibly be interested in participating please comment below. If I get a huge interest built I will consider increasing the number of players I will take.
I do not plan on making this my one and only RP, so if you were not successful in being in this one, you can try for another one in the future. On that note I wish you all who submit a character tomorrow the best of luck, and I also want to say thanks to any and everyone who is even interested in this, my first, Fallout RP.
-Xeoxed
Ad blocker interference detected!
Wikia is a free-to-use site that makes money from advertising. We have a modified experience for viewers using ad blockers

Wikia is not accessible if you've made further modifications. Remove the custom ad blocker rule(s) and the page will load as expected.