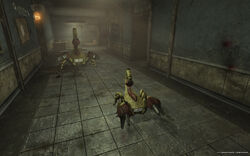 Recently Bethesda Softworks has revealed in their blog the release date for an upcoming Fallout: New Vegas DLC Old World Blues. It will come on July, 19th for PC, Xbox 360 and PlayStation 3.
Before the release of DLC a new patch for Fallout: New Vegas will be released, not only adding support for Old World Blues, but also bringing improvements to performance and stability in major areas.
A new trailer for Old World Blues will also be released in the coming weeks.
Ad blocker interference detected!
Wikia is a free-to-use site that makes money from advertising. We have a modified experience for viewers using ad blockers

Wikia is not accessible if you've made further modifications. Remove the custom ad blocker rule(s) and the page will load as expected.